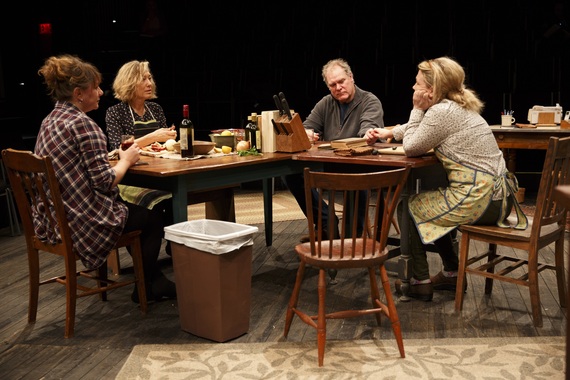 Amy Warren, Meg Gibson, Jay O. Sanders, and Lynn Hawley
in Richard Nelson's Hungry. Photo: Joan Marcus
The only distressing element about Hungry, the initial installment in Richard Nelson's new trilogy about the Gabriel Family of Rhinebeck, NY--a philosophical, political and round-the-block neighbor to his Apple Family--is that the author makes the whole thing look so effortlessly easy.
Nelson builds a similarly friendly and intriguing clan sitting around the kitchen table, bounded by fifty years of mostly unspoken but almost physically-restraining ties. Given that the final play of The Gabriels: Election Year in the Life of One Family will open on November 8--the night of the upcoming presidential election, which is to say that the story will necessarily end with the playwright and actors and opening night audience not knowing the results of the balloting--one might marvel at precisely how Nelson has started to build his groundwork.
The Gabriels are lifelong residents of the village located off the Hudson, two hours up from Manhattan and an hour below Albany; a middle class family that has been squeezed by the invasion of rich "weekenders." Dominating the discussion--at least in this first installment--is eldest son Thomas Gabriel, a prolific and well-known playwright who died of Parkinson's Disease four months ago. (Hungry takes place on March 4, 2016--last night, literally, as I write this--following a memorial service at the Roosevelt Museum in nearby New Hyde Park.)
Left alone in the family house is Mary (Maryann Plunkett), Peter's widow and a retired physician. She is joined by the two remaining Gabriel siblings, George (Jay O. Sanders), a still-local cabinetmaker, and Joyce (Amy Warren), an assistant costume designer living in Brooklyn. Also on hand is George's wife Hannah (Lynn Hawley), who works for a local caterer and who served at Chelsea's wedding--and if you don't know who Chelsea is, you're sitting around the wrong kitchen table.
There is also an uninvited interloper, Karin (Meg Gibson), a middle-aged actress who was the roundly-disliked first wife of Thomas. Dozing in the offstage living room through most of the play is Patricia (Roberta Maxwell), the gracious-seeming but apparently domineering matriarch who is now living nearby in assisted care. (When George asks his sister what show she is designing, Momma pointedly reminds everyone that "she's just the assistant.")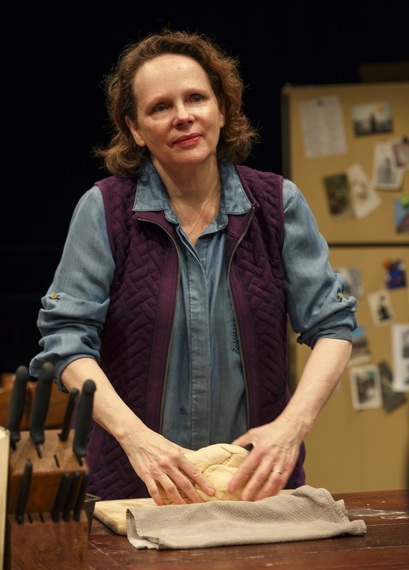 Maryann Plunkett in Richard Nelson's Hungry. Photo: Joan Marcus
Fans of the Apple Family Plays will immediately notice that Nelson's rep company includes two of the most memorable and remarkable actors from that four-year saga, Ms. Plunkett and Mr. Sanders. Instantly recognizable as Apples, yes, but fully and comfortably at home in the Gabriel kitchen. Sanders, as in the earlier plays, is drawn as the unquestioned man-of-the-house, except that the women are adept at sending him out of the room and talking over his head. Hawley and Gibson make strong showings as Gabriel spouses, while Ms. Warren--remembered for her astonishing performance in 2008 as the lovelorn Daisy in the David Cromer musical Adding Machine--is a fine addition. Maxwell, whom at least some of us recall as the shivering young girl opposite Anthony Hopkins and Peter Firth in the original 1974 Broadway cast of Equus, is commanding in her brief appearance as the frail mother.
We have been so impressed by Nelson's work on the Apple Family Plays (and other plays) that we tend to overlook his direction, which is precise and perfect. He is abetted here by his Apple design team: Susan Hilferty on sets and costumes (with Jason Ardizzone-West on sets), Jennifer Tipton on lights, and sound designers Scott Lehrer and Will Pickens. Everything is beyond just right. It bears saying that adventuresome theatrical projects like The Apples, The Gabriels, Here Lies Love, Fun Home, Hamilton and Father Comes Home from the Wars all carry the stamp of the Public Theater and Artistic Director Oskar Eustis. And that, one concludes, is not coincidental.
Hungry, not unreasonably, centers around food. The play opens with Mary reading at the table over scraps of lunch. She immediately springs to action, kneading a loaf of dough and putting it in the oven. Much of the play is accompanied by the cutting-and-chopping of vegetables (for ratatouille) and apples (for "Thomas's favorite apple crisp"). There is also incidental discussion of how to measure a portion of pasta, which I expect will remain with amateur cooks in the audience.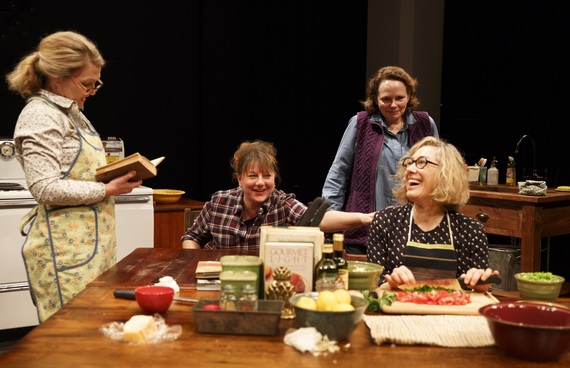 Lynn Hawley, Amy Warren, Maryann Plunkett, and Meg Gibson
in Richard Nelson's Hungry. Photo: Joan Marcus
But the family Gabriel's hunger is not only physical but metaphorical. Politics is--naturally--a major topic in this election year trilogy. In Hungry, though, the favorite politico seems to be Eleanor Roosevelt; Patricia repeatedly boasts that she voted for FDR five times (although she would have been about ten when he died). After several glasses of wine, talk gets around to Tuesday night's debate, and a discussion by these loyal Democrats of Hillary's prospects.
"It sort of feels to me like we're all about to jump off some crazy high cliff," says one of the sisters-in-law. "Jump or be pushed?" asks another. "God," she sighs, "It's going to be a very long eight months."
A very long eight months in which the Democrats and Republicans are sure to slug it out, perhaps with real fisticuffs and streams of blood; and in which Mr. Nelson shall give us not just one but two more installments--What Did You Expect? in September and Women of a Certain Age in November--in the already fascinating life of The Gabriels.
.
Richard Nelson's Hungry, Part 1 of The Gabriels: Election Year in the Life of One Family, opened March 4, 2016 and continues through March 27 at the Public Theater
REAL LIFE. REAL NEWS. REAL VOICES.
Help us tell more of the stories that matter from voices that too often remain unheard.