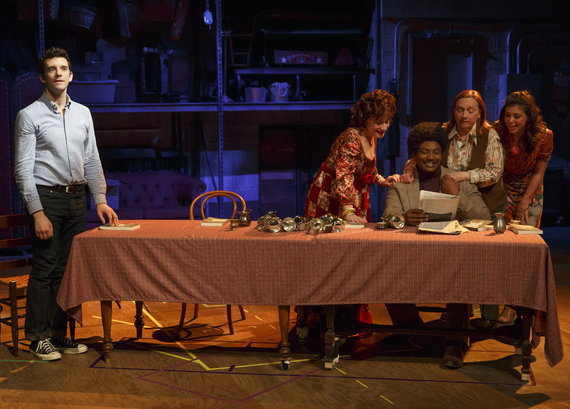 Michael Urie, Patti LuPone, Lance Coadie Williams, Dale Soules
and Zoë Winters in Shows for Days. Photo: Joan Marcus
Douglas Carter Beane, of Cinderella and The Nance, has returned to his small-town Pennsylvania roots to give us a coming-of-age comedy, Shows for Days. Coming-of-age comedies are not altogether rare, and the sub-genre of backstage coming-of-age comedies was recently visited with Lincoln Center Theater's bountiful adaptation of Moss Hart's Act One. That was a bigger production at the Vivian Beaumont, upstairs from the Newhouse (where Shows for Days is playing). Bigger doesn't necessarily mean better. In this case, though, smaller means less full and less rich.
Shows for Days is closer, in style and genre, to Joseph Stein's 1963 adaptation of Carl Reiner's Enter Laughing. But that play--which launched the acting career of Alan Arkin and the directing career of Gene Saks--offered what the New York Times critic of the day described as continuous "side-splitting laughs." Shows for Days is amusing, gentle and--oddly enough--makes us nostalgic for the dark days of 1973. It is not, though, funny enough or poignant enough; it is also somewhat underpopulated. When the troupe puts on Peter Pan, the entire cast seems composed of Peter, Hook, Tiger Lily, Nana, one of the Darling Boys and Patti LuPone. Not nearly enough.
Car (Michael Urie) stands in for Car(ter) Beane himself. He wanders into downtown Reading, PA to help out a community theatre group. Drafted into playing a role, he quickly becomes part of the Prometheus Players. (In his closing speech, Car discloses that parts of the play are based on fact, and that Prometheus was really Reading's Genesius Theatre, now in its 45th season.) The place is run by Irene (Patti LuPone), a stereotypically flamboyant actress whose off-Broadway roots turn out to be phony. Her assistant and all-round factotum is Sid (Dale Soules), another stereotype who walks around with a sledge hammer and has what the folks over at Fun Home refer to as a "ring of keys." The leading (and only) actor in the company is Clive (Lance Coadie Williams) a stereotypically campy black man who is sleeping with a white, Republican bigot.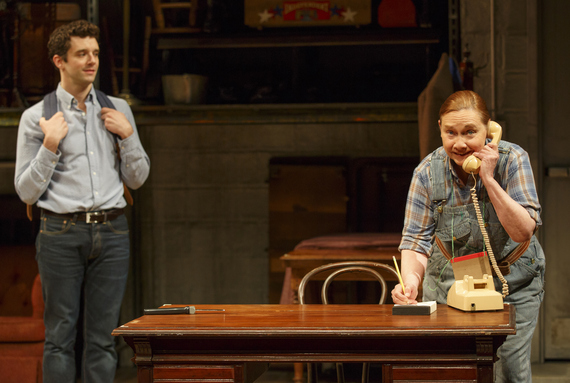 Michael Urie and Dale Soules in Shows for Days. Photo: Joan Marcus
The other two characters are more generic than stereotypical: Maria (Zoë Winters), a not-so-bright younger-than-LuPone actress who wants them to schedule Murray Schisgal's Luv; and Damien (Jordan Dean), a waiter who joins the company and quickly beds Irene. The action follows the fourteen-year-old hero as he finds a home with the group, writes a comedy for them, and is seduced by the nineteen-year-old Damien. (Onstage, behind a screen.) This is treated with jokes and sniggers, the older characters placing bets on just what will happen to young Car and how quickly.
One expects that this incident is autobiographical and accurate. I can only say that in that same 1973, I was a teenager working in summer stock--not in Reading, but in Nyack, NY. While that sort of affair might well have been going on, the adults would not have made jokes about it; and publicizing the seduction of a fourteen-year-old boy by an older man would likely have brought the police. We give Beane dramatic license, but there might be some who question this "humorous" plot line upon which the comedy is built.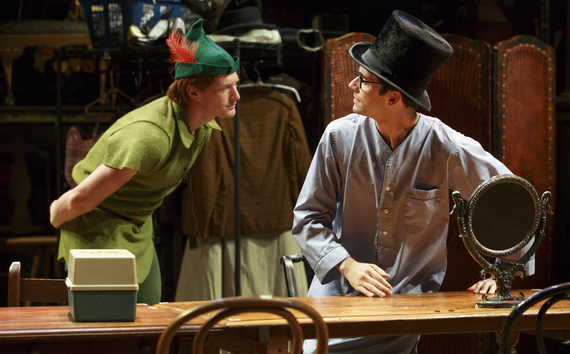 Jordan Dean and Michael Urie in Shows for Days. Photo: Joan Marcus
Urie, who ingratiated himself to the theatre community with his delectable performance in Buyer & Cellar, does a fine job straddling between the teenaged Car and what is presumably meant to be the present-day Beane. LuPone is in fine form with a mannered performance as the mannered Irene, sprinkling her pronouncements with bits of not-quite-authentic Yiddish. Soules is pure delight as Sid; if the role is a loving-but-crass stereotype, the actress barrels through the evening like a combination of producer Cheryl Crawford and gruff Paramount character man William Demarest (of "The Miracle of Morgan's Creek" and "My Three Sons"). Soules is a joy, especially to those of us who remember her as a slip-of-a-thing singing "West End Avenue" in Stephen Schwartz's Magic Show back in 1974.
What we get are a lot of laughs, under the direction of Jerry Zaks (returning to the house where he first regaled us with John Guare's House of Blue Leaves and Six Degrees of Separation). Over the course of the evening, though, entertainment is intermittent. The play might well be a close representation of the truth, but that in itself doesn't make it viable. There's a lot of entertainment to be found in backstage farce; Michael Frayn's Noises Off is on the horizon, due at the Roundabout by year's end. Shows for Days, alas, doesn't begin to approach those heights. And what, pray tell, does the title mean?
.
Shows for Days , by Douglas Carter Beane, opened June 29, 2015 and continues through August 23 at the Mitzi E. Newhouse Theater
Calling all HuffPost superfans!
Sign up for membership to become a founding member and help shape HuffPost's next chapter