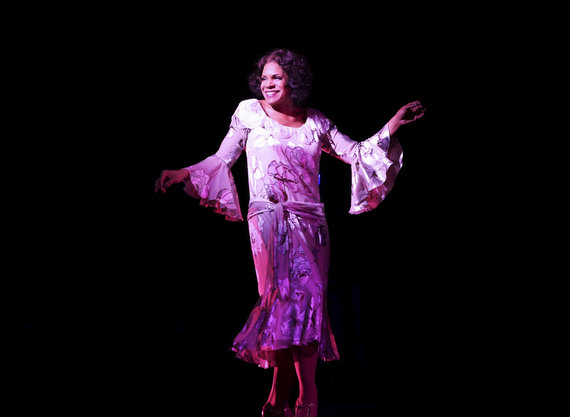 Audra McDonald in Shuffle Along.
Photo: Julieta Cervantes
The 2015-2016 Broadway season started with a musical bang, from Lin-Manuel Miranda; thirty-three shows later, it ends with a theatrical explosion from George C. Wolfe and Savion Glover called Shuffle Along. They use the standard theatrical elements--music, story, staging, dancing and design--to propel the show in a novel and exciting manner. Add in a half-dozen stellar performances, a sterling production, and an astoundingly talented ensemble and you have a musical that moves in a manner we haven't seen since Michael Bennett's Dreamgirls.
Shuffle Along--the official title is "Shuffle Along or The Making of the Musical Sensation of 1921 and All That Followed"--is indeed something more than a close restaging of the aforementioned musical sensation. The story follows two vaudeville teams: writer/comedians Flournoy Miller (Brian Stokes Mitchell of Ragtime) and Aubrey Lyles (Billy Porter of Kinky Boots), and songwriters Eubie Blake (Brandon Victor Dixon of The Color Purple) and Noble Sissle (Joshua Henry, of The Scottsboro Boys). Finding career advancement restricted by race, they decide to join together and storm Broadway. Their troupe includes the high-strung prima donna Lottie Gee (Audra McDonald) and supporting singer Gertrude Saunders, who is replaced midway by star-to-be Florence Mills (both roles played by Adrienne Warren).
With the help and hindrance of a handful of white agents/producers/columnists--all in the person of the ever-versatile Brooks Ashmanskas--they bring their creation to a ramshackle, out-of-the-way Broadway house and make cultural history. That's the first half; in the second and darker act, they turn passé, show biz dreams get trampled, and the group of groundbreaking artists recedes into the ranks of the dated-in-their-own-time. The smash hit of 1921 is soon surpassed and forgotten, the artists fade from memory expect for Blake (who lived from 1887-1983, long enough to be rediscovered as a "living legend").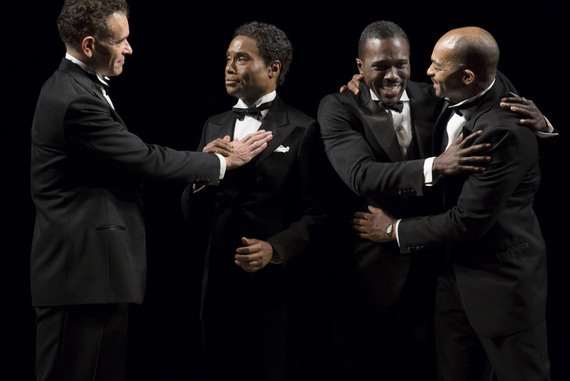 Brian Stokes Mitchell, Billy Porter, Joshua Henry and Brandon Victor Dixon
in Shuffle Along. Photo: Julieta Cervantes
This is an ambitious saga, and one which in other hands might likely be doomed to the "good intentions" department. But the show has been devised, written and staged by Wolfe (director of Angels in America and Caroline, or Change) with choreography by Glover (who collaborated with Wolfe on Bring in 'da Noise, Bring in 'da Funk). Effortlessly avoiding the familiar or cliché, they have come up with a fascinating, colorfully grand entertainment.
Speaking of cliché, we have grown tired of praising Ms. McDonald, who positively hiccups Tony Awards. But she is once again astonishing; she can sing high and sing low-down, clown with the best of them and wear clothes like they were sculpted on her (which they were). And did somebody say "tap dance"? Once again, Audra surprises and thrills us.

The leading men provide an embarrassment of riches; the nature of the script reduces their stage time, but all give star performances. Mitchell is the rock of the piece; Henry provides the ambition; Dixon the humanity (and romance); and Porter the humor (and the heartbreak). All are strong singing actors, and all are out there tapping as well.
What we aren't necessarily expecting--given this supreme Audra showcase, plus the four men--is yet another knockout performance. Ms. Warren, who was featured in Bring It On, the brief-lived cheerleader musical of 2012, is a star in the making. And while Ashmanskas has played flustered comic types in numerous shows (including Martin Short's Fame Becomes Me and Something Rotten!), he and Mr. Wolfe have worked out several priceless routines, including one in which he grunts his way through a scene playing producer John Cort (the washed-up namesake of the house on 48th Street).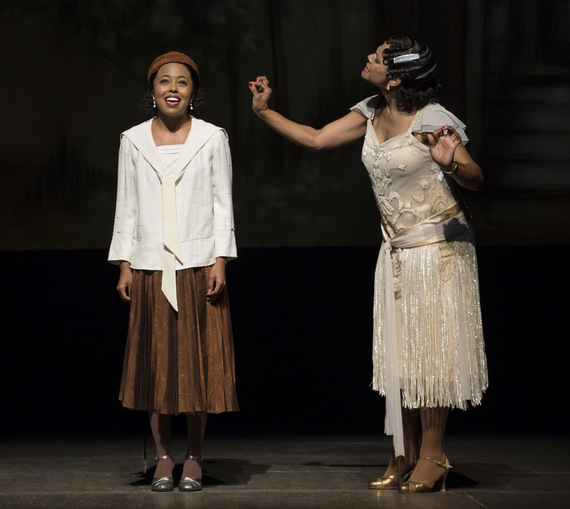 Adrienne Warren and Audra McDonald in Shuffle Along.
Photo: Julieta Cervantes
The show is overloaded with dynamic numbers: "Swing Along," sung by Mitchell a cappella, and then joined by the dancers with the rhythm blasted out by the luggage they carry; McDonald's "Daddy, Won't You Please Come Home"; the ensemble's "Pennsylvania Graveyard Shuffle," which might be the most astounding dance number on Broadway just now. The second act opener, "Dancing Around the One"/"Shuffle Along"--with everybody resplendent in black satin, and the lights playing tricks with us--is equally brilliant. "I'm Cravin' that Kind of Love" ("Kiss Me, Kiss Me"), cannily shows McDonald instructing--and ultimately being surpassed by--Warren. Late in the evening, Porter--absolutely on fire--delivers a gutsy and scorching "Low Down Blues," followed by McDonald's simply stunning "Memories of You." The evening climaxes with the wonderfully harsh "They Won't Remember You," led by Ashmanskas as insufferably effete literary critic Carl Van Vechten.
(Some of the complexities of the show--particularly a weighty and overlong second act--took weeks of previews to hone; which is to say that crucial changes, including the riveting closing section, only appeared during the final days before the opening.)
Santo Loquasto provides a backstage milieu that is continually moving. It has become normal on Broadway for actors and dancers to physically move the sets. Here, again and again, it seems like they are propelling the sets; a wedge of dancers comes tapping in, and the scenery magically gives way before their combined force. Ann Roth, one of our top costume designers since 1958 (with work ranging from "Midnight Cowboy" to The Book of Mormon), outdoes herself with gowns and showgirl costumes beyond imagining, while lighting wizards Jules Fisher and Peggy Eisenhauer use light and dark to enhance scenery, costumes and dance. Daryl Waters' arrangements and orchestrations, which well might be the best currently on Broadway, are played by a virtuoso pit band conducted by Shelton Becton.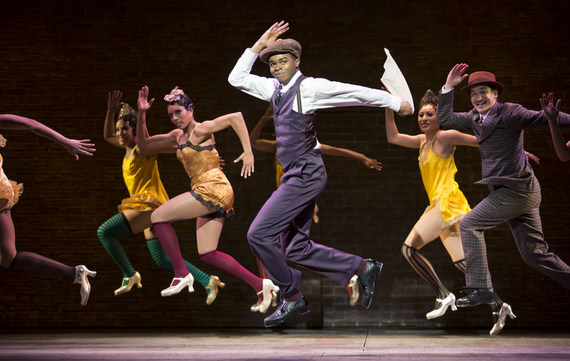 The Ensemble in Shuffle Along.
Photo: Julieta Cervantes
But among a surfeit of riches, it is the combination of Wolfe and Glover that makes Shuffle Along a veritable explosion of theatricality, an unorthodox and vital new-style Broadway feast.
.
Shuffle Along or The Making of the Musical Sensation of 1921 and All That Followed opened April 28, 2016 at the Music Box Theatre
Popular in the Community