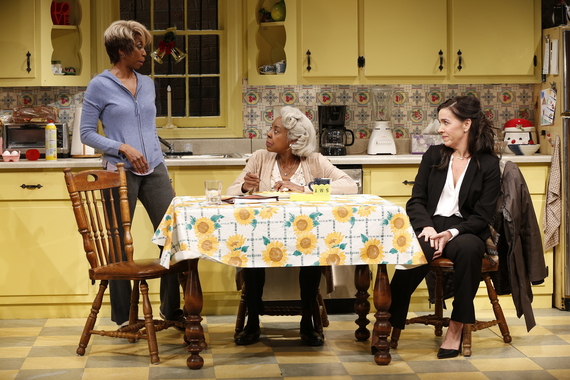 Sharon Washington, Marjorie Johnson and Finnerty Steeves
in Colman Domingo's Dot. Photo: Carol Rosegg
Dot, at the Vineyard, is another one of those dysfunctional-adults-returning-to-the-family home-to-deal-with-a-sick-parent plays. But it is a good one; Colman Domingo has created an engaging--and yes, deeply troubled--trio of siblings and provided the audience with nonstop laughter, all the while approaching the mother sinking into dementia with tender sensitivity. Plays of this type can be trite, or depressing; Dot, we are happy to report, is rollicking and affecting.
Dotty (Marjorie Johnson), living in the up-scale West Philly house she moved into when it was still a white neighborhood in 1953, is having trouble "connecting the dots." The opening scene between mother and daughter Shelly (Sharon Washington) plays almost like The Odd Couple at breakfast; between the laugh lines, though, we see that Dotty is severely struggling--and Shelly is desperately trying to cope with a parent slipping into advanced Alzheimer's. (The connect-the-dots theme is carried over to the front curtain of Allen Moyer's fine set, with a pointillist rendition of Dotty's row house in the manner of Seurat.)
Shelly gets no help from her siblings, out-of-work musicologist Donnie (Stephen Conrad Moore) and flamboyant former YouTube sensation--but now supermarket cashier--Averie (Libya V. Pugh). The action takes place just before Christmas, with jokes and gibes flying until everyone is caught up in the tragedy of the situation. Also on hand are Donnie's husband, Rainbow Alliance-activist Adam (Colin Hanlon); Fidel (Michael Rosen), an illegal but caring caregiver from Kazakhstan; and Jackie (Finnerty Steeves), the Jewish girl-next-door who was Donnie's high school girlfriend and suddenly finds herself pregnant and unmarried at forty.
Johnson, whose stage credits are mostly from regional theatre, does a strong job as Dotty, fiercely trying to hold her ground while fully aware that her control is slipping away. The central performance, though, comes from Washington. The actress--who was so powerful in the Rosa Parks-like role in The Scottsboro Boys--here reveals herself as a keen comic actress and a thorough joy. Moore is sympathetic as the conflicted son, while Pugh struggles somewhat with her role as Averie. (It is one thing to perform the role of a flamboyantly-dizzy character; it is another to be comprehensible in the part.) Once Domingo allows Averie to "take off the wig" on Christmas morn, Pugh's performance becomes real. The most sympathetic characters are the two white men, the only ones who seem able to connect with and console Dotty. Hanlon (as the husband) and Rosen (as the nurse) give humorous and sensitive performances, and both help ground the play as it moves from wild comedy to emotional truth.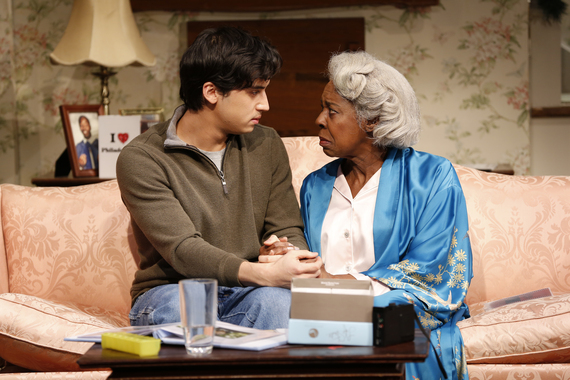 Michael Rosen and Marjorie Johnson
in Colman Domingo's Dot. Photo: Carol Rosegg
Playwright Domingo (A Boy and His Soul) has done a wise job of playwriting, creating a vibrant and outrageous circle around the core of the play, with Dotty struggling through the final moments before being fully overtaken by her disease. Domingo, being a performer himself--he received Tony and Olivier nominations for his performance as Mr. Bones in The Scottsboro Boys--also knows how to write juicy roles for actors. In Dot, all seven are given moments to gloriously shine. Even Steeves, in the somewhat unresolved role of Jackie, has an uproariously funny run-on "breakdown" of a speech.
Dot is something of a Scottsboro Boys reunion; the play comes from the Vineyard Theatre, which originated that first-rate Kander & Ebb musical, and has been directed by Susan Stroman. While known almost exclusively for her work in musicals (including The Producers, Contact and Crazy for You), Stroman does a perceptive job with this comedy-drama. She also provides two deft musical staging spots, a light-as-air dance by Johnson and Hanlon, and a momentary-but-delectable touch which brings in the first-act curtain.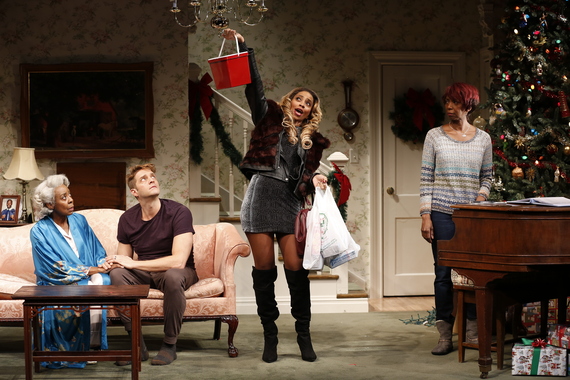 Marjorie Johnson, Colin Hanlon, Libya V. Pugh and Sharon Washington
in Colman Domingo's Dot. Photo: Carol Rosegg
Dot -- which was first presented at the 2015 Humana Festival at Actors Theatre of Louisville, with Johnson in the title role -- is not yet quite in a finished state. The first act could use a little tightening, and there is a deceptive ending midway through the second which interrupts the momentum (although Domingo and Stroman quickly recover). But no matter. Here is a play addressing what is becoming a familiar real-life family situation, and it does so in a manner that is very funny, very moving, and propelled by a wonderful team of actors.
.
Colman Domingo's Dot opened February 23, 2016 and continues through March 20 at the Vineyard Theatre
Related
Popular in the Community