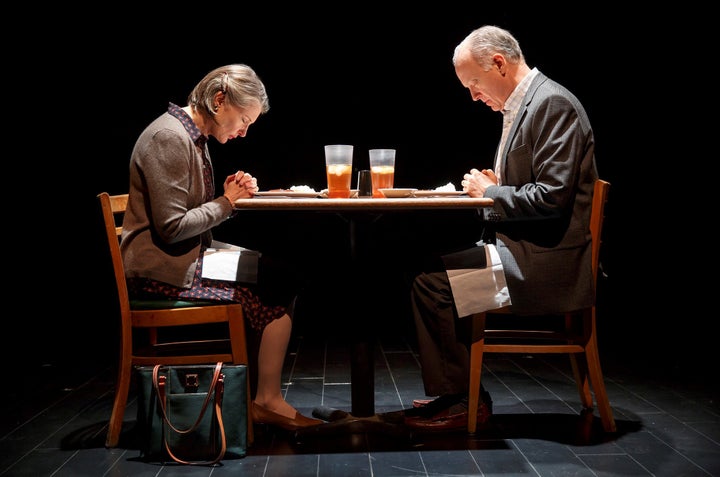 Tracy Letts—the author of August: Osage County, and an accomplished actor as well—returns to town with an intriguing play, Man from Nebraska at Second Stage. This falls in the "crisis of faith" genre, but Letts tells his tale in a most unusual and most effective way. With a remarkable performance by Reed Birney as the title character; an explosive one by Annette O'Toole as his helpmate; and especially canny work from director David Cromer and designer Takeshi Kata, Man from Nebraska is the most interesting drama to come along since Stephen Karam's The Humans (which also starred Mr. Birney).
Ken Carpenter is a successful insurance man—he seems never to have left Lincoln, except for a non-wartime stint in the Air Force in London—and a lifelong Baptist. When he wakes up one night unaccountably questioning the existence of his God, he goes into a tailspin. Unlike other dramatic explorations of this sort of thing, he doesn't go wild or mad or out-of-control experimental; he simply wanders—back to London, as it happens—hoping to find answers (or rather for the answers to find him). Thus, Letts gives us an engaging and thought-provoking play, without any grand eruptions of the sort you are likely to find in change-of-life, loss-of-faith plays. (There is, actually, one brief eruption—which is very funny, and very real, and which Birney handles masterfully.)
A good deal of the story is told in vignettes; short, often-humorous, and with the effect of high-brow one-pane New Yorker cartoons. The very first scene shows Ken and his Nancy (Ms. O'Toole) driving for what seems to be a full minute, after which comes one sentence and blackout. These brief scenes are decidedly odd, and suggest that the play might be geared for laughter. As it turns out, though, this static approach perfectly illustrates the life from which Ken is impelled to break.
David Cromer takes this unconventional play and stages it in what might be considered unique fashion (which is not atypical for him). He and set designer Kata—who together did a marvelous job on Joshua Schmidt's musical Adding Machine back in 2008—have arrayed their scenic pieces along the fringes of the stage, under a stretch of Nebraska sky with marvelously ethereal clouds. These pieces are moved into place for each scene, but in a very off-center fashion; there is no "center" here, most everything is played on the fringes. (The effect is not unlike that of Cromer's Barrow Street production of Our Town.)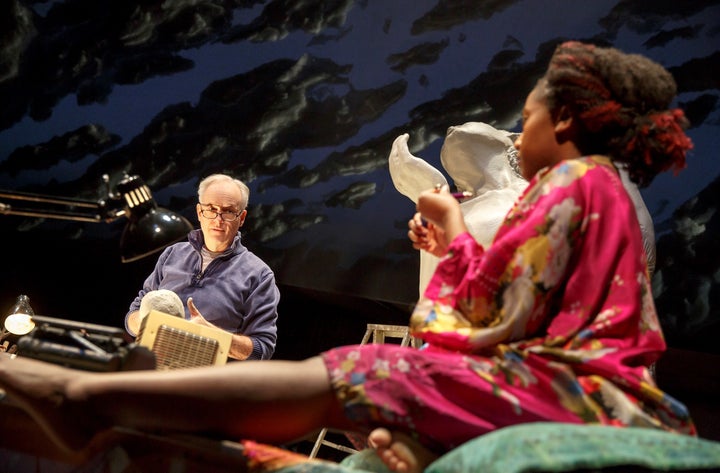 This fragmented, off-center method works marvelously for the play; Ken, without faith, is very much off-center and fragmented. So we have a playwright and a director (with designer) well-met, and it serves to enhance the play. Cromer is abetted by lighting designer Keith Parham (also of Adding Machine), who carefully spotlights what the director and set designer put before us.
Mr. Birney, the reigning Best Actor in a Play winner from last season's Tonys, offered a master class in acting in The Humans. Let it be said that he continues apace here. The protagonist Ken is decent, solid, and for the most part ordinary. Birney conveys this all, instantly and evenhandedly, while keeping our attention riveted by the storm that clearly is raging within (although the playwright purposefully never lets it erupt). O'Toole is perfectly in key as the woman from Nebraska, as wrapped up in her life and faith as Ken is (until he suddenly isn't). Letts keeps bringing us back to the wife, as Ken searches the West End for the meaning of life. This leaves us unprepared for Nancy's fireworks at play's end. Well-conceived by Letts, and stunningly played by O'Toole.
Standing out elsewhere are Nana Mensah, as a most interesting Leicester Square barkeep; Heidi Armbruster as a Coca-Cola executive on the make; Tom Bloom, as another, older man from Nebraska; and Max Gordon Moore as a British sculptor. Mr. Moore comes on relatively late in the proceedings with a lengthy ramble about locks, landlords and debt, provoking an explosion of laughter in what appears to be a one-note performance but turns out to be a wisely-written role well played.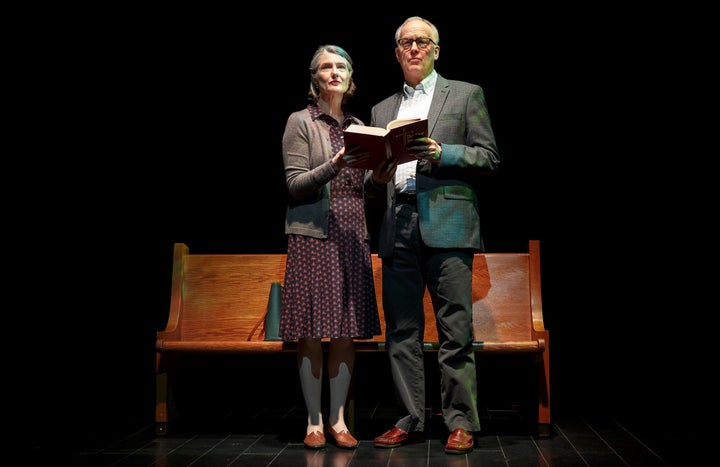 Letts, it seems, was quite a writer even before he hit the big time. For this is not a new play. Man from Nebraska was originally produced at Steppenwolf, Letts' home base, in 2003; it was a Pulitzer finalist, with that year's award going to Doug Wright for I Am My Own Wife. (Letts won the Pulitzer—as well as the Tony—for his next play, August: Osage County.) Thus, Man from Nebraska is having its New York premiere a full thirteen years after Chicago. How the play has fared in the intervening years is unknown. No matter. At Second Stage, in Cromer's hands and with Birney inhabiting the title role, Man from Nebraska is first-rate drama in a compelling production.
Tracy Letts' The Man from Nebraska opened February 15, 2017 and runs through March 12 at the Second Stage Theatre's Tony Kiser Theatre