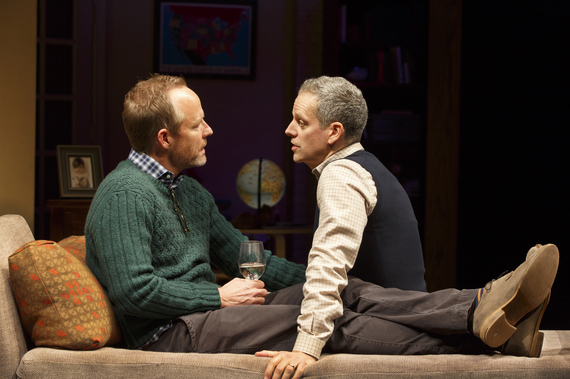 John Benjamin Hickey and Patrick Breen
in Dada Woof Papa Hot. Photo: Joan Marcus
Peter Parnell's enigmatically-titled Dada Woof Papa Hot -- the new Lincoln Center Theater production at the Mitzi Newhouse -- turns out to be yet another one of those upper-middle-class-New-Yorkers-with-kids-in-preschool plays which turn up occasionally nowadays, one in which (no surprise) a parent from Couple A has an affair with a parent from Couple B. The difference, here, is that the four parents in question are all men.
"A topical gimmick?" you might ask, "just another variation on the same old tale?" Well, no; while a play of this sort could be contrived by taking a dusty comedy from thirty years back and changing the gender of the two moms, that is not what Parnell has done. The dynamics of the couples -- as well as the actions and choices of the straying partners -- are very different than they would be in one of those heterosexual-adultery plays. Thanks in part to an especially well-drawn central couple -- and a typically excellent performance by John Benjamin Hickey in the main role -- Parnell (of Romance Language) has given us a provocative and enjoyable topical comedy for today.
Struggling novelist Alan (Hickey) and breadwinner/psychiatrist Rob (Patrick Breen) -- with their heard-but-not-seen three-year-old Nicola, offstage -- find their social circle enlarged by parents of other preschoolers. The action begins as they have dinner with another such couple, corporate raider Scott (Stephen Plunkett) and painter Jason (Alex Hurt). While the friendship is child-based, there are clear undertones -- from the start -- of sex. This, naturally enough, plays out over the course of an hour-and-a-half. Parnell also gives us a third couple, Michael (John Pankow) and Serena (Kelli Overbey); Michael is a composer in a tailspin, having just suffered through a major Broadway flop. (How refreshing, and perhaps drawn from personal experience: Parnell's one Broadway musical was the misguided, gender-mangled libretto for the 2011 Harry Connick, Jr. revisal of On a Clear Day You Can See Forever.)
Michael, on the heterosexual side, goes off to have an affair with yet another parent, TV actress Julia (Tammy Blanchard); her unseen photographer husband -- not surprisingly, given the setup - -turns out to be gay. All through this, mind you, everybody keeps talking about their kids; you know how those upper-middle-class-New-Yorkers-with-kids-in-preschool are.
Parnell brings our attention to another, relatively new source of potential parental friction. There are plays by the dozens -- or more likely hundreds -- in which the husband thinks that he is not really the baby's father, or knows that he is not really the baby's father; or has been told he is not really the baby's father when he actually is, or has been told that he is when he actually isn't. In Dada Woof Papa Hot, Alan knows he is not the biological father, having been convinced that Rob likely had healthier genes. Parnell gives us a father who thus feels apart from his child -- or more properly, feels that the child senses that he is not the real papa/dada. ("Dada woof papa hot" signify Nicola's first words, which make sense from a toddler but don't work quite so well as a play title). This adds yet another layer of confused anguish to Alan's conundrum, one that is well illustrated by Mr. Hickey; and one that, he comes to realize, is in his mind, not the child's.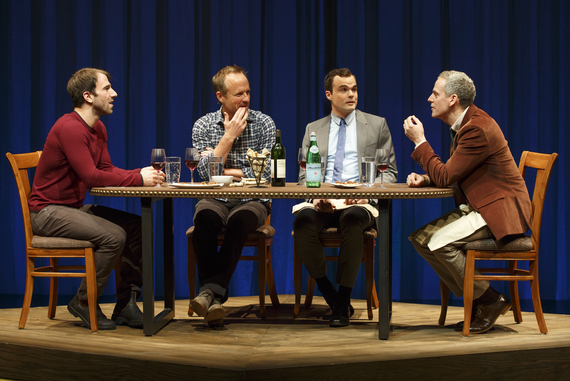 Alex Hurt, John Benjamin Hickey, Stephen Plunkett and Patrick Breen
in Dada Woof Papa Hot. Photo: Joan Marcus
Hickey -- a Tony winner for The Normal Heart -- is paired with Breen (who also appeared in The Normal Heart) as the more fatherly of the couple. Standing out among the others is Pankow, as the normal (i.e. straight), philandering musical comedy composer. Scott Ellis, a Roundabout regular, does his most impressive job of direction since Twelve Angry Men back in 2004. There is also a highly effective set -- consisting of many moving parts, on interlocking platforms which slide on and off in different wedge-like combinations -- by John Lee Beatty.
In Dada Woof Papa Hot, Parnell combines characters we know pretty well -- and a situation we know pretty well -- in a manner which makes it all seem fresh, involving and convincing. And enjoyable.
Dada Woof Papa Hot opened November 9, 2015 and continues through January 3, 2016 at Lincoln Center Theater's Mitzi E. Newhouse
Calling all HuffPost superfans!
Sign up for membership to become a founding member and help shape HuffPost's next chapter