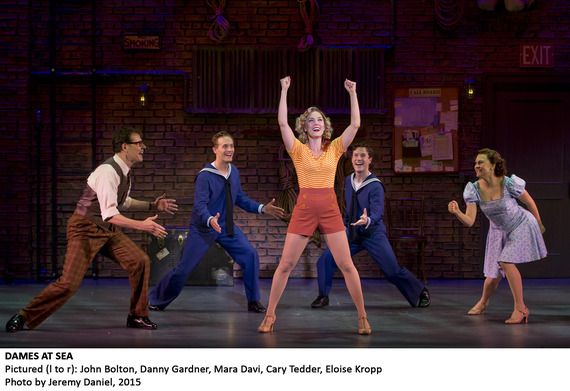 Broadway audiences clamoring for dance-happy musical comedy, with an emphasis on tap-tap-tap, need look no further than the Helen Hayes where Dames at Sea provides two hours-worth of shuffles and buck-and-wings.
The producers' first step was their best: to place the show in the hands of Randy Skinner, best known for 42nd Street and White Christmas (and a mainstay at both Encores! and Goodspeed). Skinner directs Dames at Sea as well, but it is his choreography which keeps the show on its toes from beginning to end. He has stacked the deck with an ingratiating cast, including two standout performances. So there is plenty for musical comedy audiences to be happy about, especially at a time when there is nothing else on Broadway in this category.
Dames at Sea, for those who came along in the era of Cats and Les Misérables, was one in a parade of small-scale off-Broadway musicals that delighted audiences by giving them intimate entertainments that would get lost on the larger scale of Broadway (like Little Mary Sunshine in 1959, The Fantasticks in 1960 and You're a Good Man, Charlie Brown in 1967.) Dames started as a sketchy one-act at a downtown coffee house. An expanded, commercial version opened Christmas week of 1968 at the Bouwerie Lane in the East Village, moved crosstown to the Theatre de Lys (now Lortel), and enjoyed a run of a year-and-a-half.

The big joke, in the case of Dames at Sea, was that the creators--along with a cast of six and designers working with a crimped budget in a crimped space--were giving us a tongue-in-cheek, postage-stamp version of those Warner Bros. movie musicals of the 1930s; sort of a Ruby Keeler-Busby Berkeley film without Ruby Keeler and Busby Berkeley. This was a grand notion, at the time. In 1971, though, Broadway actually got a full-size, grandly nostalgic stage version of No, No, Nanette, with both Keeler and Berkeley on the marquee. A decade later came the real thing, a munificently-staged 42nd Street with a cast larger than the entire audience at the original, coffee house Dames at Sea. So Dames--a playful, pint-sized parody of what might as well have been "42nd Street"--was trumped by the real, fully-realized 42nd Street.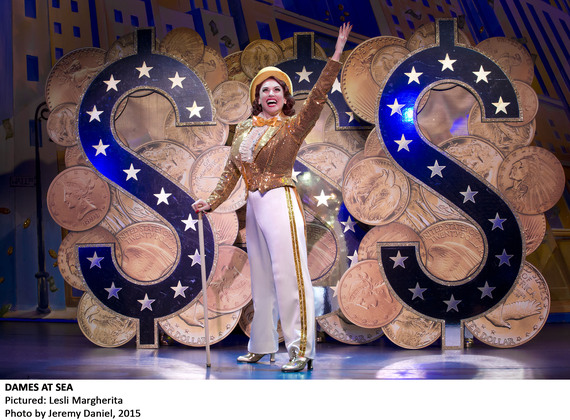 A 1985 revival of Dames at the Lamb's Club, from the original producer and director, seemed slight and passé. (One of the two pit pianists, as it happens, was Stephen Flaherty.) The surprise, today, is that the show remains viable; this first Broadway production is impeccably staged and loaded with entertainment, and should delight its target audience.
There is, though, a complication. The plot tells of Ruby (Eloise Kropp), who arrives just-off-the-bus in Times Square clutching her tap shoes; Dick (Cary Tedder), a cheery-faced country boy who somehow or other turns out to be a tunesmith; and Joan (Mara Davi), a world-weary chorine who takes Ruby under her wing. The tale is told in shorthand, laced with familiar lines about the unknown who goes on for the star and the like. But audience members who did not grow up watching all those films with Ruby Keeler, Dick Powell and Joan Blondell are likely to wonder why so many people are laughing.
The songs, with lyrics by George Haimsohn and Robin Miller (the pair also provided the book) and music by Jim Wise, are similar. They hit all the bases, reminding us of all those wonderful Harry Warren songs; but they are mostly lightweight pastiches, never quite as memorable as the real thing. It should be noted that the show--which was heretofore performed with two pianos and a drummer--is now fully orchestrated. A pre-Sondheim Jonathan Tunick was commissioned to orchestrate the 1968 original cast album; while those (delightful) orchestrations appear to have vanished, Tunick has been brought on to orchestrate the revival. Working with musical director Rob Berman (of Encores!), the show has never sounded so good.

There is a second-built in problem; the small cast of Dames--the other characters being temperamental Broadway star Mona Kent (Lesli Margherita), Joan's guy Lucky (Danny Gardner), and John Bolton doubling as the stage director and the Captain--was always meant to parody those big film musicals, under-enhanced by a flimsy physical production. Put it in a Broadway house and shine up the stagecraft, and the show loses that undernourished edge. The last tenant of the Hayes had a cast of sixteen; if Dames is not raffishly flimsy, a first-time viewer might wonder why there are only six actors.
That said, four of the six are especially enjoyable. Leading the group--in what is decidedly not the leading role--is Margherita (best known as the ballroom-dancing mother to all those Matildas over at the Shubert). She pulls out so many stops that she could start a branch of Overactors Anonymous; let her hit the right note, and she looks front to check were it lands--every time. Bolton (A Christmas Story), meanwhile, chews the scenery and even the guns of the battleship; when the choreographer has him do a little leap, he looks like he expects to go airborne on piano wire like Peter Pan. When the decidedly minor "Beguine" in the second act literally stops Dames at Sea in its tracks, you know that something is off kilter. Also contributing to the high spirits are the excellent Davi (White Christmas) and Gardner (Lady, Be Good!), the latter of whom has the charm of Donald O'Connor.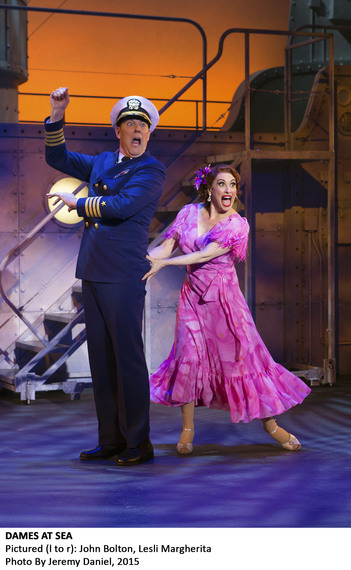 As for Ms. Kropp, it seems unfair at this point to compare her to Bernadette Peters, who created the role when she was twenty (with ten years, already, of professional experience). Kropp can tap, all right; but Bernadette's Ruby was so vulnerable that she literally brought tears to your eyes in her big number, "Raining in My Heart." Kropp doesn't. This turns out to be one of the least effective spots in the revival, presumably because the production is too grand to recreate the original, homemade-looking scenic and lighting effects. Tedder, too, is underwhelming although that might be built into the role.
The preview audience at the performance I attended was more or less over the moon; but they appeared to be a "friendly" audience of backers and relatives, with many of the older-skewing patrons clearly getting all the film references. Dames at Sea has the makings of a popular Broadway hit, providing that uninitiated audiences react half so favorably.
.
Dames at Sea opened October 22, 2015 at the Helen Hayes Theatre
Calling all HuffPost superfans!
Sign up for membership to become a founding member and help shape HuffPost's next chapter