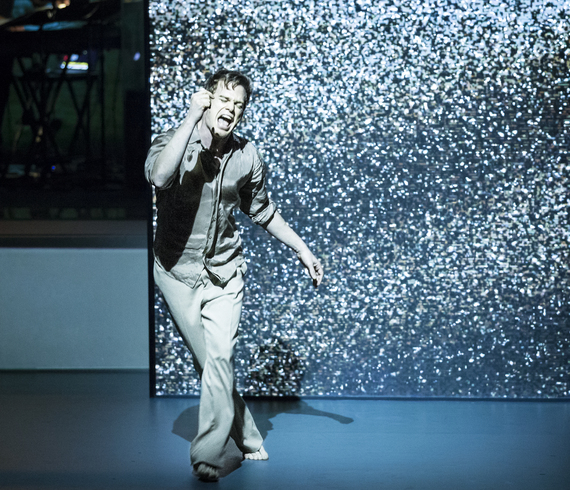 Michael C. Hall in Lazarus. Photo: Jan Versweyveld
"Is there an end to it?" someone cried out an hour into the new musical at New York Theatre Workshop. "When do you think I can leave? It has to be soon!" Only it was not some perplexed subscriber, trying to escape from the middle of one of those long rows of 22 seats with no center aisle. It was Michael C. Hall, the leading man.
Welcome to the world of Lazarus, the instant sellout by David Bowie and Enda Walsh, directed by Ivo van Hove and inspired by the novel "The Man Who Fell to Earth" by Walter Tevis. Having made little sense of the performance, I went to read synopses of the 1963 novel and the 1976 film version (which starred Bowie). Neither synopsis, alas, sheds much light on what happens in the musical--after the fact, at least--and it doesn't seem to have much to do with the biblical Lazarus, either.
Thomas Newton (Hall, of TV's "Dexter") is a mysterious man--or alien?--living in a rectangular box of a set, subsisting on gin, Lucky Charms and Twinkies. (We don't see any Lucky Charms or Twinkies, but there are plenty of gin bottles.) He is constantly visited by a slip of a blonde girl (a very good Sophia Anne Caruso, who was similarly excellent in MCC's recent The Nether); she seems to be maybe his child or a ghost or both, is randomly called Mary-Lou or Marley, and sometimes sports blue hair. He is also frequently in the company of Elly (Cristin Milioti, of Once), who seems to be an assistant or therapist and sometimes changes from her brown hair to blonde or blue, apparently as a stand-in for the imaginary (?) little girl.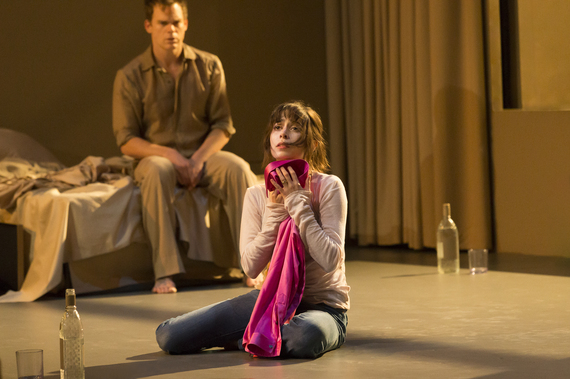 Michael C. Hall and Cristin Milioti in Lazarus. Photo: Jan Versweyveld
There are also a variety of others on the loose, including a friend named Michael (Charlie Pollock); Elly's boyfriend Zach (Bobby Moreno), who is jealous of Newton; a troublesome fellow named Valentine (Michael Esper), who is or isn't a friend of Michael and who seems to kill him; and more. What it all means, or is supposed to mean, is for them to know and you to find out, although after two intermissionless hours you might no longer feel the need to know. After a while, you wonder whether things might be far clearer if they had surtitles translating the dialogue into English. Except it is in English.
Mind you, Lazarus is a musical with numerous songs by Mr. Bowie. Some of them are quite nice, in fact, although they seem pulled from the catalogue and don't exactly contribute to the narrative. The performers do considerably better with the songs than with the dialogue, but that's probably because the songs are comprehensible.
The plot climaxes when one of the main characters stabs another main character to death, center stage. You know that the character in question is dead, because the stage is instantly splattered in blood. Well, not blood; rather, a gallon of milk. The two characters, dressed in beige, look like full-size Shredded Wheat biscuits--to follow the Lucky Charms motif--sopping up the milk. This leads to one of the more suspenseful moments of the evening, when you worry whether the milk will roll off the lip of the stage and onto the people in the front row.
This continues into a scene in which the stage is littered with black balloons which are popped in front of our eyes, after which the two actors in question slip and slide across the stage like dolphins in spilt milk. Although I confess I have never actually witnessed dolphins slipping and sliding in spilt milk.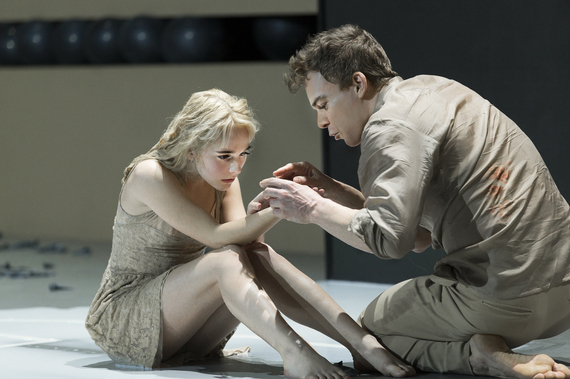 Sophia Anne Caruso and Michael C. Hall, in milk, in Lazarus.
Photo: Jan Versweyveld
For what it's worth, an uncredited Alan Cumming turns up with an extended scene on the video screen. While he is playing against the young Ms. Caruso, he somehow appears to be delivering his lines sitting on a stool somewhere in an acting class. Not to say that the expert Mr. Cumming performs like a student; his scene is more lucid than the rest of the evening. It does seem, though, that he is far away, acting by himself.
Mr. Walsh has given us a string of provocative stage works, including the libretto for Once; Mr. Bowie is justly celebrated; and director van Hove--whose several NYTW productions include Scenes from a Marriage--is responsible for the altogether stunning View from the Bridge presently at the Lyceum. NYTW originated such items as Rent, Once, and Peter and the Starcatcher. Which is to say, the assorted components of the production team are unquestionably visionary. Sometimes, alas, the collective vision isn't quite realized.
Perhaps they shall continue to work on the material elsewhere; the British producer Robert Fox (The Boy from Oz) instigated the project, and might well reassemble the creators and find the key to this Bowie musical. At this point, though, Lazarus is uninvolving, mighty odd, and you can't get a ticket.
.
Lazarus opened December 7, 2015 and continues through January 20, 2016 at New York Theatre Workshop
Lazarus, David Bowie, The Man Who Fell to Earth, Enda Walsh, Ivo van Hove, NYTW, New York Theatre Workshop, Michael C. Hall, Cristin Milioti, Michael Esper, Alan Cumming, Robert Fox
Calling all HuffPost superfans!
Sign up for membership to become a founding member and help shape HuffPost's next chapter