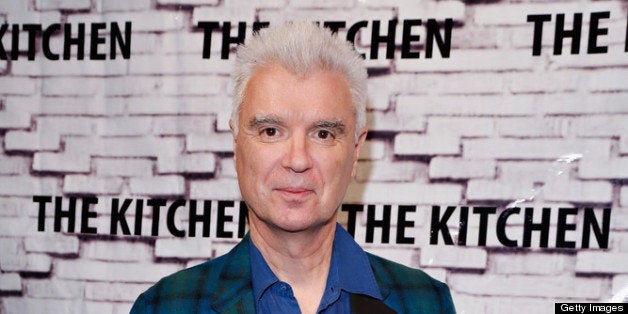 The Public Theater -- located in the shell of the old Astor Library on the eponymous Astor Place -- opened in 1967 with a genre-busting musical-unlike-any-other called Hair. Joe Papp and his denizens gave us another breathtaking, new-style musical in 1975 called A Chorus Line. It is too soon to tell whether Here Lies Love -- the newest offering from the industrious theatre factory just a block off Broadway -- belongs in the same circle with the others. It might, though, which is cause for a quick trip downtown. Wear comfortable shoes.
If the title sounds familiar, that's because David Byrne (of Talking Heads) has been developing this work for several years. Concerts in Adelaide (in 2006) and at Carnegie Hall led to a guest star-filled concept album in 2010. Now Byrne has joined with the Public's Oskar Eustis and an altogether impressive production team to turn Here Lies Love into -- what? A musical? A disco musical? A theatrical extravaganza? All three jumbled together, and something not quite like anything New York theatergoers have ever seen.
Here Lies Love is a poperetta chronicle of the rise and fall of Imelda Marcos, the disgraced former First Lady of the Philippines. A small-town beauty contest winner, she falls in love with a rising star who quickly dumps her, so she rebounds by marrying the soon-to-be supreme ruler of the land. Sounds like our old friend, Evita; there must have been a pattern for mid-20th century despots' wives. Imelda doesn't die, though; after exile in 1986 and corruption trials, she was elected in 2010 to the Philippine House of Representatives and there remains.
This musical, though, is far stronger than Evita. The heroine here is no cartoonish villainess: Imelda has the ring of truth, both in the playing (by the heretofore little-known but highly impressive Ruthie Ann Miles, lately from the off-Broadway Avenue Q) and in the writing. Disco, techno and pop music, yes, but Byrne's lyrics are surprisingly arresting. Whole sections are taken directly from interviews, documents, speeches, and Marcos-era declarations of martial law. This brings not only authenticity and history, but a too-real-to-be glib honesty.
The title song, which will linger long after you depart Astor Place, comes from the words of Imelda; "here lies love" is apparently her proposed epitaph. Byrne has a co-composer (Fatboy Slim) and two additional composers credited, but looking over a list of the most effective numbers -- "Rose of Tacloban," "When She Passed By," "Order 1080," Imelda's powerful final plaint, "Why Don't They Love Me?" and the folk-like "God Draws Straight" -- one finds that most are solely by Byrne.

Luesther Hall -- one of the upstairs spaces at the newly renovated Public -- has been transformed into what passes as a rectangular disco space. The central area, between two stages at the far ends, is the dance floor. There are a series of three raised platforms down the center of the room, with smaller platforms lining the sides. The magic comes from the use of the space; these platforms are turned, swung, and otherwise rearranged throughout. (The Public provides eight brightly jumpsuited techs who herd the audience out of the way of moving platforms as if they were the ground crew at LaGuardia.) With the constant movement, omnipresent disco beat and phantasmagorically flashing lights, the audience is intrinsically wrapped within the show.
But there's far more to savor than the trappings. Ms. Miles carries things off with aplomb; she makes this despotic tyrant almost likable. (Those infamous 2,700 pairs of shoes go unmentioned.) There are three other major roles, with the busy and excellent ensemble otherwise filling in on everything else. Jose Llana -- who has given an array of strong performances since Adam Guettel's Saturn Returns at the Public in 1998 (including a memorable turn as a puberty-addled boy scout in The 25th Annual Putnam County Spelling Bee) -- comes into his own as the charismatically dangerous Marcos. Melody Butiu adds humanity as Imelda's discarded friend Estrella, while Conrad Ricamora does well with the difficult role of the early boyfriend-turned-reformer-turned-martyr Benigno Aquino.
Full credit is due the creative team, led by director Alex Timbers of Bloody Bloody Andrew Jackson and Peter and the Starcatcher. Both offered eyebrow-raising staging, but Here Lies Love is even more impressive. So is the choreography by Annie-B Parson, which combines disco and Broadway-style steps with a large sprinkling of humor. Designers David Korin (sets), Clint Ramos (costumes) and Peter Nigrini (projections) turn this fascinating puzzle of an evening into a seamless whole, with special kudos to the lighting design by Justin Townsend. Let us add that this is a rock musical with the cast rapidly traversing the space while singing to overloud piped-in music -- and every word is clearly audible, courtesy of sound designers M. L. Dogg and Cody Spencer.
Viewers averse to immersive audience participation affairs will ask whether they'll be expected to dance, jump, sing and appear on video monitors. The answer, in truth, is yes. But the show, and the experience of the show, is worth it. More than worth it. And they -- being the rest of the audience, the jumpsuited handlers, and the exuberant cast of thirteen who will at various moments intrude on your personal space -- seem unruffled by less-than-participatory viewers. You will need be fleet of feet, though; there is no safe corner in which to hide, as the borders of the room are frequently usurped by platforms. The 158-patron capacity includes a limited number of balcony seats, which are the only option for those unable to freely roam. But this is not a show that you want to see from the upper reaches; you really want to be in it.
This show will inevitably end up at a larger, more commercially-feasible venue. Broadway, perhaps, although that will take some major reconfiguring. It is unlikely, though, that it will ever again look (and feel) quite like this. Here Lies Love has been extended to June 30 at the Public, and it is not to be missed.
REAL LIFE. REAL NEWS. REAL VOICES.
Help us tell more of the stories that matter from voices that too often remain unheard.