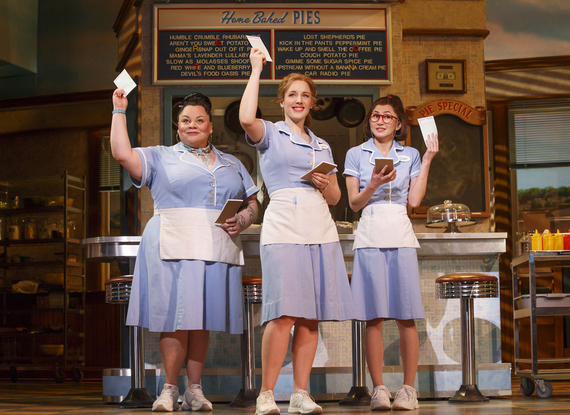 Keala Settle, Jessie Mueller and Kimiko Glenn in Waitress.
Photo: Joan Marcus
Picture a heaping slice of fresh Deep Dish Blueberry Bacon Pie just out of the oven, topped by a mound of whipped cream. The theatrical equivalent of that delectable treat--or maybe you'd prefer Devil's Food Oasis Pie?--can be found at the Brooks Atkinson just now, where Jessie Mueller (that formerly-Beautiful gal) headlines the new musical Waitress. And this is no fast-food thrill. Filled with prime ingredients, the evening is a tasty, satisfying, feel-good delight.
This is the stage adaptation of the 2007 film of the same title, a thorough charmer which made unfortunate headlines before it opened when director/screenwriter Adrienne Shelley was found murdered in her Greenwich Village apartment. The film was nevertheless a surprise hit and audience-pleaser, and makes a suitable base on which to build a musical.
Jenna (Mueller) is a waitress at Joe's Pie Shop, in a small town off Highway 27; she is also the wizard who bakes the delicious, whimsically-named pies. (The Life, Liberty and the Pursuit of Happiness Pie: "Meld warm golden delicious apples with free flowing brown sugar, add cinnamon and allspice, fold in cocoa chiffon until they merge perfectly, top with peaks of Chantilly cream.")
The heroine is surrounded at work by two waitress pals, Becky (Keala Settle) and Dawn (Kimiko Glenn); Cal (Eric Anderson), the irascible cook in the kitchen; and Joe (Dakin Matthews), the gruff-but-friendly diner owner. The plot is propelled when Jenna becomes pregnant by her abusive and all-round despicable husband, Earl (Nick Cordero). She pays a call to the town's new Dr. Pomatter (Drew Gehling), and sparks immediately fly in a goofily-romantic if highly unprofessional manner.
The third item in Sara Bareilles' score is what might be Broadway's first song about an e.p.t.; that is, an early pregnancy test. This suggests, early on, that this new musical--with score, book, direction and choreography by a quartet of women--is going to offer a somewhat different take on things. Which wouldn't matter if the results were subpar; but they are above-par, considerably so. The key statement is not that Waitress is a musical from a team of women, but that Waitress is a good musical from a creative team who happen to be women. (Jeanine Tesori and Lisa Kron's Fun Home--with one of Broadway's finest scores of the last quarter century--has already established the fact that gender has nothing to do with musical theatre excellence.)
Pop songwriter Bareilles--whose hits include the single "Love Song" and the album "Little Voice," but is nevertheless unknown to many Broadwayites--does a satisfactory job in her stage debut; she seems adept at putting character and emotion in her songs, and does a fair-enough job of telling her story through music and lyrics. Yes, there are a handful of numbers that entertain while not necessarily helping the musical along; and people who prefer lyrics that rhyme will find places where they don't. Even so, the score is entertaining, likable, and supportive of the characters.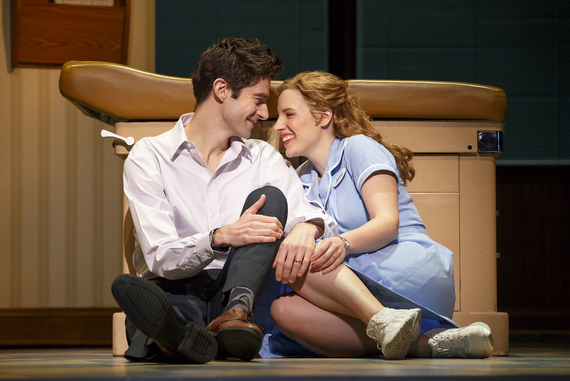 Drew Gehling and Jessie Mueller in Waitress.
Photo: Joan Marcus
First-time librettist Jessie Nelson is a screenwriter/director, and former artistic director of the Sundance Writers Lab. She takes the story and moves it along swiftly, landing big laughs along the way (in the manner of the fabled Tom Meehan, of Annie and Hairspray). Director Diane Paulus--who originated the show at her American Repertory Theatre in Cambridge--does an especially strong job; as someone who held a minority view of her work on the award-laden revivals of Hair and Porgy and Bess, Paulus won me over by the fourth scene. Lorin Latarro, an assistant choreographer on several shows, contributes to the mix by offering somewhat more restrained and less jerkily-frenetic choreography than we've seen in recent pop-oriented musicals.
As was the case with Beautiful, the heart of the show is Mueller. Yes, she can sing a ballad to the roof when required, and acts scenes with the best of them. Added to this is what you might call a likability quotient so high that she practically glows. (This has been demonstrated not only in the Carole King musical and in her brief turn as Carrie Pipperidge in the New York Philharmonic's 2013 Carousel, but also in the ill-conceived 2011 revival of On a Clear Day You Can See Forever--which might well have worked if they had simply let Mueller play the role as originally written.)
Mueller is surrounded by flavorful performances, led by waitresses Settle--who first came to attention on this same stage, blasting out songs in Hands on a Hardbody--and newcomer Glenn. Matthews, who has come to be a frequent presence hereabouts as an elderly character-man, gives a winning performance. Most surprising of the group is Gehling, a Jersey Boys replacement who also appeared opposite Ms. Mueller in Clear Day. He is sweet, ingratiating and extremely funny as the obstetrician with a sweet tooth, including a scene in which--bereft without a spoon--he devours Jenna's multicolored Mermaid Marshmallow Pie with the only potential utensil a physician always has at hand. Mueller and Gehling make a wonderfully warm couple up there, adding yet another charming facet to the show.
And then there is Christopher Fitzgerald, who seems to have wandered into Waitress and onto the stage of the Atkinson from some other planet. Playing an eccentric fellow named Ogie, Fitzgerald steals the stage whenever he is allowed to wander on from the wings. The actor did similar duty in Young Frankenstein as the hunchback Igor and Finian's Rainbow as the leprechaun Og. Those performances seem sedate compared to what he's up to here; he's like one of those Feiffer cartoons of a fellow fluttering in mid-air, gravity-be-damned. You half expect him to meander over to the side of the stage, when nobody is looking (except the audience), and start sampling some of the 48 luscious pies in the vertical display cases that comprise the proscenium. This is the sort of performance that traditionally merits a featured actor Tony, although this season all bets are off against A. Ham's T. Jeff.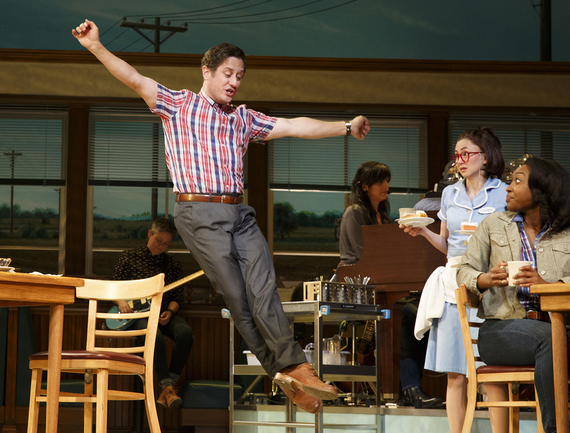 Christopher Fitzgerald in Waitress.
Photo: Joan Marcus
At the end of the evening, all's well with Jenna and the girls; everybody's happy, except the three male principals (two of whom have been cashiered by the heroine, the third deceased); and dear Ms. Mueller is serving up a slab of Slice of Heaven Pie. The producers might well work up a post-performance promotion with Junior's, over on Shubert Alley, so audiences can top this buoyantly flavorful evening with some deep-dish on a plate.
.
Waitress opened April 24, 2016 at the Brooks Atkinson Theatre
Calling all HuffPost superfans!
Sign up for membership to become a founding member and help shape HuffPost's next chapter