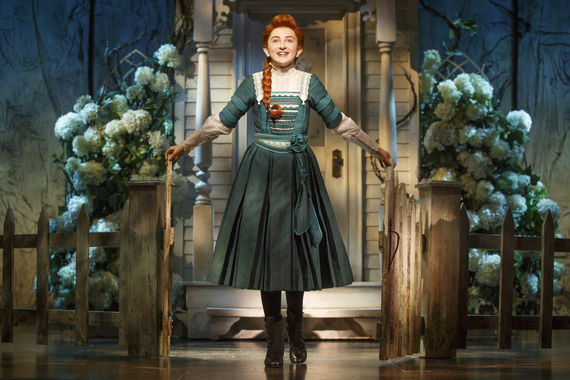 Sarah Charles Lewis in Tuck Everlasting. Photo: Joan Marcus
In this our age of Broadway cynicism--when religious tomes are transformed into blasphemous texts, boots are made for (kinky) walking, and even the founding fathers are recast as rap-talking hipsters--there seems to be little place for whimsy. Wholesome, moral winsomeness will never go out of style, presumably; but a rousing musical it does not make, at least in the case of Tuck Everlasting.
This new musical is based on the 1975 young adult novel by Natalie Babbitt, a schoolhouse staple which has sold millions of copies and been filmed twice. Thus, Tuck Everlasting has a lot going for it, including a title familiar to a vast audience; it also has oodles of whimsy. While vestiges of Brigadoon and Peter Pan abound, the musical at hand follows in the tradition of such items as Big Fish, The Grass Harp, and the stage version of The Little House on the Prairie--none of which found popular or artistic success. The new musical also has stylistic parallels to another new show, Bright Star.
In the very first minute of Tuck, a character enters and says how 1808 will be our best year yet. A minute later, he exits and a pre-teen girl with red hair--obviously fated to be our leading lady--comes on and says it's the first of August, 1893. This might sound confusing to many in the audience, but the kids already know what this means: the Tuck family of 1808 drink that magic water and--like the townfolk in Brigadoon--become ageless. Red-headed Winnie (Sarah Charles Lewis), as soon as she blinks her eyes and sings her first song, is sure to find the Tucks; discover their mystery; and help them save their secret everlasting. As the evening winds down, Winnie sends Peter Pan--err, I mean Jesse Tuck (Andrew Keenan-Bolger)--off and promises to return when she grows up, but we know she will never return to Neverland. Or Treegap, New Hampshire, which is what they call it here.
There is no reason that creative artists like director/choreographer Casey Nicholaw (who has three rousing musicals within seven blocks at present, The Book of Mormon, Aladdin and Something Rotten!) and colibrettist Claudia Shear (of Dirty Blonde fame) should restrict themselves to the genres in which they've found success. That said, this new musical about folksy backcountry time travelers seems an unlikely place for them to meet; and it is to be anticipated that Nicholaw's missionaries and genies will be tapping away long after the Tuck family stops drinking that magical spring water.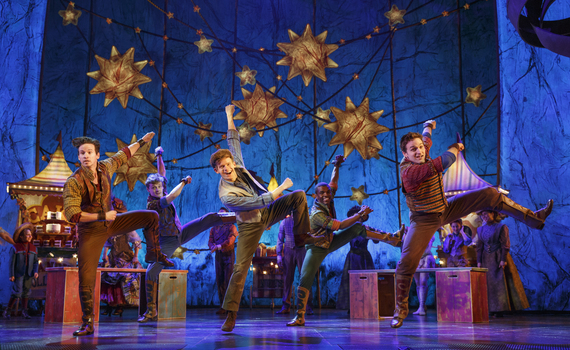 Andrew Keenan-Bolger (center) in Tuck Everlasting.
Photo: Joan Marcus
Nicholaw proves that he can, indeed, work in this gentler, not-in-your-face form of musical; we knew that already, having seen his masterful Most Happy Fella in 2014 at Encores! In Tuck Everlasting, though, matters are all too mild. Nicholaw has seen fit to end the evening with a full-scale Agnes de Mille-type ballet of the sort that went out of fashion at mid-century. Surprisingly enough, it turns out to be the show's strongest feature.
Composer Chris Miller and lyricist Nathan Tysen are an up-and-coming pair of songwriters from the NYU Musical Theatre Writing program. They made an impressive bow in 2010 with The Burnt Part Boys, at Playwrights Horizons. Their work on Tuck remains in the promising category. (It could well be that this score will work better on the cast recording, served up apart from the book.)
As has been the case in several recent musicals, many of the principal actors provide enjoyable performances. Mr. Keenan-Bolger, who is best known for his role as the handicapped paperboy in Newsies, is still playing kid parts at thirty; even so, he brings a good deal of spirited charm to the teenaged Jesse Tuck. Carolee Carmello (Parade) gives another winning performance as Ma Tuck, Michael Park makes an ingratiating Pa, and there are amusing performances by Fred Applegate as the local constable and Michael Wartella as the nerdy deputy trying to solve the mystery. And then there is Terrence Mann, up to no good whatsoever as a banana-hued, hissable huckster called "The Man in the Yellow Suit." (There is even a song called "You Can't Trust a Man Dressed in Yellow." The constable rhymes, "I should have locked him in a cell, oh.") He is given to comport himself like a Bob Fosse villain; one can easily imagine Ben Vereen in the role, but Mann seems mighty uncomfortable. Of course, he is dressed up as a banana.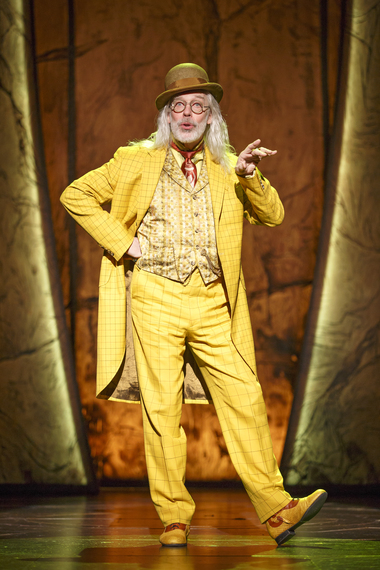 Terrence Mann in Tuck Everlasting. Photo: Joan Marcus
As for the eleven-year-old Ms. Lewis, she carries the proceedings with the assurance of Angela Lansbury. (Perhaps that's an exaggeration, but not much of one.) Lewis could easily wrap Annie--the one with the dog--around her little finger, although we are certainly not in need of another revival of that tuner tomorrow; she would also make a valuable addition to the Fun Home family.
It shall be interesting to see whether Tuck can overcome its shortcomings and build itself into a hit; there are some who opine that this well-loved tale with an indomitable red-headed heroine will attract all those mothers & daughters who flock to Wicked. Perhaps it will, although it has a disadvantage of opening amidst a throng of late-season musicals. Another issue: if it's a rollicking, woodsy, folksy, down home, 18th century slice of Americana you want, you can find one a couple of blocks away at The Robber Bridegroom. With Steven Pasquale, charm galore, and a wildly more tuneful score.
.
Tuck Everlasting opened April 26, 2016 at the Broadhurst Theatre
Popular in the Community