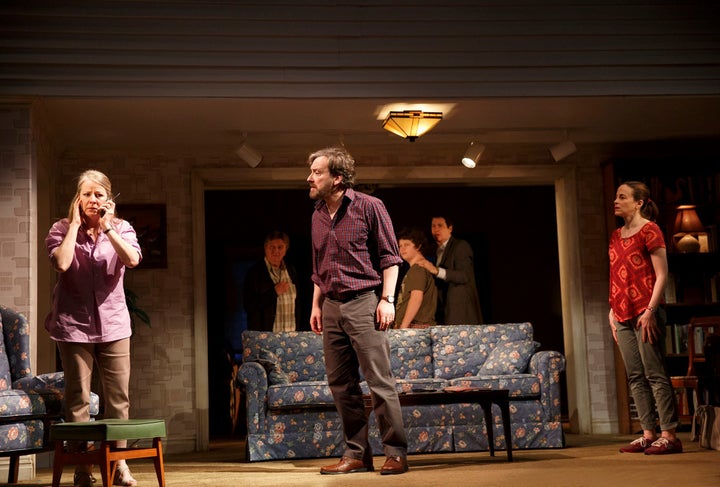 Steven Levenson, currently represented by the excellent libretto for Dear Evan Hansen at the Music Box, demonstrates that he is a powerful dramatist as well with If I Forget. The Roundabout's off-Broadway base at the Laura Pels has over the last seasons given us first-rate dramas such as The Humans and Sons of the Prophet, along with the wise comedies Bad Jews and Significant Other. Add Levenson's If I Forget to the list.
Three adult children return to their family home, in a fraying section of Washington, D. C., for their failing father's 75th birthday. The siblings—along with spouses and children—all have individual issues, which meld together into one big crisis that threatens to ruin their existence and, existentially, wipe out their history. In a way, If I Forget is not unlike August: Osage County; except that this is "July: Washington NW."
The family business at the center of the play is Haberman's, one of those 14th Street clothing stores which traditionally catered to low-income Washingtonians regardless of color. Lou Fischer (Larry Bryggman) married into the business—which has been around since 1880—after World War II. The store declined after the riots following the assassination of Martin Luther King in 1968, and is now rented to a Guatemalan family who operate it as a ghetto dollar store.
The time is 2000, just after the collapse of the Camp David Summit. Michael (Jeremy Shamos), Lou's son, is a Jewish Studies professor visiting from Brooklyn with his non-Jewish wife Ellen (Tasha Lawrence); their unseen college-aged daughter, Abby, is off in Israel on a Birthright Tour (i.e. a free ten-day tour for non-Israeli Jews). Lou's elder daughter Holly (Kate Walsh) and husband Howard (Gary Wilmes), a successful businessman, live in the Washington suburbs. The third sibling, the unmarried 40-year-old Sharon (Maria Dizzia), has been serving as Lou's caretaker. The group is completed by Joey (Seth Steinberg), Holly's rebellious teenager with a Game Boy, perennially baggy jeans and an ever-present can of Arizona iced tea.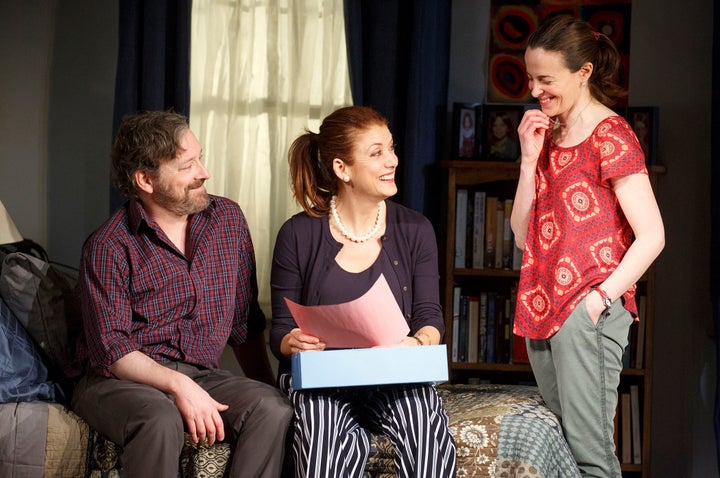 Each deals with a personal catastrophe or two, all of which explode in the second act after Lou suffers a stroke. Central to the play is Michael's new book, an inflammatory attack on American Jews called "Forgetting the Holocaust." The religious/philosophical question of remembering and forgetting is continually addressed, including a heart-stoppingly powerful speech as Lou relates what he found when his Army division was sent to liberate Dachau. ("For you," he tells his son, "history is an abstraction. But for us, the ones who survived this century, there are no abstractions anymore.") Ultimately, the theme is almost mystically applied across the centuries.
Shamos, an always impressive presence in such plays as Clybourne Park, stands at the forefront of If I Forget as the stubborn and almost militant intellectual who won't, and can't, give an inch. His back against the figurative wall, he digs in and fights; but Shamos makes him human and sympathetic. Walsh is a gorgon as his voracious, real-to-life, take-no-prisoners sister. (Her first act costume from designer Jess Goldstein, with aggressively striped trousers, is a perfect example of dressing-to-character.) Dizzia brings a wide range of hopes and failure as the always-overlooked, childless sister, who has never been able to compete with her siblings. The young Mr. Steinberg provides abundant humor plus unexpected sympathy; while Bryggman, memorable as the father in Doubt, is a purposely stolid presence until he breaks through with his extraordinary speech.
Director Daniel Sullivan, who has been responsible for such plays as Proof, The Sisters Rosensweig and Rabbit Hole, does his customarily incisive job, ably supported by his excellent design team (consisting of set designer Derek McLane, lighting designer Kenneth Posner and the aforementioned Mr. Goldstein).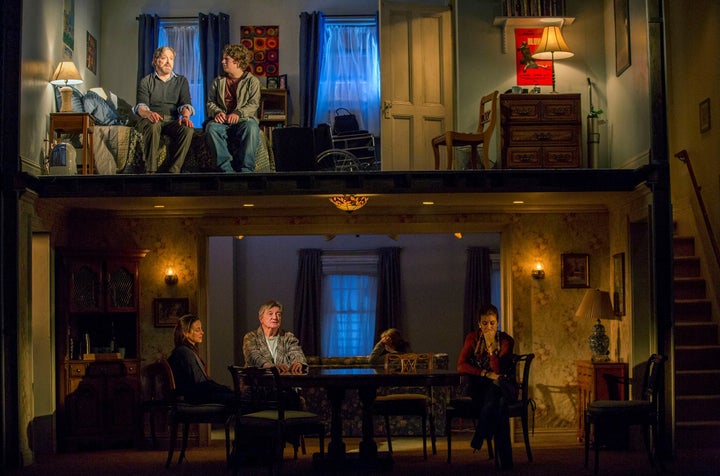 In the end, If I Forget is not simply a play about the Holocaust and remembrance. Levenson combines rivalries, religion, technology, illness, money and even hanging chads into a bubbling jumble of guilt, jealousy, remembrance and soap opera, resulting in a juicy melting pot of drama, comedy and realistic family strife.
Steven Levenson's If I Forget opened February 22, 2017 and runs through April 30 at the Roundabout's Laura Pels Theatre
Related
Popular in the Community