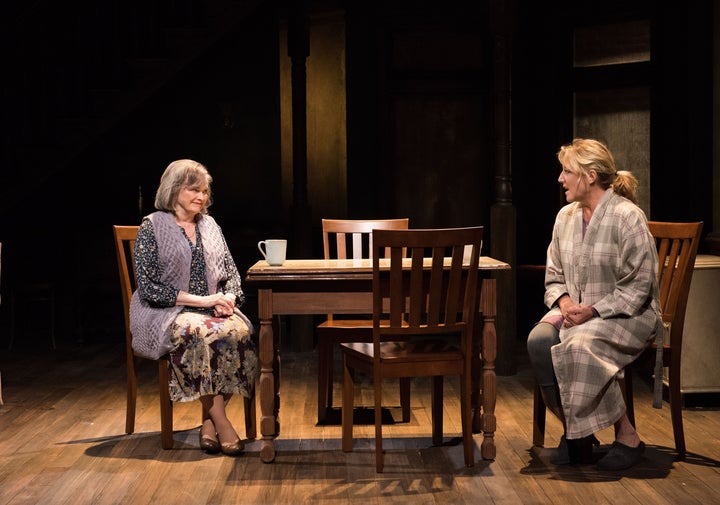 British playwright Simon Stephens has contributed mightily to the Broadway drama since 2014, with The Curious Incident of the Dog in the Night-Time (originally produced in London in 2012) and Heisenberg (which premiered at Manhattan Theatre Club in June 2015). The Atlantic now brings us one of his early plays, On the Shore of the Wild World. Stephens, we see, had a knack for creating characters and writing scenes back in 2005; but he is nowadays more skilled at dramaturgy.
A frequent visitor to the Royal Court since 1998, Stephens had a reputation as something of an experimentalist until 2012. He first achieved note hereabouts in 2011 with Bluebird (starring Simon Russell Beale, written in 1998) and 2012 with Harper Regan (written in 2008), both of which were produced locally by the Atlantic. Curious Incident was directly preceded by his smashingly good adaptation of A Doll's House for the Young Vic; the latter made a memorable visit to BAM's Harvey Theatre in 2014, immediately before Curious Incident started previews at the Barrymore.
All of which might help explain why On the Shore of the Wild World makes for an intriguing but not quite satisfying evening (and one that runs about 2:40). The play is a tale of longing, missed opportunities and urges unexpressed over three generations of a blue collar family outside Manchester. The not exactly welcoming title comes from an 1818 sonnet by Keats which starts "When I have fears that I may cease to be," and goes on to conclude that at such time "on the shore of the wild world I stand alone." Which I expect to most current playgoers might prove a touch oblique.
Eighteen-year-old Alex (Ben Rosenfield) is getting serious with Sarah (Tedra Millan)—although she seems to be the seducer. Parents Peter (C.J. Wilson) and Alice (Mary McCann) allow him to bring Sarah home for the night; we are told later on—hours later, that is—that years ago Alice had been the seducer. More forward-thinking is fifteen-year-old Christopher (Wesley Zurick), who not only has an instant crush on Sarah but is far better at flirting with her. The troubled undercurrents within the family, we learn, stem from grandpa Charlie (Peter Maloney) and grandma Ellen (Blair Brown).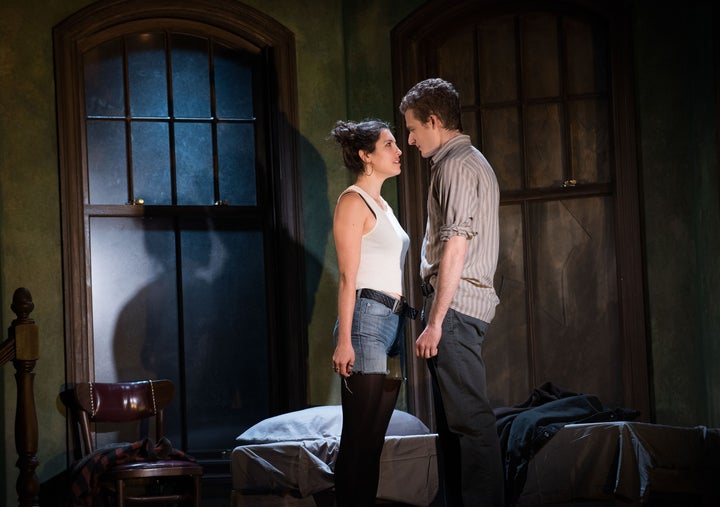 Tragedy strikes midway through act one, with one of those startling moments that cause a general gulp from the audience which viewers are admonished not to relate to potential future playgoers. The familial relationships are further complicated by the appearance of a pregnant editor/householder (Amelia Workman), and a personable mathematician (Leroy McClain) who is tied up in the first act tragedy. He tells Alice that he and his wife had aborted their out-of-wedlock son; Alice tells him that she and Peter had decided to keep their out-of-wedlock son, Alex. It's that kind of play.
The actors contribute a good deal to the evening. Rosenfield is central, as the non-expressive teen at play's center, while Wilson and McCann offer compelling portraits as the non-expressive parents. (McCann, a founding member of the Atlantic, appeared in Bluebird and played the title role in Harper Regan.) Young Ms. Millan is a bright presence as Sarah; she is an actress to watch, this being her third strong performance within the year (having been one of the central soccer players in Sarah DeLappe's The Wolves and Daphne to Kevin Kline's Garry Essendine in Present Laughter). Maloney, late of Outside Mullingar, gives another expert performance, well-matched by Brown (a Tony-winner for Copenhagen).
Stephens builds his story in small steps, not unlike a television drama of the soap variety. He manages to keep us engaged—he kept me engaged, anyway—but things turn clunky on several occasions. Scenes of a minute or two—in my experience—are rarely effective on stage and should be used sparingly if at all; they suggest that the playwright is stuck and can't figure out a better way to work the content into the play.
It should also be noted that the Olivier Award-winning original 2005 production—a joint venture between the Royal Exchange in Manchester and the National Theatre in London—appears to have been presented in the round, which might have allowed better flow. The Atlantic's artistic director Neil Pepe stages the play here on a traditional unit set by Scott Pask, which perhaps accentuates the choppiness of the text.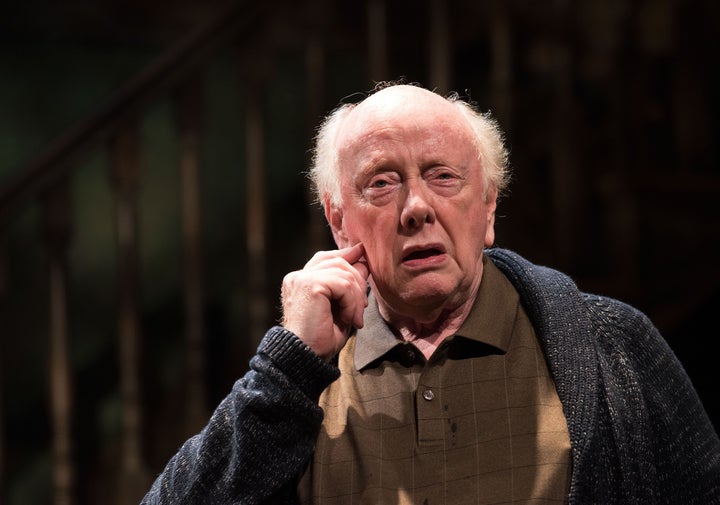 Curious Incident was an adaptation, yes; but Heisenberg was an original, and Stephens did a deft job on the plotting as well as the text. Which leads one to imagine that if he was writing On the Shore ten years later, or revising it today, he likely would have been able to smooth out some of the play's rough edges.
The Atlantic Theater Company production of Simon Stephen's On the Shore of the Wild World opened September 12, 2017 and continues until October 8 at the Linda Gross Theater
Popular in the Community