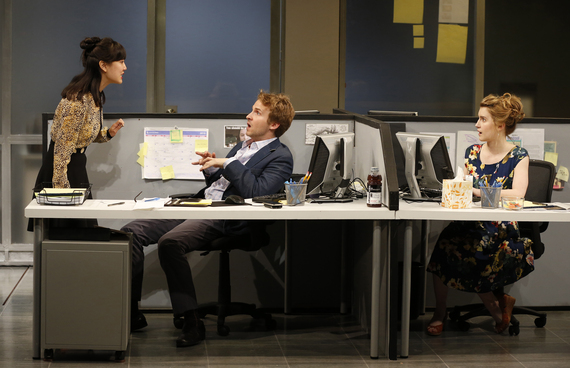 Jennifer Kim, Ryan Spahn and Catherine Combs
in Gloria by Brendan Jacobs-Jenkins. Photo: Carol Rosegg
How do you describe a play that is so surprising -- and so excellent -- that you don't want to give readers an idea of what they are in for? So surprising and ingeniously written, in fact, that your immediate reaction is to want to see the play again so that you can better appreciate what the author has wrought. How do you describe it? Carefully.
Branden Jacobs-Jenkins is the playwright, and Gloria -- at the Vineyard -- is the play. This verdict might not come as a surprise to playgoers who saw An Octoroon, with which Jacobs-Jenkins raised eyebrows in April 2014 at the Soho Rep (and in its transfer last February at Theater for a New Audience in Brooklyn). Which is not to say that the new play occupies the same terrain -- philosophically, thematically or stylistically -- as An Octoroon. Gloria is very much a spitfire office comedy, with a disparate group of insightfully-drawn characters providing wildly funny humor. Until...
The author, it seems, has other things in mind. He rivets us to attention at the end of the first act in a manner that leaves you catching your breath and saying, well! But where, you ponder during intermission, can he possibly go from there? Jacobs-Jenkins changes course and enhances his theme in the first scene of the second act, and then shifts again for his compelling ending. The whole thing works out magnificently, in my view. But you really must see for yourself.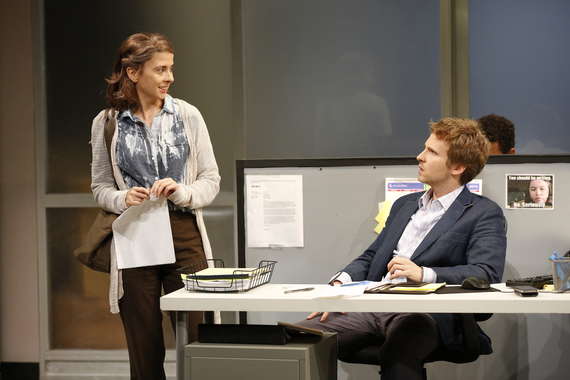 Jeanine Serralles and Ryan Spahn in Gloria by Brendan Jacobs-Jenkins.
Photo: Carol Rosegg
The Vineyard's production of this exceptional play is itself exceptional. The cast of six are superb, each and every one; it helps that Jacobs-Jenkins has seen fit to give everybody two or three dazzling extended speeches that take us on roller-coaster rides of words and thoughts and images. Three of them -- Catherine Combs (Ani), Jennifer Kim (Kendra) and Ryan Spahn (Dean) -- are making their off-Broadway debuts; Michael Crane (Lorin), Jeanine Serralles (Gloria) and Kyle Beltran (Miles) have numerous local credits, with the latter having recently played a major role in Fortress of Solitude. Individual praise is withheld, the better to avoid spoiling what the author is up to. But they are good.
The staging by Evan Cabnet (of A Kid Like Jake and The Dream of the Burning Boy) is impeccable; there is a lot going on, here, and Cabnet firmly guides the players and the audience. There is also a keenly helpful set from Takeshi Kata, along with intelligent sound design from Matt Tierney (of Machinal).
But the play's the thing, especially in this case. Jacobs-Jenkins has come up with a provocative theme, filled it with dazzling language, and managed to build it into something likely to resonate in your mind long after you climb the stairs of the Vineyard and spill out into the relatively placid Union Square.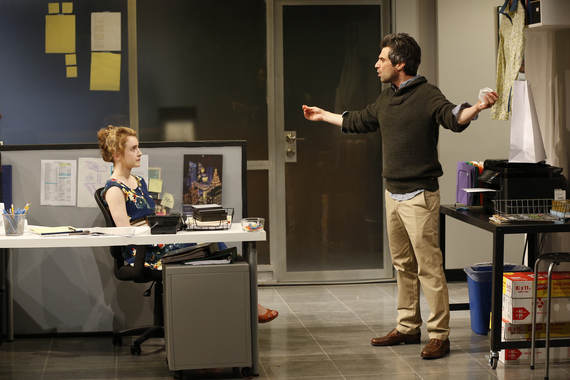 Catherine Combs and Michael Crane in Gloria by Brendan Jacobs-Jenkins.
Photo: Carol Rosegg
.
Gloria, by Branden Jacobs-Jenkins, opened June 15, 2015 and continues through July 18 at the Vineyard Theatre
REAL LIFE. REAL NEWS. REAL VOICES.
Help us tell more of the stories that matter from voices that too often remain unheard.