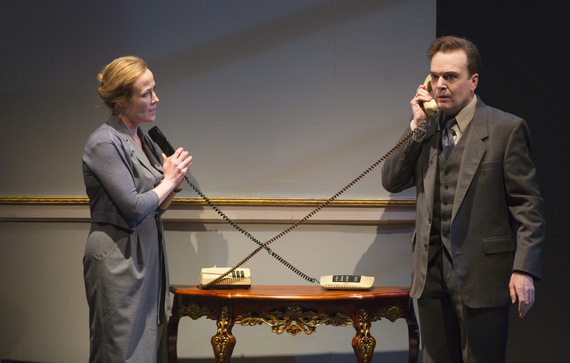 Jefferson Mays and Jennifer Ehle in Oslo
Photo: T. Charles Erickson

You might well think that a three-hour drama about the 1993 Israeli/Palestinian peace talks will be historically and intellectually worthy but not especially gripping. Think again. J. T. Roger's Oslo is gripping, provocative, wrenching, funny and altogether riveting. Head up to Lincoln Center Theater's Mitzi Newhouse, you'll find yourself on the edge of your seat.
Rogers does not set himself an easy task. With the "official" peace talks between the two parties ineffectually stalled (in part because the American-led negotiations excluded representatives from the Palestine Liberation Organization, which left them without the people who controlled the Gaza Strip), Norwegian sociologist Terje Rød-Larsen (Jefferson Mays) and his diplomat-wife Mona Juul (Jennifer Ehle) decide--for humanitarian reasons--to try to arrange secret, back-channel peace talks. They invite a P.L.O. minister and two Israeli economics professors to meet in a rented house in Oslo; no aides, no hotels, no security, an operation so low-profile that they shepherd the men around in rental cars. The talks, needless to say, are treacherous; but a bond is set. As much as the parties hate each other, both are looking for a solution to an impossible situation they are forced to live within.
The talks start in 1992 and continue in several stages over a year (and three acts), culminating in the landmark accord which was publically signed in 1993 at the Clinton White House and which won the Nobel Prize for Yitzhak Rabin, Shimon Peres and Yasser Arafat. (Only Peres was directly involved and literally "in the room where it happens," to borrow a phrase from some American songwriter, but there are humorously unflattering cameos of Rabin, Arafat and Henry Kissinger).
This calls for numerous scenes with argumentative men sitting across a table, yes; but matters and ideas move so swiftly that the play flies by far quicker than some eighty-minute one-acts we can name. Rogers spins his tale with twenty-one interlocking characters (played by fourteen actors), and it turns out to be a wildly suspenseful and sometimes dangerous ride.
Credit rests equally with Lincoln Center Theater resident director Bartlett Sher, who not only provides a highly effective and swiftly moving production but personally instigated the play. (While directing Rogers' Blood and Gifts at LCT in 2012, Sher broached the idea of a play to his friend Terje--then based in New York, their daughters attending the same school--and invited Rogers to write it.) Rogers was instantly intrigued with the idea of exploring "a hidden history that lies behind the public history." The complex negotiations have been somewhat sculpted into stageworthy fashion, which means that the characters are real although the words come from the playwright.
The cast is remarkable on just about all sides; with so much doubling, it's difficult to play favorites. (Actors like Daniel Jenkins are thoroughly convincing, and often unrecognizable, in their different guises.) The central role is undertaken by Mr. Mays, most recently of A Gentleman's Guide to Love and Murder, who has continually given impressive performances since he burst upon the Broadway scene in 2003 with I Am My Own Wife. Mays, Rogers and Sher build this character into the consummate insider--the talks are held under his auspices, initially without the knowledge of even the Norwegian government--but at the same time an outsider looked upon as a dilettante by the participants, with at times violent repercussions. The dignity and integrity Mays brings is central to the success of the play. He is matched by Ehle (from LCT's The Coast of Utopia), who grounds the play and grounds the talks. Rogers gives her what might be the essential speech of the evening--something that in a musical would be considered the eleven o'clock number--and Ehle makes it into a dramatic highpoint.
They are surrounded by a marvelous ensemble, including Anthony Azizi and Darisuh Kashani (as the Palestinian negotiators), Mr. Jenkins, Daniel Oreskes and Adam Dannheisser (as Israeli negotiators), T. Ryder Smith as the Norwegian Foreign Minister and Henny Russell--the only female cast member other than Ehle--playing three roles with gusto.
Director Sher is accompanied, once again, by the design team (sets by Michael Yeargan, costumes by Catherine Zuber, lights by Donald Holder) that has served him so well on South Pacific, The King and I, Golden Boy and other entertainments. Their combined talents help make this play breeze by while the audience breathlessly hangs on.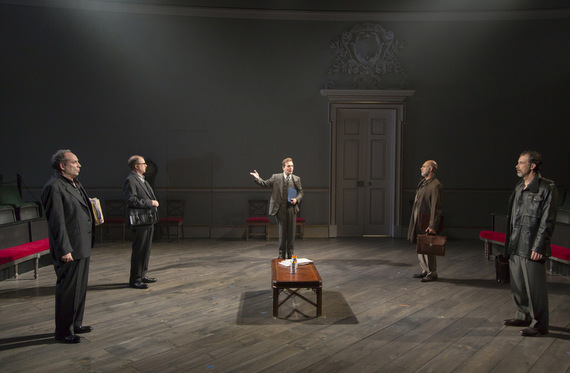 Daniel Oreskes, Daniel Jenkins, Jefferson Mays,
Anthony Azizi and Darisuh Kashani in Oslo
Photo: T. Charles Erickson
Here it is, once again, summertime with the livin' so easy. A true-life, historical, intellectual thriller about government and international politics might not sound like what you are looking for, but Rogers, Sher and LCT have given us the real thing. Oslo fits right in with Michael Frayn's Copenhagen, Gore Vidal's The Best Man and Robert Schenkkan's All the Way. Inquiring playgoers, be apprised.
.
The Lincoln Center Theater production of J.T. Rogers' Oslo opened July 11, 2016 and continues through August 28 at the Mitzi E. Newhouse Theater
Calling all HuffPost superfans!
Sign up for membership to become a founding member and help shape HuffPost's next chapter