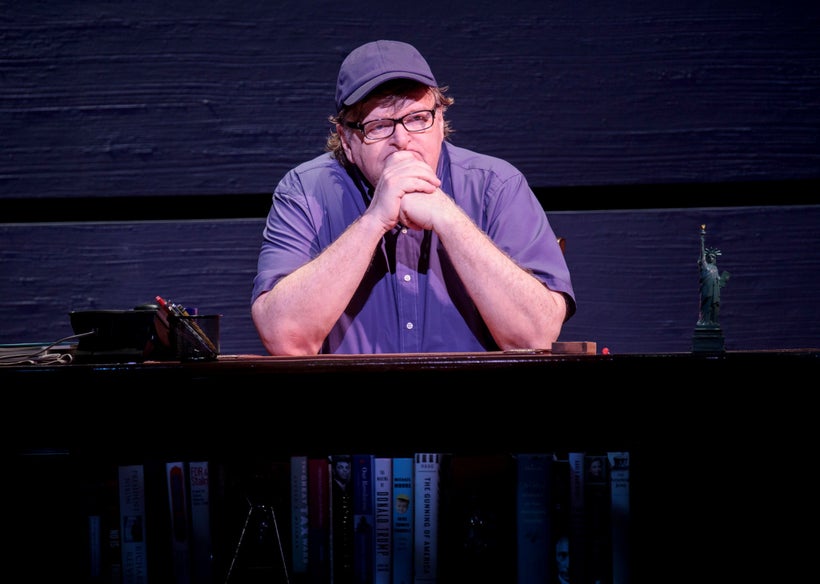 As the Bard once said, or nearly so: "To thine own audience be true." Michael Moore, that renowned, brashly-impudent political provocateur, knows his audience. He has always been keen at smelling fresh blood in the air, usually facing off against one Goliath or another; and he is known for ambushing his particular bogey man with lacerating skill and buoyant relish. Setting his sights on you-know-who—the nominal leader of our great land, presently in self-imposed exile from his abode twelve blocks up the avenue from the Belasco—Moore plucks his prey, like a pre-Thanksgiving turkey; stuffs a juicy crabapple in its mouth, like a Christmas suckling pig; and sets the roaster on slow burn.
In this age of political correctness and political incorrectness, Moore doesn't mince words. No one is likely to attack him for making a sly assault on Mr. President, as occurred earlier this summer when a bunch of left-wing subversive dramaticos gave J. Caesar an orange hairpiece and small hands. Moore speaks his mind, and subtlety is not in his lexicon.
Now, precisely how you're likely to feel about The Terms of My Surrender kind of depends, as they say. Which takes us back to knowing thine audience. Moore starts his entertainment with one of the more memorable opening lines in the dramatic literature: "How the f*** did this happen?!?" And on he goes from there. He quickly establishes—through an unofficial count of hands—just how many of the thousand souls in what is likely to remain the sold-to-the-Tiffany-lamped-rafters Belasco are Trump voters. Six, at the performance I attended; although one wonders just how many Trump voters are likely to raise their hand in a houseful of what can only be described as educated, well-mannered, rabid non-Trump voters.
This should not be much of an issue. Terms of My Surrender is red meat for blue staters, with the reds surely welcome—at a $149 top, with premium ducats scaled to $249—but less than likely to flash their credit cards. Moore might, of course, draw protesters; but then, he has built his career on protests. There might indeed be a grand conflagration if, one night, the leader of the free world decides to drop by. (One of the lower boxes is draped with a semi-circular stars-and-stripes banner, just like in photos of the Presidential Box at Ford's Theatre the night that Mr. Lincoln went to see the play. Subtle, no?)
But a presidential visit to what Moore describes as "a 12-Step Meeting for the Democratic Party" is highly unlikely, as DJT seems afeerd of setting foot in hostile territory. Also, he would likely be left high and dry under Moore's well-fueled verbal assault. (Moore would surely invite his visitor to talk back—and we know how treacherous it can be when Trump starts improvising.) Even so, the President would surely approve of the way his visage is fantastically plastered on the back wall in full-stage size.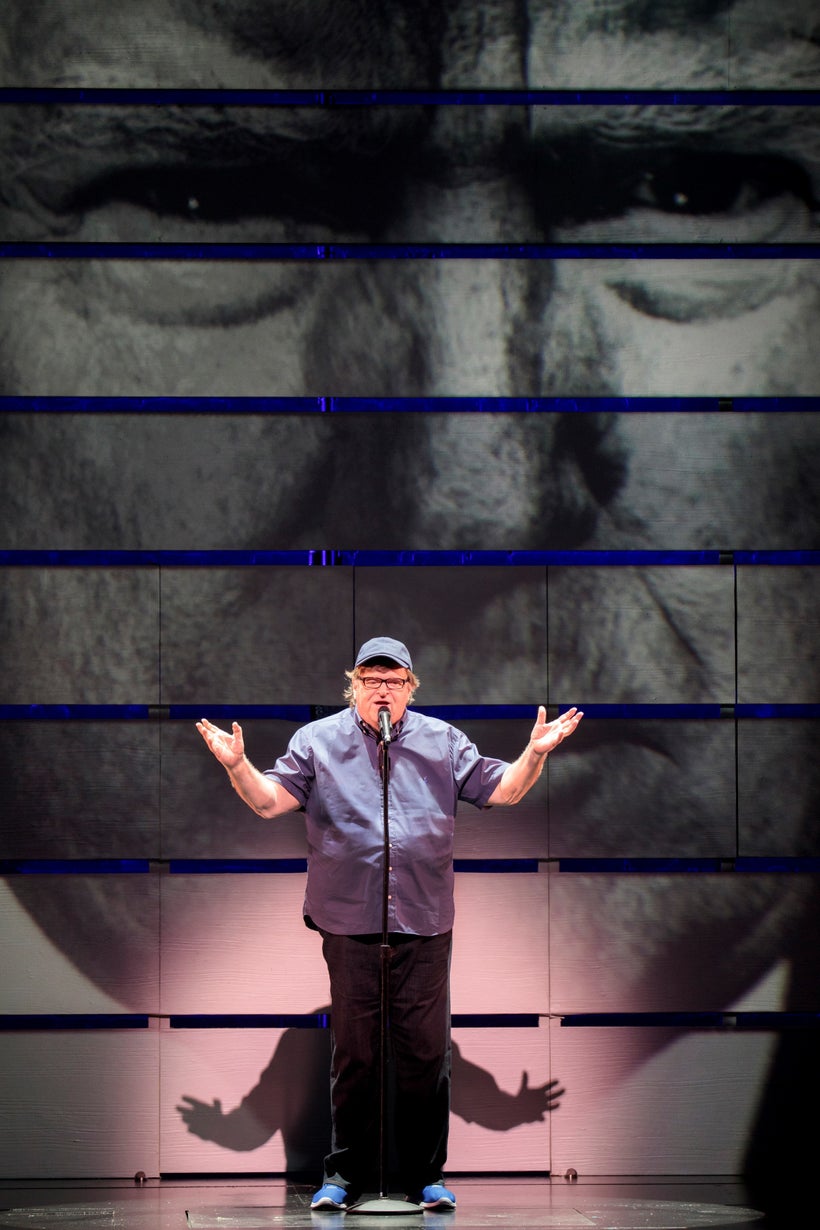 The play is not all Trump-bash, all the time. Moore goes through fifteen set-pieces, most drawn from his life adventures. These turn out to be fascinating and engrossing; many of the strongest sections of the evening, which runs an intermissionless two hours or so, are about the author. How as a seventeen-year-old high school student from Michigan, he wrote an essay attacking the Elks Club as racist which instantly stirred up controversy, with Walter Cronkite calling, and resulted in forced integration of private clubs. How, at eighteen, he became the youngest person elected to public office in the United States. The local school board, running on a campaign to fire his high school principal.
Moore also tells how he and a friend—taking advantage of a ridiculously low, $39 airfare from Detroit to Hamburg (remember People's Express?)—crashed the 1985 ceremony at which it was announced that President Reagan planned to place memorial wreathes on the graves of Nazi soldiers at the cemetery in Bitburg, Germany. As Reagan spoke, the boys whipped out a hand-made sign proclaiming "We Came From Michigan, USA, To Remind You: They Killed My Family." (Ever the public relations genius, the young Moore located ABC newsman Pierre Salinger—formerly Press Secretary to JFK, back in the days when press secretary was an honorable profession—and alerted him to keep a camera ready for the confrontation.) Most effective is a searing indictment of the present-day, government-made water crisis in Flint, Michigan.
The evening builds to a guest star slot. At the first press preview, it was Bryan Cranston who emerged from the hidden door in the wall, to a strong reception from the audience. This segment, one supposes, rises or falls on the chemistry between Moore and the guest. The two appeared to be jolly companions, but the frictionless camaraderie proved to be the one weak stretch of the night. Michael Mayer has provided an orderly framework for the star, which might not have been especially easy. David Rockwell has come up with a mostly simple set with flashy tricks, and Mayer himself contributes a few surprises at evening's end.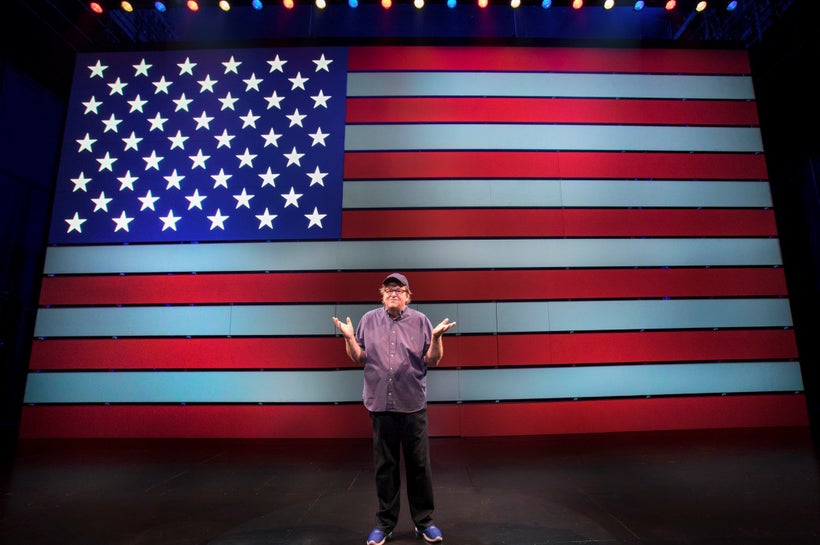 Lest anyone wonder, the titular terms of Moore's surrender are clear and simple: "Trump goes!" Which gets a roar on the level of "Rose's Turn," if you know what I mean.
Michael Moore's The Terms of My Surrender opened August 10, 2017 and continues until October 22 at the Belasco Theatre
Calling all HuffPost superfans!
Sign up for membership to become a founding member and help shape HuffPost's next chapter
This post was published on the now-closed HuffPost Contributor platform. Contributors control their own work and posted freely to our site. If you need to flag this entry as abusive,
send us an email
.