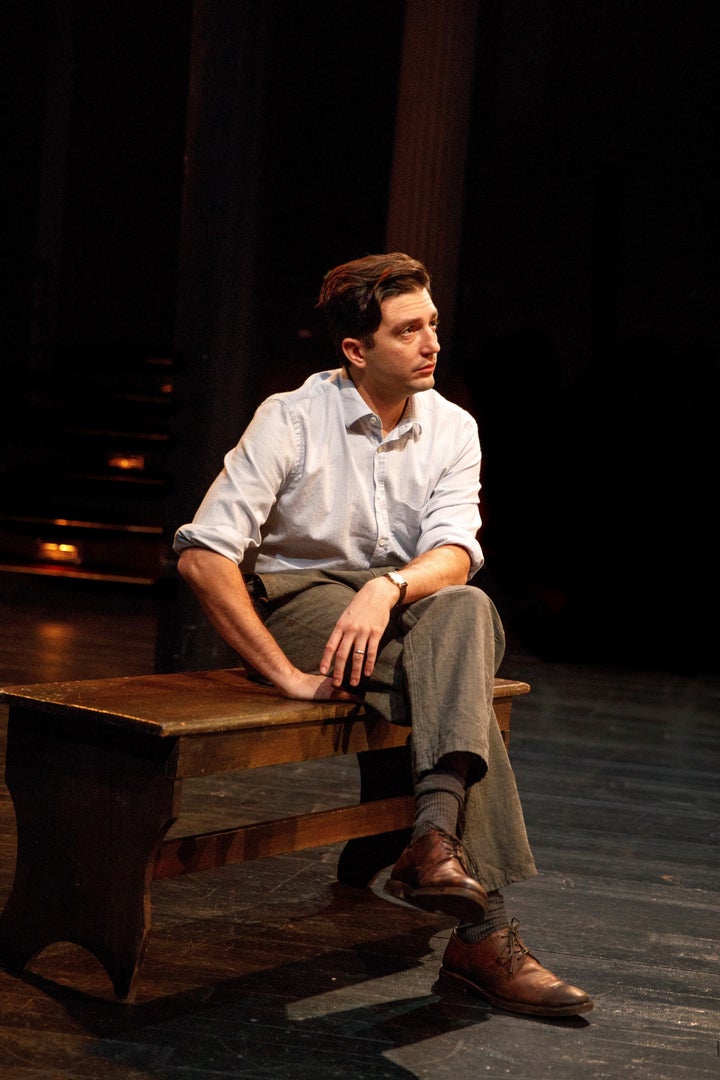 A beleaguered and belligerent Quixote from Williamsburg, namely Joe Papp, tilts at windmills and ogres (led by Robert Moses) for the heart and artistic soul of the populace in Illyria, Richard Nelson's dramatically-engrossing greenroom chronicle. Illyria is the playground within which Shakespeare set his Twelfth Night, which serves Nelson as something of a play-within-the-play. He might just as easily have named it after the As You Like It forest of Arden or that Midsummer Night's wood outside Athens, although you and I know it as Central Park.
Nelson is the prolific author of forty-odd plays over forty-odd years, including the masterful Apple Family quartet and the Gabriel trilogy, all seven of which were presented over the last decade at Papp's own Public Theater (albeit long after the producer's death in 1991). Playgoers are well aware of Nelson's excellence at probing the hopes and illusions of modern-day characters. Here, he takes the larger-than-life Papp & pals and places them into something of a backstage morality play with sheathes of undercurrents worthy of old Will.
The action is set in 1958, a decade before the Public—that mainstay of the modern off-Broadway world—came into being. At the time, the activities of Papp's New York Shakespeare Festival were restricted to free Shakespeare in the Park; he had just moved his flatbed-truck stage from the East River Park Amphitheatre (below Grand Street on the Lower East Side) to the shore of Belvedere Lake in Central Park, and New York City Parks Commissioner (and urban projects czar) Moses was already trying to evict him.
Chronically underappreciated and woefully underbudgeted, Papp (John Magaro) and his not exactly merry band of cohorts fight for survival. This pint-sized D'Artagnan is supported by his own loyal Athos, Porthos and Aramis, in this case Stuart Vaughan (John Sanders), in-house director of the initial productions; Merle Debuskey (Fran Kranz), publicist and ever-loyal sounding board and co-architect of the kingdom; and Bernie Gersten (Will Brill), friend and stage manager.
Also prominent are composer-in-residence David Amram (Blake DeLong) and three actresses: Peggy Papp (Kristen Connolly), wife to the king; Mary Bennett (Naian González Norvind), a clearly more talented actress than Papp's wife and—unlike the others—apparently fictional; and the blazing young genius Colleen Dewhurst (Rosie Benton). Dewhurst's frequent scene partner and soon-to-be husband, the mercurial George C. Scott, remains offstage but his name continually barges into the discussion.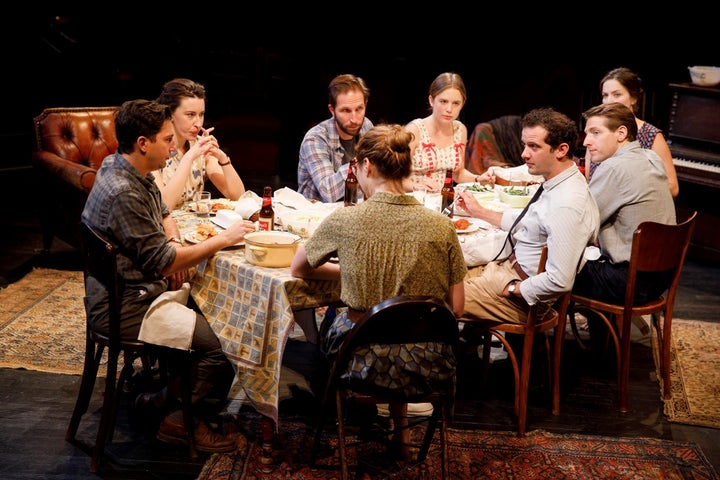 Nelson presents his tale in three scenes: first in the greenroom after a student matinee, as the showfolk plan their upcoming summer season. The second—in Dewhurst's apartment—comes just after Papp and Gersten are both hauled before the House Un-American Activities Committee, and as their funding and their upcoming summer season all but disintegrate. The finale follows the closing performance of that season's Shakespeare in the Park on that flatbed truck, five years before Papp managed to get donors to build the grand stage we know as the Delacorte: just three friends—Joe, Merle and Bernie—sitting and dreaming in the rain.
Vaughan, by this point, had already been exiled from the kingdom. (He had a long career at regional theatres across the country.) Gersten remained by Papp's side under the title "associate producer" until 1978, when he was evicted. (Papp couldn't abide the fact that Michael Bennett, of the Public's A Chorus Line, liked Bernie more; Gersten went on to a distinguished career as producer at Lincoln Center Theater, the site of one of Papp's most notable failures.) As for Debuskey, he remained until 1983 when Papp—increasingly egotistical and jealous of his long-time loyalist's success as a revered Broadway press agent—banished him.
Nelson, as before, serves himself well as director. Starting with a jumble of furniture stacked mid-stage, he has his cast conjure the settings prior to starting the scenes; everything proceeds naturally, and in just-right manner. The cast includes none of those Apples and Gabriels—no reason it should, though it's a bit of a surprise after we've spent seven evenings together—but the Illyria players quickly earn our intense concentration.
More than intense; director Nelson, by having the performance purposely underamplified, seems to encourage the notion that you needn't necessarily hear every word that is said—although after an acclimating period, members of the audience appeared to have physically adjusted by visibly leaning forward and listening.
The heretofore little-known Magaro dominates the play, as Papp dominated real life. Magaro—like the bantam Joe himself—is small and intense, with a smile and enthusiasm that can sway the severest naysayers. Brill and Kranz, both of whom appeared in the 2014 revival of You Can't Take It with You–as, respectively, husband of the eccentric daughter and suitor of the normal daughter—are excellent as Papp's staunch henchmen. (I can attest, having worked with both Bernie and Merle, that Nelson and his actors cannily capture the originals.) Benton has something of the built-in command of Ms. Dewhurst, while the rest all contribute mightily to the "Joe Papp show."
Viewers coming to the play without context—about the blustery Papp, the powerful Robert Moses, the H.U.A.C. and more—might find parts of the discourse difficult to follow. But the discussion is indeed relevant to any audience members who have been enthralled by the activities of the Public, either with Papp (A Chorus Line), George C. Wolfe (Bring in 'da Noise, Bring in 'da Funk), or Oskar Eustis (Fun Home, Hamilton).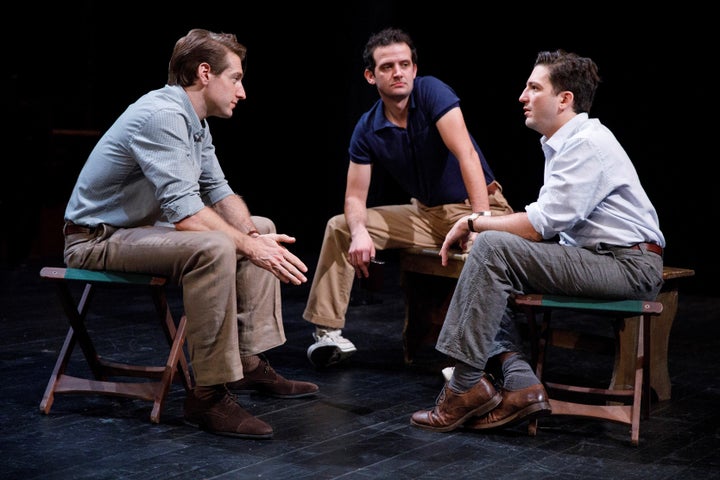 While Joe is long gone, let it be said that Bernie and Merle are still very much with us; hopefully enjoying their well-earned retirement, and presumably back down on Astor Place relishing Illyria.
Richard Nelson's "Illyria" opened October 30, 2017 and continues through December 10 at the Public Theater