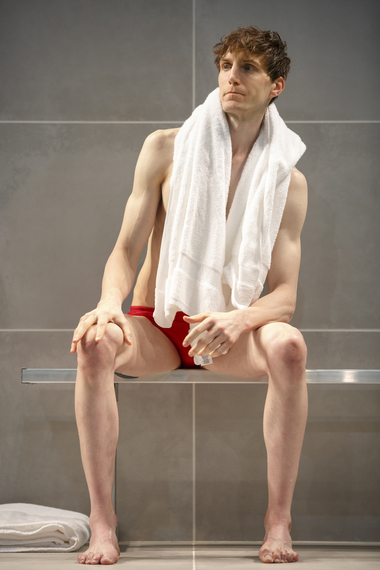 Alex Breaux in Lucas Hnath's Red Speedo.
Photo: Joan Marcus
Playwright Lucas Hnath made an auspicious splash in September with The Christians, an explosive religious drama at Playwrights Horizons. Now he's back, at New York Theatre Workshop, with the equally explosive and equally excellent Red Speedo. This is brisk, bracing and brutal drama; human, funny and so intense that the weak-hearted might need to shield their eyes. Especially if they are sitting in the front row.
That first row faces directly into an on-stage lap pool, through a safely water-tight Plexiglas panel. And this pool, rest assured, is not merely decorative. The red Speedo of the title is, indeed, a swimsuit. The protagonist in what turns out to be a triangular battle is Ray (Alex Breaux), one of those twenty-something athletes whose education and social skills have been pushed aside to allow him to concentrate solely on his sport.
The play opens on the eve of Olympic qualifying trials, and it opens with an extraordinary outburst from the swimmer's brother/manager, Peter (Lucas Caleb Rooney). With only brief, fragmentary interruptions from Ray and his Coach (Peter Jay Fernandez), Rooney delivers a vehement six-minute oration in which he hardly pauses, plowing along notwithstanding an occasional lack of breath and at times a lack of coherent thought. But he blusters on, providing pulse, background information and laughter as he goes.


Lucas Caleb Rooney in Lucas Hnath's Red Speedo.
Photo: Joan Marcus
A lawyer skating on thin ice, Peter is determined to cash in--on behalf, theoretically, of Ray--by arranging an endorsement deal for his Olympic-hopeful brother with Speedo, the bathing suit manufacturer. He is also arranging to force out Coach, who has nurtured Ray for years, in favor of a trainer with more clout. Ray stands in the middle, literally, munching on ever-present carrot sticks and throwing in half-sentences when he can. He doesn't have much to say, anyway. Or does he?
Hnath barrages us with talk of swimming, endorsement deals, scientific fingertip lengths, affirmative action, doping, and even cats. (A line involving an off-stage cat turns into a volcanic laugh and a key plot-development.) Red Speedo seems to be something like a two-hour play, except the actors hurdle their way through in eighty minutes. Explosive, yes.
Standing center--in a red swimsuit, munching on those carrots--is Breaux, who gives a remarkable performance. The role is physically demanding, to say the least, and not only due to aquatic demands. Breaux--who played a small role in the Roundabout Real Thing--has what I suppose you'd consider a swimmer's body. (Prior to attending Juilliard, he was at Harvard studying Economics and playing wide receiver for the Crimson.)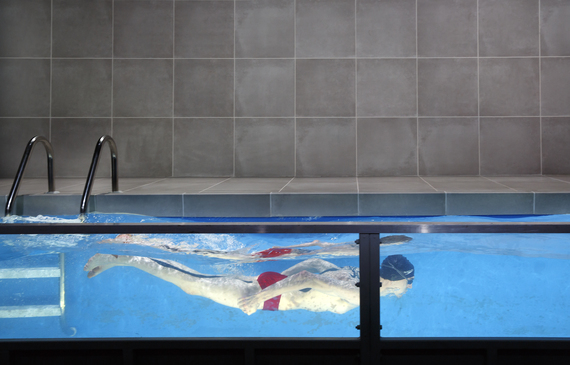 Alex Breaux in Lucas Hnath's Red Speedo. Photo: Joan Marcus
Rooney (The Orphan's Home Cycle), for his part, has considerably more to do than deliver torrents of dialogue. Without spoiling it for you--and we wouldn't want to spoil it for you--let's just say that he matches Breaux with quite a performance. Fernandez (All the Way) has the role of a passive bystander until Hnath gives him a knockout scene, and he responds by punching away in a ferocious performance. The fourth member of the cast, who is also struggling over Ray and who is intricately involved in the plot, is Zoë Winters (Love and Information) as ex-girlfriend Lydia.
Director Lileana Blain-Cruz makes a strong impression in her first major New York opportunity. She does an altogether stunning job, marking herself as a director to watch. (She is scheduled to return next month with Revolt. She Said. Revolt Again at Soho Rep, and in June with Branden Jacobs-Jenkins' War--which she originated at Yale Rep--at Lincoln Center Theatre.) Set designer Riccardo Hernandez, of Topdog/Underdog and Noise/Funk, has come up with a marvelous solution for this play which absolutely requires a functional, downstage, fully-visible swimming pool. Blain-Cruz, Hernandez and the actors involved provide a climactic scene you'll not quickly forget.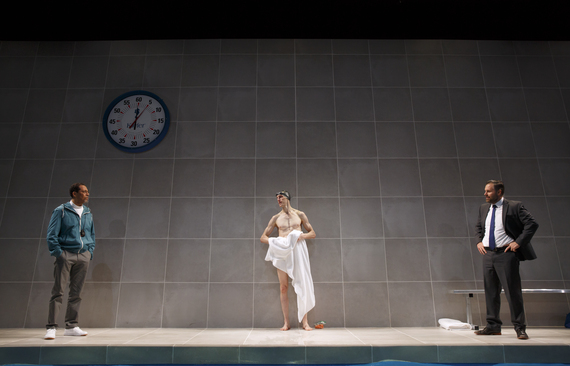 Peter Jay Fernandez, Alex Breaux and Lucas Caleb Rooney
in Lucas Hnath's Red Speedo. Photo: Joan Marcus
But it all stems from the author. Too many playwrights, nowadays, seem content to take an idea and stretch it out into some type of extended plot. Hnath has demonstrated, in both of his plays this season, that he has plenty to say and arrestingly interesting ways to say it. Hopefully Red Speedo will extend--if the actors can take the physical punishment--and The Christians will resurface, so that more theatergoers have the opportunity to meet this important new playwright.
.
Lucas Hnath's Red Speedo opened March 3, 2016 and continues through March 27 at New York Theatre Workshop
Calling all HuffPost superfans!
Sign up for membership to become a founding member and help shape HuffPost's next chapter