Martin McDonagh's The Beauty Queen of Leenane, which burst upon New York in 1998, is at once laceratingly funny and boisterously vicious. This unexpected combination left unsuspecting audiences agape and stunned, which resulted in one of those plays you forever remember and simply can't forget. The news this week is twofold: Beauty Queen is back, albeit briefly, at BAM's Harvey Theater; and this production is every bit as breathtaking as the original, which is not always the case with revivals. Flat Broadway retreads of Equus, Elephant Man and Amadeus might have left first-time viewers wondering what the fuss was about. Beauty Queen--with McDonagh's virtuoistic language and Garry Hynes' remarkable production--remains true.
Beauty Queen is a kitchen sink drama in which you are well advised to steer clear of that kitchen sink. Mag Follan makes Amanda Wingfield look like June Cleaver, or at least the Irish equivalent. Sitting in her rocking chair impassive and as craggy as a stone-faced mountain, Mag (Marie Mullen) dominates and domineers her daughter Maureen (Aisling O'Sullivan). Maureen is attractive enough, though altogether done-in by tending their scrap of a farm and her scrapping mother; but at forty, with an understandably sour demeanor, she has never been kissed.
Maureen's horizons are opened when she is, indeed, kissed by neighbor Pato Dooley (Marty Rea), a similarly attractive-but-stunted ugly duckling. Mother Mag is not about to lose her kitchen slave, though, and brutally sees to it that Maureen's hopes are thwarted. In McDonaghland, though, life is lived with severe conditions and severe penalties which leaves audiences gasping, cringing, and exhilarated.
This 20th anniversary production is no pale replica. University-mates Hynes, Mullen and actor Mick Lally founded Druid in 1975 as Ireland's first professional theatre company outside Dublin. As artistic director, Hynes discovered McDonagh's Leenane Trilogy and produced the plays--beginning with Beauty Queen--to international acclaim. Hynes' stunning work on Beauty Queen earned her the Tony Award for Best Director, the first woman to be so honored (although the Tony, itself, was named fifty years earlier after a female director, Antoinette Perry). Mullen, too, made an outstanding Broadway debut as Maureen, winning the Best Actress award.
As memorable as Mullen was in 1998, she instantly overtakes herself when the lights come up at BAM. Her Mag is monumental; while awards are relatively secondary to the work, it's fair to suggest that if BAM were Tony-eligible (which it is not), Mullen could be the rare performer to win Tonys in two different roles in the same play. Ms. O'Sullivan gives a matching performance as Maureen; I suppose some might try to compare her Maureen to Mullen's were not Mullen up there beside her, performing theatrical wizardry. The electricity is so high-voltage that it is as if we received a double clout from the pair. Mr. Rea is compelling in the role which originally introduced Brían F. O'Byrne to U.S. audiences, while Aaron Monaghan serves as the unknowing catalyst and comic relief as the younger brother.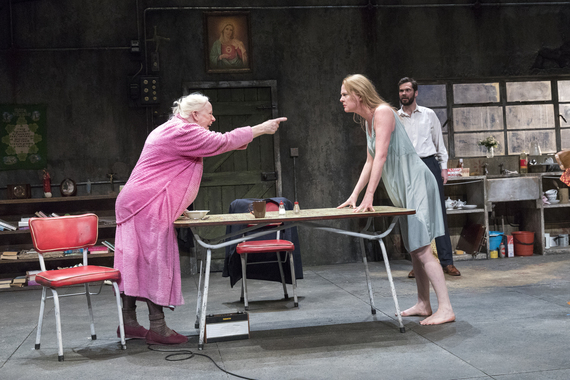 Marie Mullen, Aisling O'Sullivan and Marty Rea
in The Beauty Queen of Leenane
Photo: Richard Termine
As for McDonagh, the astonishing Beauty Queen (originally produced by Druid in Galway, in 1996) was immediately followed by five similarly remarkable 'Irish' plays (including The Lieutenant of Inishmore--with one of the stage's immortal animal characters, "Wee Thomas"--and The Cripple of Inishmaan). These were followed by non-'Irish' items like The Pillowman and A Behanding in Spokane. McDonagh's newest play, Hangmen--produced at the Royal Court in 2015--might well be his best, and we eagerly await its New York transfer.
.
Martin McDonagh's The Beauty Queen of Leenane opened January 14, 2017 and runs through February 5 at BAM's Harvey Theater
Calling all HuffPost superfans!
Sign up for membership to become a founding member and help shape HuffPost's next chapter