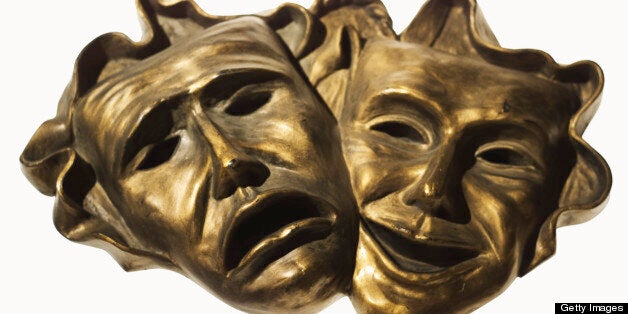 There's a war going on, the War of 1812 -- not the one in the New World, the Napoleonic one -- and Prince Andrey is away fighting. Which leaves his pretty, young fiancée Natasha impatiently waiting in Moscow, where she runs into the "hot" Anatole who convinces his sister Hélène -- a slut -- to help him entrap the young Natasha. All the while, Hélène's cuckolded fool of a husband Pierre sits in his library drinking himself to oblivion while pounding away on the electric piano.
Tolstoy yes, but Tolstoy no. Downtown composer Dave Malloy has taken a portion of volume two of War and Peace and transformed it into Natasha, Pierre and The Great Comet of 1812. This is an edgy, gimmicky, nouveau musical wrapped in a gaudily immersive, dinner theater atmosphere; "an electropop opera ripped from a slice of War and Peace," in their own words.
At the same time, it is a strong and compelling piece of musical theatre, arguably the best of the 2012-2013 season on Broadway and off. A similar show presented in these trappings might seem like a diverting gimmick. Natasha, though, is a musical of talent and heart. While the experience is enhanced by the bizarre bazaar-like atmosphere, it would most probably work just as well in a traditional space. We shall presumably see productions sprouting up in regional theatres across the country, eventually, without dinner. My guess is that Malloy's musical will play every bit as well.
Natasha first appeared last October at Ars Nova, the young-artist-nurturing Hell's Kitchen non-profit. At the time, the best (and only) new musicals B'way had to offer were the stultifying Bring It On, Chaplin and Scandalous. No wonder Malloy's whatnot appeared unparalleled. Now -- even after the arrival of Matilda, Kinky Boots, and David Byrne's Here Lies Love -- Natasha retains its distinction.
Malloy has taken Tolstoy's characters and translated them to today's world while retaining the period feel and flavor. The opening number sets the style:
If you wanna keep with the plot
Cuz it's a complicated Russian novel
Everyone's got nine different names
So look it up in your program
We'd appreciate it, thanks a lot
Not your typical show lyric, nor is it cutting edge contempo. Malloy cannily introduces his characters with broad strokes --"young" Natasha, "hot" Anatole, "slut" Hélène -- and links them together in the style of the gifts in "The Twelve Days of Christmas." Simple, accessible, but without dumbing down. The show is sung-through, with a fair amount of recitative set to sometimes modernist rhythms. But there are beauties laced throughout, starting with Natasha's aria to the moon, "No One Else."
Natasha, incidentally, is wondrously played by Phillipa Soo. She is just about matched by Brittain Ashford as her cousin Sonya, who scores with a strong soliloquy in the second act ("Sonya Alone"). Lucas Steele, the only cast member whom I recall seeing elsewhere (with an entertaining performance as one of the fathers in the 2010 Dan Savage musical, The Kid), is also a joy as the conceited -- and yes, hot -- Anatole. The linchpin of it all is composer/lyricist/librettist/orchestrator Malloy as Pierre. His final scene with Natasha -- when he stumblingly confesses that if he were bright and handsome and free he would propose to her -- is breathtakingly pure. He follows this directly with the exhilarating finale, "The Great Comet of 1812."
Malloy is not working alone, mind you. Director Rachel Chavkin has lavishly spread the staging across the room. Things happen everywhere, often in multiple locations at once; no matter where you are sitting, you are likely to have at least one scene played in your lap. Mimi Lien's scenery, which I suppose includes the design of the room, craftily facilitates this. Paloma Young -- the costume designer who incorporated eggbeaters and other kitchen utensils into Peter and the Starcatcher, to say nothing of those mermaid brassieres -- has a field day here. With the actors at various times within a foot of your nose, every delightful detail is up close. Lighting designer Bradley King and sound designer Matt Hubbs keep up with Chavkin and the cast. Music director Or Matias, meanwhile, has his hands and arms full with his hard-working musicians spread across the room. Good control of the vocal work, too.
The milieu and ambiance remain the same, although the space is larger and the capacity doubled at the built-to-order new (and temporary) venue way west on 13th Street, beneath the High Line. Klub Kazino it's called, open for drinks and snacks pre- and post-performance. You are still shoehorned in at café tables, stools and banquets -- with the action taking place on the platforms which surround the room and in the aisle space between the tables -- but it is somewhat roomier than before. The cast has been expanded as well; the same ten actors and eight musicians have been augmented with six very busy ensemble singers (who also serve as understudies).
The folks at Kazino give you a full dinner, included in the ticket price. Not exactly haute cuisine, but pretty good: borscht, shrimp with cocktail sauce, chicken and salmon over couscous, beef carpaccio and a modest dessert. Plus those pierogi -- potato dumplings -- which the waiters parade in with great élan to herald the opening number. Food service isn't quite fit for a Tsar, but the inconsistency adds to the charm of the proceedings.
The Great Comet of 1812, by the way, was actually The Great Comet of 1811. Visible to the naked eye for more than eight months, it was thought to portend horrors -- and in Russia was seen as a foreboding sign of Napoleon's impending invasion. Which turned out, as it happened, far worse for Napoleon than for Russia.
Popular in the Community