Put David Lindsay-Abaire, Holland Taylor, Marylouise Burke and David Hyde Pierce in a rehearsal room for four weeks and what do you get? Two hours of unrestrained, loopy, rip-roaring comedy, that's what. Ripcord it's called, the latest Manhattan Theatre Club offering at City Center.
Abby (Taylor) is happily ensconced in a large and airy assisted-care room with a lovely park view and no roommate. This suits her perfectly, the crotchety old biddy (with equal emphasis on both crotchety and biddy). Her personal paradise is lost when Marilyn (Burke) moves into the empty bed. Marilyn likes to talk, you could say; she is one of those perennially chipper people who never stop chattering, which turns Abby vicious.
That's it; this is a nursing home Odd Couple, with playwright Lindsay-Abaire and director Pierce stoking the comic fires. The playwright sees fit to take his ladies on location, as it were; to a haunted house, to the park, and to a place that I won't give away but ties in directly to the title of the play. The site of Taylor at the end of this sequence, knees-knocking in her red jumpsuit, is likely to remain in your memory. As is Burke waving a big white cross, protecting Taylor and a prop baby.
Taylor -- habitually seated in her protective armchair, keeping in touch with the world on her tablet -- is knockdown funny. Just the sight of her trying to stand up, her lower legs folding inward like buckling matchsticks, is mirthfully droll; director Pierce, no fool he, has her struggle to her feet again and again. She is equally matched by Burke, who as we've seen in the past can be extremely funny no matter what she's doing. She works away at her Sudoku book as happy as a clam, while Taylor fumes.
When the pair cannot work out a compromise -- Marilyn wants the superior bed by the window, Abby wants her roommate to move downstairs to a recently vacated room -- they engage in a wager which becomes a battle to the death. And what a death Lindsay-Abaire and Pierce serve up.
Taylor is a comedy veteran of stage (Ann, The Cocktail Hour) and television (with an Emmy for "The Practice" and four nominations for "Two and a Half Men"). All that plus Moose Murders, too. (I remember her vividly in an uncharacteristic role, as Alan Bates' estranged wife in Butley at the long-gone Morosco). Burke could be called a Lindsay-Abaire muse, having created roles in Fuddy Meers, Wonder of the World, Kimberly Akimbo and the L.A. production of Good People as well as assorted screen and TV work.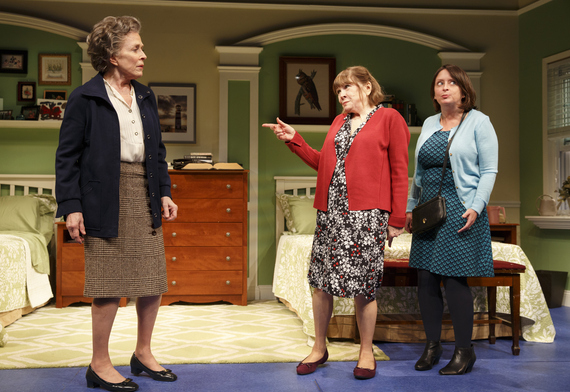 Holland Taylor, Marylouise Burke and Rachel Dratch in Ripcord.
Photo: Joan Marcus
They are joined by Nate Miller, as a friendly nursing home aide; Rachel Dratch and Daoud Heidami, as Marilyn's children; and Glenn Fitzgerald in several roles. All contribute to the nonstop comedy.
As for that droll actor David Hyde Pierce, he has somewhere along the way become a deft comedy director. Set designer Alexander Dodge, too, has a great sense of visual humor--although we already knew that, from A Gentleman's Guide to Love and Murder. John Gromada makes a keen contribution with his original music, which wittily weaves Noël Coward's "A Room with a View" into the fun. Because Ripcord is, indeed, all about a room with a view. Let it be added, as well, that the folks at Manhattan Theatre Club have come up with first-rate artwork.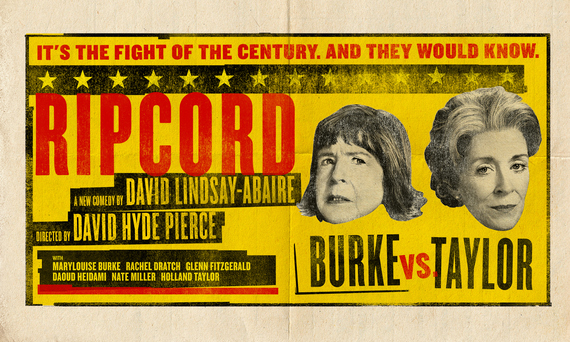 Marylouise Burke and Holland Taylor in Ripcord. Photo: F. Scott Schafer
The success of Ripcord, though, stems from the playwright. Rather than simply coming up with a clever situation featuring likably difficult characters, Lindsay-Abaire takes the action in unexpected directions which pay off in grand, comic manner.
.
Ripcord opened October 20, 2015 and continues through December 6 at the NY City Center Stage I
Calling all HuffPost superfans!
Sign up for membership to become a founding member and help shape HuffPost's next chapter