Lincoln Center Theater and Playwrights Horizons, two of New York's prime non-profits with well-earned reputations for quality plus numerous award-winners between them, both have intimate houses upstairs with small-for-off-Broadway capacities (under 130 seats). The Claire Tow (LCT3) and Peter Jay Sharp (PH) Theaters are often used for adventurous-but-chancy fare, with successful productions subsequently transferred to the mainstage or simply skipping to Broadway. Since both organizations have chosen to open their newest offerings tonight, we have no option but to place them in the very same review. In this case, LCT comes out ahead.
Samuel D. Hunter made a startling impression in 2012 with The Whale, one of the more memorable plays of the decade (or at least, thanks to Shuler Hensley, one of the more memorable performances). This, upstairs at Playwrights. He returned to the Playwrights mainstage in 2014 with Pocatello, and now reappears at Lincoln Center with The Harvest--which is very much on a level with The Whale.
The harvesters are twenty-something Idaho Christians about to embark for the Middle East to convert Muslims. (The play opens in a most arresting manner, with five minutes-worth of the group 'practicing' religious frenzy and speaking in tongues before we know the who and the why.) Josh (Peter Mark Kendall) is dedicating his life to the mission, having just lost his father. Tom (Gideon Glick), who also has father troubles, is going along on the mission--but maybe less because of his devotion to Christ and more because of his devotion to Josh. Marcus (Christopher Sears) and Denise (Madeleine Martin) are a newly pregnant couple, with apparently mixed faith and mixed motives; while group leader Ada (Zoë Winters) seems to have everything in hand, although her inspirational stories sound canned.
The harvest in question refers to the crop of first-time missionaries; plus, Josh recalls living in a tent in his back yard--having escaped from his alcoholic father--with "forty acres of barley rotting behind me."
As can be expected, this group of 'born agains,' living surrounded by Mormons, are not going to get to the airport unscathed. Part of the outside pressure comes from Josh's sister Michaela (Leah Karpel) and church minister Chuck (Scott Jaeck); but most of the complications come from within the relationships of the soon-to-be missionaries. The playwright doesn't just lay it all out for us, though. He metes out tantalizing, impressionistic bits, leaving it to us to put the separate strands together. The Harvest turns out to be a compelling and exciting new play by a distinctive young American playwright.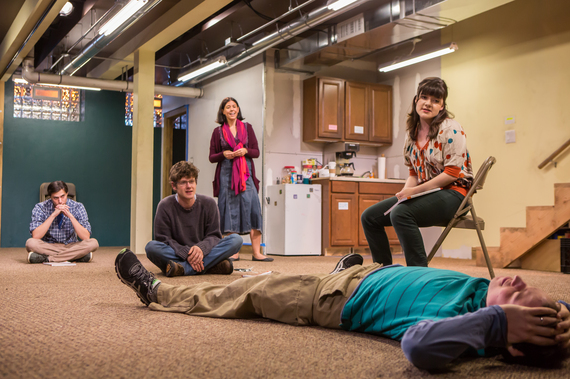 Gideon Glick, Peter Mark Kendall, Zoë Winters,
Madeleine Martin and Christopher Sears in The Harvest
Photo: Jeremy Daniel
Davis McCallum--who has directed the New York productions of Hunter's four main plays--clearly has a feel for the playwright's work. His entire cast gives strong performances, with four of them compulsively watchable. Kendall (Mercury Fur) is at the play's heart; we watch as his character's self-determination disintegrates as if being washed away in the rain. Glick is just as watchable, with his unscripted and possibly unrealized motivations spilling out clearly to the bystanders in the audience. (This is the actor who was extraordinarily sympathetic and funny in the Roundabout's Significant Other, a role he will reprise at the Booth in February and you might well get your tickets now).
Leah Karpel (Pocatello) injects a dose of reality into the proceedings as the sister Michaela, with some marvelous work opposite Kendall and Glick. And operating on a different plane altogether is Martin, who will be remembered for her stunning portrayal (at fifteen) of the youngest member of the August: Osage County clan. Denise's story line is outside that of the three main characters, but Martin is altogether riveting.
The Harvest is not much similar to Lucas Hnath's The Christians or Robert Askins' Hand to God, but the three plays are cut from the same cloth (if you will). Which makes Hunter's new play something to add to your list.
.
The LCT3 production of Samuel D. Hunter's The Harvest opened October 24, 2016 and continues through December 20 at the Claire Tow Theater
*
Down at Playwrights, we have Adam Bock's A Life, starring David Hyde Pierce. (One shudders to wonder what A Life would be like without David Hyde Pierce.) This illustrates the hazards of producing unconventional and provocative new plays, which both Playwrights and LCT see as part of their mission. One can understand how playreaders and artistic directors can discern promise in scripts like the play in question. With such items as The Whale and Annie Baker's The Flick, the gamble paid off royally for Playwrights (and for the actual playwrights). But when you first commit to such enigmatic plays, it's hard to tell how they will ultimately turn out.
Whatever Playwrights saw in A Life, alas, doesn't come through to this playgoer. We sit there amused for the first section, as Hyde Pierce charms his way through an extended monologue about astrology and other matters. After some further pleasant if unremarkable scenes shared with the hero's best (and only?) friend, the play takes an abrupt turn from which it never recovers. One wonders how anyone thought it could recover.
The rest is altogether baffling. Hyde Pierce is for the duration asked to give a performance quite unlike any we've seen before; I, myself, spent the rest of the ninety-minute play marveling at the actor's technical ability to get through it without breaking concentration. Which is not, presumably, what the playwright had in mind. As the play--thanks to DHP--is well sold and has already been extended, I refrain from spilling the plot beans. But it is, well, unusual.
Anne Kauffman (Detroit, Marjorie Prime) does a good job of staging the thing, although if she attempted to direct the playwright towards something more decipherable it didn't work. The star is very good, as usual; also making a favorable showing is Brad Heberlee (who left Small Mouth Sounds--in which he played the nebbish--for this role). The most notable thing about A Life, alas, is probably the scenery. Laura Jellinek, whose recent work includes Marjorie Prime, The Nether and Small Mouth Sounds, has come up with a set that does amazing things; admirably so, although they don't alleviate the play's problems.
Hyde Pierce makes A Life watchable, but whatever they were trying to do didn't come across to this viewer.
.
The Playwrights Horizons production of Adam Bock's A Life opened October 24, 2016 and continues through November 27 at the Peter Jay Sharp Theater
Popular in the Community