When you're gone, who remembers your name?
Who keeps your flame?
Who tells your story?
Alexander Hamilton, patriot and lawmaker, is not exactly forgotten 210 hundred years after his death in a duel on a rocky ledge across the Hudson from Manhattan in Weehawken, New Jersey. He created the U.S. Treasury; was central in the formation of what is now Columbia University, a successor to what until the American Revolution had been King's College; founded, for better or worse, the New York Post; and enigmatically stares out at us every day from the $10 bill. Now, Lin-Manuel Miranda--the charismatic Tony Award-winning composer/lyricist/librettist/actor of In the Heights fame--has chosen to turn Hamilton into a Revolutionary rock star. In no time, this new musical show is likely to move from the Public Theater to conquer Broadway and other major theatrical capitals, by which point Hamilton's flame will likely burn brighter than those of Washington, Franklin and Jefferson. Hamilton is a revolutionary, bombs-bursting-in-air explosion of musical theatre fireworks.
Miranda's conceit is to fashion Alexander and his buddies as energetic young Turks sitting around a downtown tavern--not unlike the Jets at Doc's drugstore in Hell's Kitchen--eager, edgy and thirsting for a fight. Seeing as how the year is 1775, the fight is at hand; General Washington is starved for educated recruits who can lead men and shoot straight. Washington considers Hamilton too valuable for a command, convincing him to accept the position as his chief of staff. The relationship holds over into Washington's years as President, with Hamilton--as the first Secretary of the Treasury--setting up the foundations of our financial system and blithely making enemies along the way.
Enemy-in-chief is Aaron Burr, who goes on to become the Senator from New York, vice president of the United States, and the killer of Hamilton in that duel. Miranda, who himself plays Hamilton, makes the key decision of creating Burr as Hamilton's Iago and making him the co-centerpiece of the evening, like Che in Evita, the Leading Player in Pippin or Judas in Superstar. Burr both admires and hates his friendly rival, "the arrogant, immigrant, orphan, bastard whore's son." (In his opening number, Miranda describes Hamilton as "a hero and a scholar, the ten-dollar founding father without a father.") Miranda packs so much information into his lyrics that the show whirls by like a rollercoaster. Burr is conceived as the mirror image of Hamilton; "talk less, smile more, don't let them know what you're against or for" is his mantra.
Miranda is a marvel as Hamilton. He speeds through the proceedings--as Hamilton himself apparently did--at a mile a minute, but we can often see an underlying calculation and caution in Miranda's eyes. The American musical hasn't had a composer/writer/actor of this stripe since George M. Cohan. While Cohan was a true Yankee Doodle Boy with a talent for snappy melodies, from here Miranda's talents look more impressive.
Matching Miranda's performance is the Burr of Leslie Odom, Jr., of Leap of Faith and "Smash." Miranda being Miranda, he sees fit to give Odom some of the best material as the man who so much "wants to be in the room where it happens" but finds himself relegated to the pages of history as a murderous villain. Phillipa Soo--who was so radiant as Natasha in The Great Comet--is similarly effective here as Hamilton's wife, as is Renée Elise Goldsberry of The Good People as the sister-in-law with an extra-close link to the hero.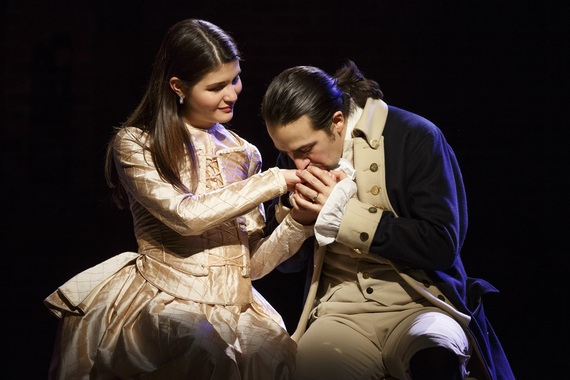 Phillipa Soo and Lin-Manuel Miranda in Hamilton at the Public. Photo: Joan Marcus
Christopher Jackson, of In the Heights, makes a noble Washington, while their are notably good performances from the actors playing Hamilton's comrades. Daveed Diggs, who in real life is a hip-hopper, is a delight as the French patriot Lafayette and even better as Thomas Jefferson with attitude. Okieriete Onaodowan offers an amusing turn as Hercules Mulligan (one of the gang who spies for Washington during the War) and the clumsily stolid James Madison. Anthony Ramos plays John Laurens--a Washington aide whose goal was to enlist slaves to fight, in return for citizenship--and offers the evening's most touching performance as Hamilton's son, Philip.
Standing apart from them all is Brian d'Arcy James as King George III. He seems to have walked in from another play altogether, another world, and even another type of musical comedy. Woe to anyone onstage, or in the audience, who objects; with an imperious lift of the eyebrow, he can and will slay you with his fisheye. D'arcy James has bigger fish to fry just now--he is slated to star in Something Rotten, coming to the St. James in March--but this cameo appearance, with a knockout song and two reprises, is beyond sublime.
The show has been impeccably staged by Thomas Kail, Miranda's colleague from In the Heights, with choreography from that show's Andy Blankenbuehler. For theatergoers who admired but didn't love In the Heights, be advised that Hamilton is nothing like it. Yes, there is hip-hop here; but Miranda demonstrates that contemp pop is only one of the many well-tempered tools in his musical toolkit. And we might as well add the same disclaimer for those who were less than enthused by the Public's Bloody Bloody Andrew Jackson. While that show was an in-your-face assault on American history, Hamilton is a loving chronicle that humanizes the Revolutionary participants and brings us disparate Americans together.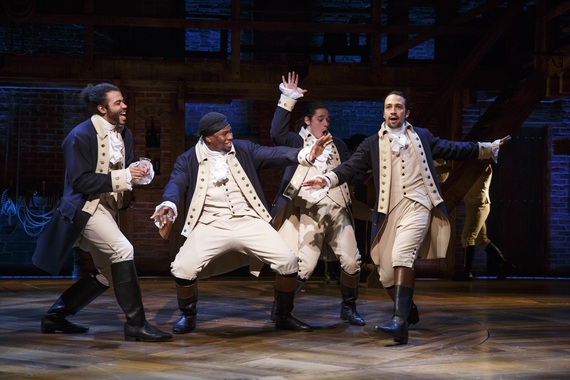 Daveed Diggs, Okieriete Onaodowan, Anthony Ramos, and Lin-Manuel Miranda in Hamilton at the Public. Photo: Joan Marcus
The new musical makes clear that in the tenth year of Oskar Eustis's reign, the Public has returned to the caliber of Joe Papp's best days. They have recently given us the astonishing Here Lies Love and the astounding Fun Home, along with Richard Nelson's unparalleled Apple Family plays and the first installment of Suzan-Lori Parks' Father Comes Home from the Wars. These, plus numerous other provocative evenings in the theatre. As for the inevitable Broadway transfer of Hamilton, the biggest problem that the commercial producers of the show--led by Jeffrey Seller of Rent and In the Heights--are likely to face is how to find other actors to play the role when Miranda inevitably moves on to write another masterwork.
.
Hamilton, the Public Theater production of the new musical by Lin-Manuel Miranda, opened February 17, 2015 and continues through May 3 at the Public's Newman Theater
REAL LIFE. REAL NEWS. REAL VOICES.
Help us tell more of the stories that matter from voices that too often remain unheard.