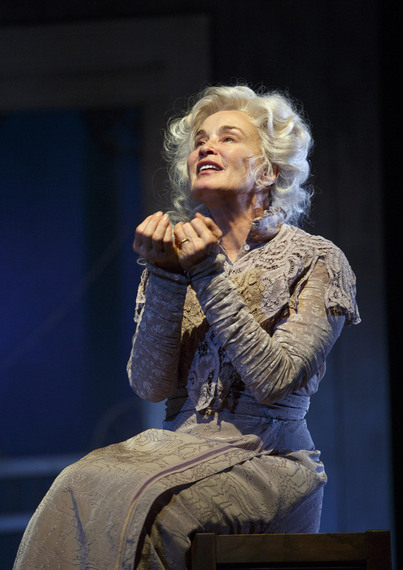 Jessica Lange in Long Day's Journey into Night.
Photo: Joan Marcus
The Roundabout has just wrapped up one of its finest seasons in memory, with smashingly good productions of Noises Off, The Humans, The Robber Bridegroom and She Loves Me. Their 50th season ends on not quite so high a note with an above-average--but merely "above-average"--revival of Eugene O'Neill's Long Day's Journey into Night.
There was a time when even a satisfactory production of this masterwork was much welcome; it took thirty years for the famously long-and-weighty four-hour drama to be revived on Broadway. O'Neill wrote the semi-autobiographical play in 1942, sternly prohibiting publication until 25 years after his death (which occurred in 1953). It was nevertheless published and produced soon thereafter, in 1956. In the second thirty years, though, we have seen productions starring Jack Lemmon; Jason Robards and Colleen Dewhurst; Brian Dennehy and Vanessa Redgrave; and--off-Broadway--Brian Murray and Frances Sternhagen. And that's just in Manhattan.
What Jonathan Kent's production has going for it, foremost, is a bravura performance by Jessica Lange. One expects that critic and audience reports will begin with encomiums for Ms. Lange. Deservedly so, likely followed by a Tony nomination next Tuesday morning. But when people stream out of Long Day enthusing about the actress playing Mary Tyrone--the morphine-addicted wife and mother of the brood--you can be sure that something is lacking. Colleen Dewhurst and Vanessa Redgrave were highly praised for their portrayals in 1988 and 2003, respectively, but in each case they were matched by a towering leading man.


Gabriel Byrne and Jessica Lange in Long Day's Journey into Night.
Photo: Joan Marcus
Lange is not. Gabriel Byrne is a fine actor, as he has demonstrated in his two past Broadway appearances (in O'Neill's A Moon for the Misbegotten and A Touch of the Poet). But James Tyrone--the character--is not a fine actor, at least at the time that O'Neill sought to memorialize him. He is a grand, scenery-chewing barnstormer who has long past traded talent for fame. While this does not necessarily translate into how a man behaves in his living room, away from the audience and the greasepaint, James Tyrone appears to need at least some bravado. Once or twice in the fourth and final act, Byrne does indeed fall into dramatic poses (as when he climbs on the table to reach the chandelier, suggesting he's mounting the parapet for a final assault against the enemy). Byrne's fourth act is quite effective; there's a thrilling moment, here, when he tries to hide his shame behind a handful of playing cards. But his performance is way too long in simmering, leaving full attention on Mary. All told, we feel like we are watching The Mary Tyrone Show--O'Neill's own version of I Remember Mama--for too much of the evening.
Lange--who first played this role in an unrelated 2000 production in London--is matched by Michael Shannon, as the wastrel brother Jamie. Shannon (Bug, Killer Joe and the recently opened "Elvis and Nixon") is one of those actors who seem incapable of giving a less-than-mesmerizing stage performance. O'Neill filled this role with despair, and Shannon serves it to us drink by drink. But Shannon and Lange, with a partial victory by Byrne, are not quite enough. John Gallagher, Jr.--a Tony-winner for Spring Awakening--simply doesn't work out as stand-in for the playwright. The wrong actor in the wrong production, he doesn't seem tortured, frail-with-consumption, or part of the family Tyrone whatsoever.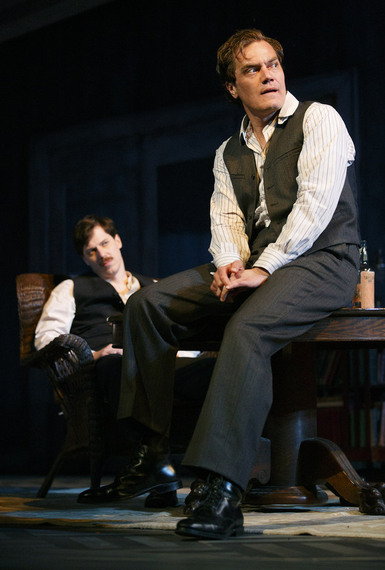 John Gallagher, Jr. and Michael Shannon in Long Day's Journey into Night.
Photo: Joan Marcus
Director Kent has impressed us in the past with the Diana Rigg Medea and in the present with Imelda Staunton's towering Gypsy. He made a jumble of the Brian Stokes Mitchell Man of La Mancha, though, and he does not show a firm hand here.
Even so, this is a welcome opportunity to see the play, and the chance to see a top-flight performance by Jessica Lange. But when you leave Long Day enthusing about the actress playing Mary Tyrone--well, that doesn't seem to be where O'Neill was heading.
.
Eugene O'Neill's Long Day's Journey into Night opened April 27, 2016 and continues through June 26 at the American Airlines Theatre
REAL LIFE. REAL NEWS. REAL VOICES.
Help us tell more of the stories that matter from voices that too often remain unheard.