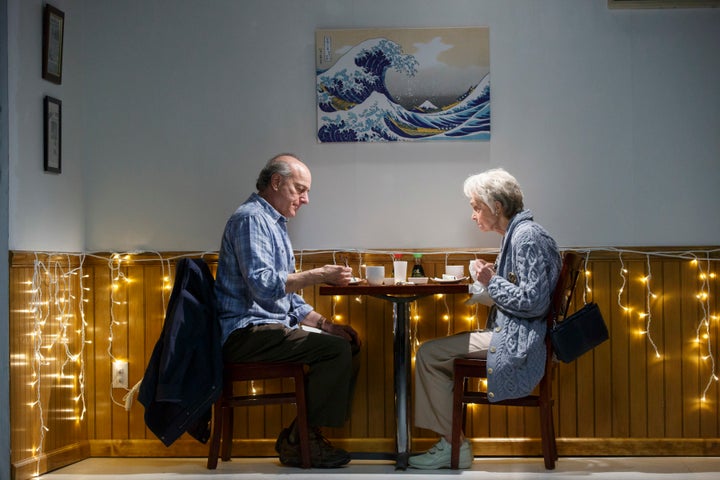 Max Posner's The Treasurer brings us a middle-aged Denver geologist (Peter Friedman) who casually muses, in sprightly stream of consciousness, about the rational things in life. Bicycling; his love for his wife ("I mean life" he amends); the money he makes and spends on his family; suicide, which is unlikely for him; death which is likely for him, most probably from a bike accident. And going to hell, the section of hell reserved for sons who don't love their mothers. Specifically the impossible, selfish, delusional Ida (Deanna Dunagan) who abandoned him when he was thirteen.
As the play begins, the seemingly breezy fellow, identified in the program simply as "The Son," descends into his own personal hell as he is wheedled by his siblings into handling Ida's finances (i.e., acting as the treasurer). He is stuck in the middle as she is forced from her over-mortgaged house in Albany and moved to an assisted-living facility, where she hemorrhages money. Money that The Son doesn't have and is in any event unwilling to chip in, except he has to. So we get something of a Glass Menagerie forty years on, with an unlikely but welcome touch of Neil Simon.
The twenty-something Posner, in what seems to be his first major production, displays a brightly contemporary point of view with a keen comic sense. (The play is biographical, centered around the author's father and grandmother.) Bright and keen, yes; fully realized, no. Fortunately, he has David Cromer—director of such stunning productions as the Barrow Street Our Town, the absurdist musical Adding Machine, and the upcoming Broadway transfer of David Yazbek's The Band's Visit—to help move this non-linear memory play along. Posner also profits from excellent central performances by mother and son.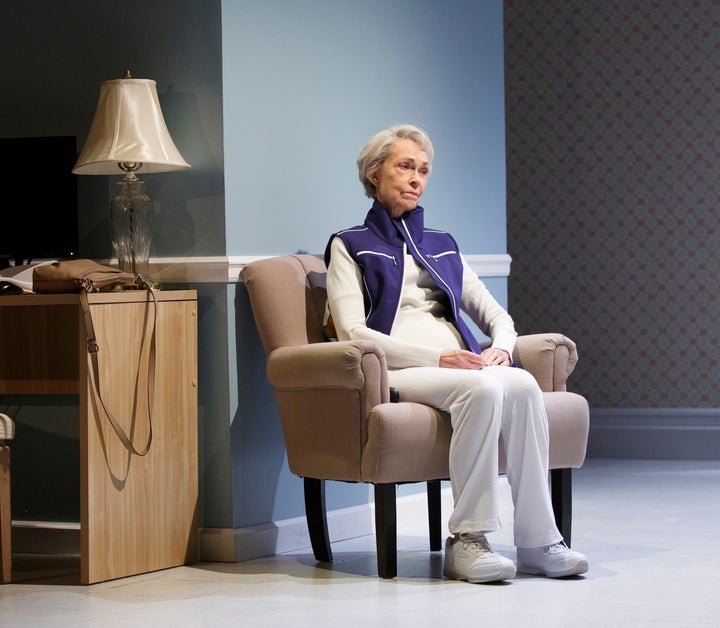 Dunagan, who picked up a well-deserved Tony Award for Best Actress as Violet Weston in August: Osage County, makes a fine Ida: determined, non-flinching and altogether infuriating. Watch her face as she ignores criticism from her son: it's a mask she has clearly used, for decades, to shut out anything she doesn't want to hear or care to acknowledge. Ida offers an attractive front, with a monster-mother within. Despite which Dunagan manages to earn her ornery character our sympathy, as we watch Ida begin to glimpse the dementia which overtakes her.
Friedman, a frequent presence on and off-Broadway for forty years (including eight or so Playwrights plays plus Scoop in The Heidi Chronicles and Tateh in Ragtime), skillfully carries the play. He serves here as central character and storyteller, and helps the author through some underdeveloped patches. Almost as a reward, the playwright gives him some lovely tangents to depart upon while he is riding his imaginary bicycle through the imaginary streets of Denver.
Posner makes good use of two additional actors, Marinda Anderson and Pun Bandhu, who play multiple roles. Both do well with some strong scenes: Anderson as a salesperson at Talbots and a stranger on a plane, Bandhu as a stranger on the phone and a salesperson in a bedding store. Laura Jellinek (The Wolves, The Nether) provides another one of her interesting, multi-purpose sets which develop as the play progresses. The designer and director even manage to get a big laugh from a set change, into a restaurant.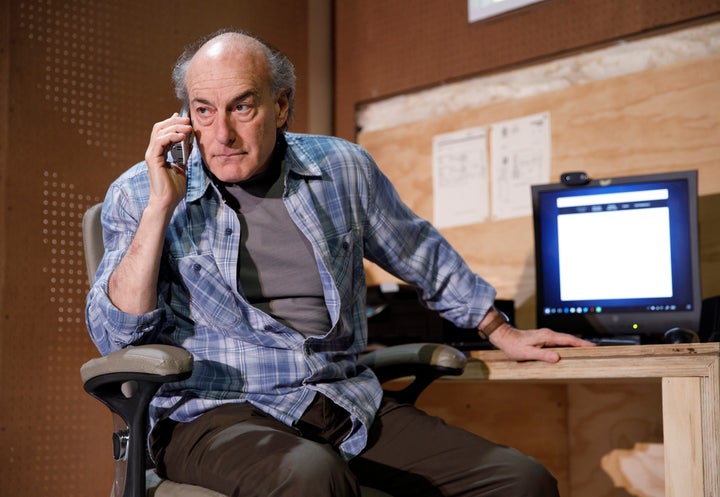 The script is not quite well wrought; some viewers are likely to object to length, or choppiness, or what might seem to be aimlessness. But Posner is a playwright to watch and to follow, and Friedman and Dunagan make The Treasurer well worth the visit.
The Playwrights Horizons production of Max Posner's "The Treasurer" opened September 26, 2017 and continues until October 22 at the Peter Jay Sharp Theater