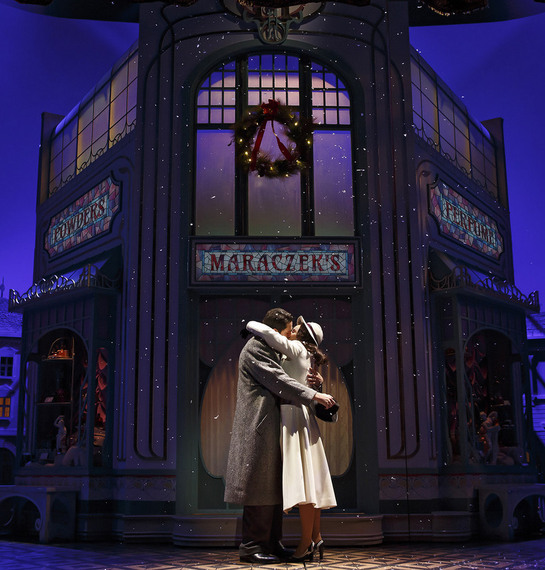 Zachary Levi and Laura Benanti in She Loves Me.
Photo: Joan Marcus
Theatergoers who want to see why Jerry Bock and Sheldon Harnick's She Loves Me is a well-nigh perfect Broadway musical should head to Studio 54, where Laura Benanti, Zachary Levi and Jane Krakowski--and the book, music and lyrics--virtually gleam like crystal perfume bottles on a silver tray in the bright sun. As for those who don't care about classical perfection and only want a warm, funny and bounteously romantic musical valentine, get your tickets now.
This is the 1963 musical version of Parfumerie, a 1937 Hungarian play by Miklós László which is familiar to audiences through three disparate film versions. Georg (Levi), the head clerk in an elegant Budapest parfumerie, develops an instant antipathy for new sales clerk Amalia (Benanti), unaware that she is the secret pen pal to whom he nightly pours out his hopes and dreams. And vice versa. The relationship starts out rocky in summer and becomes nearly lethal in late fall, but everything is neatly wrapped up with a joyful clinch on Christmas Eve.
The show is Bock and Harnick's masterpiece, although their Fiddler on the Roof was and remains far more successful. The two scores were written more or less together; when Fiddler (which they started in 1960) ran into delays, they turned to She Loves Me before finishing Fiddler. Harold Prince, who was originally connected with neither project, ended up producing the original productions of both as well as directing She Loves Me.
Chief among the pleasures of this revival are the leading players, who take the innately charming material and add their own personal magic. Amalia is a soprano's dream; Barbara Cook created the role, turning the big aria "Ice Cream" into something of a standard for hard-singing heroines. (Cook originated not only "Ice Cream" but Leonard Bernstein's "Glitter and Be Gay" from Candide, two numbers that serve as something of a trial by fire for musical comedy leading ladies.) Here we have Ms. Benanti, who can match just about anyone in the vocal spotlight. What sends her performance over the top is her comedy skills; there is humor in the role, yes, but Benanti makes it downright funny. The bedroom scene, for instance (leading to "Ice Cream"), plays like high comedy. Let it be added that the book by Joe Masteroff--who later turned his hand to Cabaret--works marvelously well.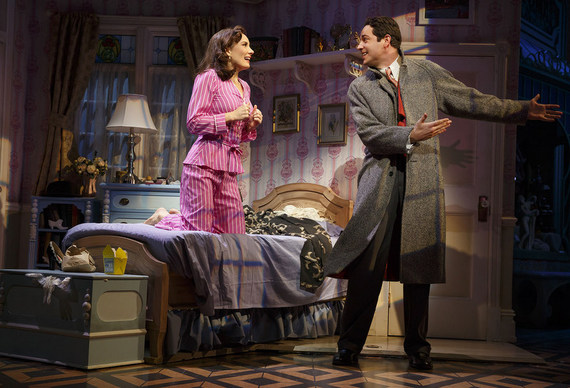 Laura Benanti and Zachary Levi in She Loves Me.
Photo: Joan Marcus
Levi--from the film "Tangled" and the series "Chuck"--made a favorable impression in 2013 in the weak First Date. He here demonstrates that he can carry a good musical. He also contributes mightily to that bedroom scene, which includes a wonderful moment where we see him flustered as he realizes that Amalia is the "dear friend" of the letters and that just maybe--to borrow a phrase from lyricist Harnick--"she loves me."
Speaking of Harnick, he and the late Mr. Bock are the heroes of the evening. Their score is a brimful cornucopia of delight, compounded of no less than 21 songs. ("Tango Tragique" is cut, understandably so as it is relatively weak and extraneous.) Harnick was here at his considerable best; the words are warm, witty and lusciously flavorful. (She Loves Me is a rare musical at which audience members sit noticeably forward in their seats, eager to catch every savory pun as it flies by.) Theatergoers who are lucky might even find Sheldon--fresh and alert at 91--sitting in the house, basking in the glow of people basking in the glow of his show.
Ms. Krakowski--a familiar face due to "30 Rock" but with musical comedy in her blood since she 1989, when she amazed us as Flaemmchen in Grand Hotel--is also a standout. Ilona, the lovelorn cashier who finally finds new purpose via a trip to the library--slyly set by Bock against Ravel's seductive "Bolero"--is perennially a crowd-pleasing role. Even so, Krakowski outdoes herself; we see not only the second female lead in the comedy role of the heroine's best friend, but a living and breathing and lovable character. Her songs are warm and wonderful, and she even contributes a deft touch to the Christmas number.
Also on hand are Gavin Creel, as the slimy Lothario, Kodaly; Byron Jennings as the cuckolded shop owner, Maraczek; and Nicholas Barasch as the very-redheaded bicycle messenger Arpad. Special mention goes to Michael McGrath as the warm-hearted but unambitious clerk Sipos. Like Benanti, Levi and Krakowski, he accentuates the comedy; the café scene, where he recognizes Amalia with a rose in her copy of "Anna Karenina," has him sputtering like a combination of Lou Costello and Jackie Gleason. This, somehow, works marvelously in context, and makes McGrath the finest Sipos we've seen.
The Roundabout--which first revived the show in 1993 at the Criterion Center, followed by a transfer to the Atkinson--has retained director Scott Ellis but otherwise given us an entirely new production. This one is considerably richer than the first, with folk like choreographer Warren Carlyle, musical director Paul Gemignani, orchestrator Larry Hochman and set designer David Rockwell along for the ride.
You might find a few minor carps, starting with a drastic dance number at the Café Imperiale. They have for some reason chosen to pay homage to Cabaret by inserting a Kit Kat Klub-suitable dance, which thoroughly ruptures the tone of the show. Sure, the high kicks get a hand; but we are no longer in the Budapest of She Loves Me, and poor Benanti--in the middle of playing an emotional scene--is whooshed offstage to make way for the dancers. And then whooshed back onstage to resume her lines. The overall production--just about everything!--is so immensely enjoyable, though, that we gladly overlook this and a few minor lapses.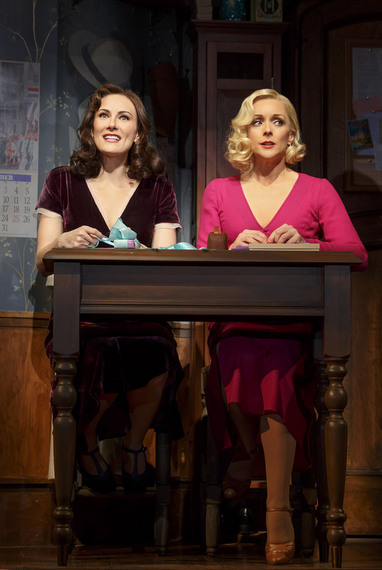 Laura Benanti and Jane Krakowski in She Loves Me.
Photo: Joan Marcus
Broadway annals tell us that the original She Loves Me had a disappointing eight-month run and failed to make back its investment, closing the week that Hello, Dolly! came to town. It seems that mass audiences back then were more interested in big, loud, spectacular, production number-filled blockbusters (as opposed to today--when mass audiences are more interested in big, loud, spectacular, production number-filled blockbusters). Which is to say, this revival will likely do well but Lion King or Kinky Boots it is not. No matter. If you like your shows with glorious music in the air and a dollop of schlag atop the café viennois, you are sure to float away from your visit to She Loves Me on a silver-laced cloud.
.
The Roundabout Theatre revival of She Loves Me opened March 17, 2016 and continues through June 12 at Studio 54
Calling all HuffPost superfans!
Sign up for membership to become a founding member and help shape HuffPost's next chapter