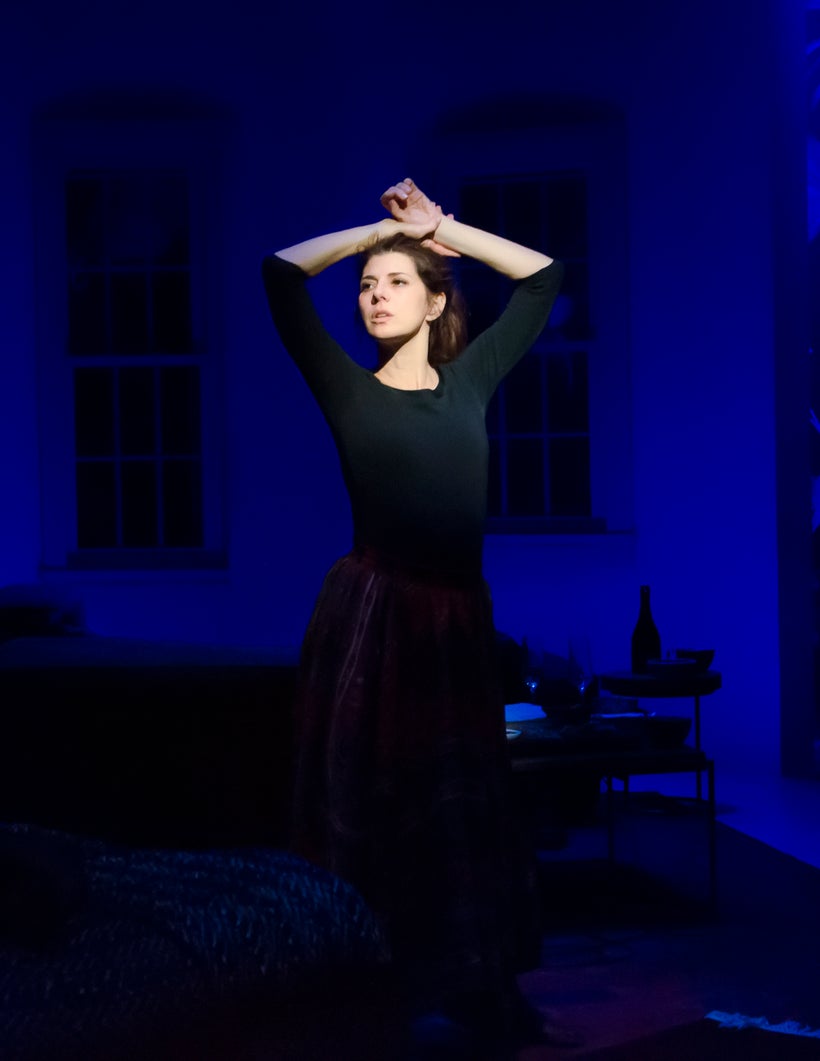 Mix a ménage à quatre with a ménage à sept; combine with hash brownies and magic mushroom "home brew"; and garnish with a dead goat (onstage), a dead dog (offstage), and a live bird. If you are intrigued, hie thee to Sarah Ruhl's How to Transcend a Happy Marriage at the Mitzi Newhouse.
If you are intrigued. Playwright Ruhl (of In the Next Room or the vibrator play and The Clean House) is once again provocative, colorful and humorous. But to what avail? Beats me. It's fine for your play to have a mystical air, and a vegan huntress with blue hair mystically transformed into a white feather; but please make it pay off, one way or another. The whole thing skirts the line of propriety, at least as evidenced by the occasional gasps from subscription ticket holders; there is a full-scale orgy going on, albeit with only one actually nekkid lady in view. (Why only one, when there's a bunch of actors up there?) In any event, if you're bothered by orgy talk and such, this play is not for you.
George (Marisa Tomei) and Paul (Omar Metwally) are visiting their best friends Jane (Robin Weigert) and Michael (Brian Hutchison). They invite Pip (Lena Hall)—a temp at Jane's office—and her polyamory lovers David (Austin Smith) and Freddie (David McElwee) over for New Year's Eve. Guess what's for dessert. Hint: it's not the hash brownies, which are consumed pre-prandial. And if you don't know anything about polyamory going in, you will. (From the sound of it, the playwright is in favor of polyamory.) She also has the expulsion from the Garden of Eden in mind, and seems to suggest that mothers carry an added burden ("you have to become an animal in order to have children, and then you have a child and you have to disguise your animal nature forever after"). Maybe so, but not in an altogether convincing manner.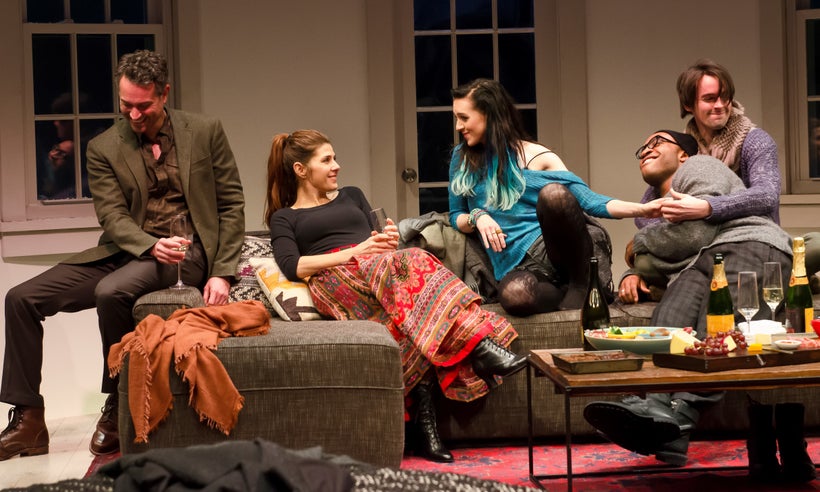 The play is well produced by the folks at Lincoln Center Theater, and well staged by Rebecca Taichman (who makes her Broadway debut next month with Indecent, which was highly praised during its off-Broadway run). There is an intriguing set by David Zinn (The Humans, Fun Home) which hooks us before the play starts with that goat carcass on a hook, and which takes great advantage of the Newhouse space. Susan Hilferty (Wicked) provides suitable costumes, with some nice touches; one character, believably, has a big old hole in the heel of his sock. Lighting designer Peter Kaczorowski (Beautiful, The Producers) creates his usual atmospheric magic, and there is effective music by Todd Almond (On The Levee).
The somewhat questionable play is enhanced by a very good cast. Standing out in what might be the central role—she takes the final bow, at least—is Marisa Tomei. A three-time Oscar-nominee with a win for her altogether priceless performance in "My Cousin Vinny," Tomei has a half-dozen New York appearances to her credit (including The Realistic Jones and Wait Until Dark). Based on her performance here, she has turned herself into a fine stage actor, and one we hope to see more of.
Second to Tomei is Hall (a Tony winner from Hedwig and the Angry Inch) as Pip the Huntress. She is referred to, occasionally, as Diana—who in Roman mythology was indeed the goddess of wild animals—but it's all left rather hazy. Also standing out are Metwally, who was so impressive in Sixteen Wounded and Guards at the Taj; Robin Weigert (from the Signature Angels in America), as the other wife/mother; and McElwee (The Wayside Motor Inn) as the gentle polyamorist with the hole in his sock.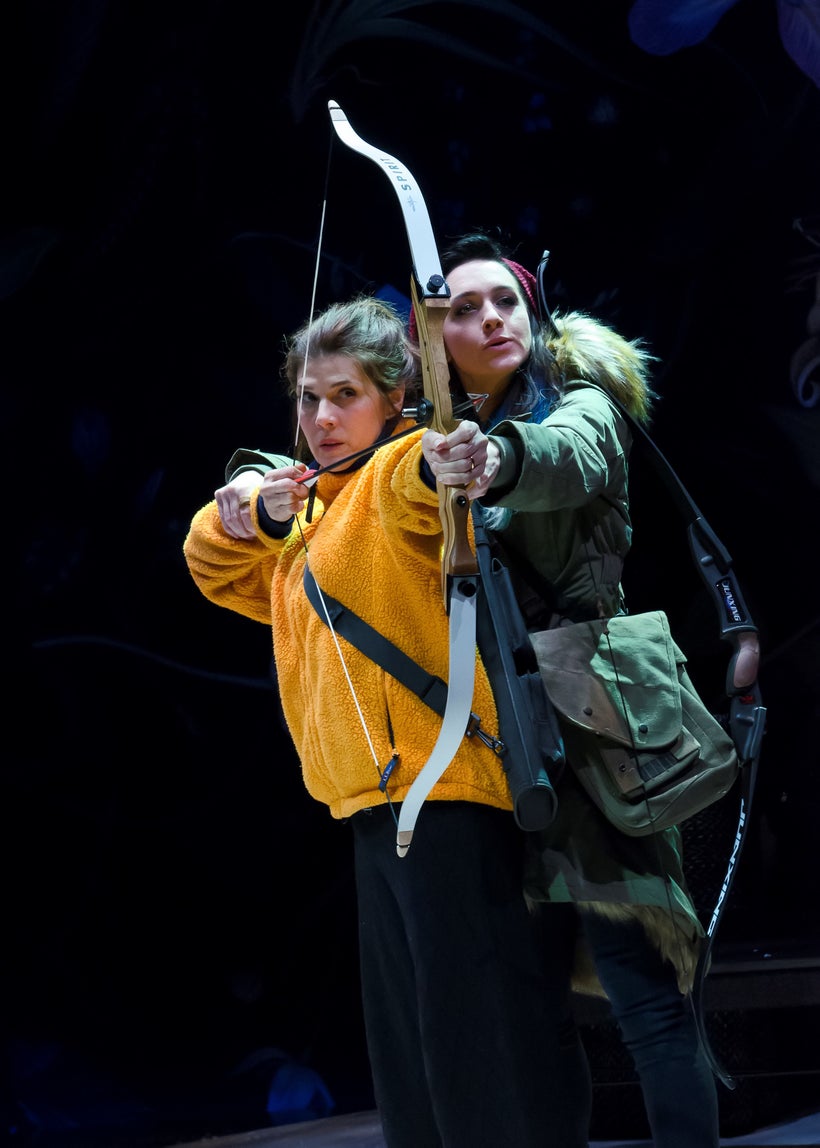 Ruhl continues to impress as a playwright, highly so. Whatever she was aiming at with Happy Marriage, though, didn't transcend this viewer.
.
Lincoln Center Theater's production of Sarah Ruhl's How to Transcend a Happy Marriage opened March 20, 2017 and runs through May 7 at the Mitzi Newhouse Theatre
Calling all HuffPost superfans!
Sign up for membership to become a founding member and help shape HuffPost's next chapter
This post was published on the now-closed HuffPost Contributor platform. Contributors control their own work and posted freely to our site. If you need to flag this entry as abusive,
send us an email
.