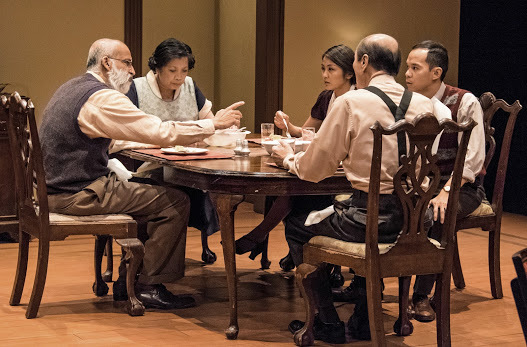 Alok Tewari, Mia Katigbak, Teresa Avia Lim, Jon Norman Schneider,
and Henry Yuk in Awake and Sing! Photo: William P. Steele
Clifford Odet's Awake and Sing! was hailed, when originally produced by The Group Theatre in 1935, as a volcanic and vigorous drama of substance and vitality; the estimable Brooks Atkinson of the New York Times called the play "a sheet of lightning." This tale of a contemporary Jewish family in a Bronx tenement struggling to stay afloat -- and together -- five years into the Depression, introduced a new voice to the American theater. Not only the voice of its 28-year-old author, but the voice of a large subset of New Yorkers who eagerly supported the theatre -- many worked a few blocks away, in the Garment District -- but had never seen themselves non-stereotypically represented on the Broadway stage. Suddenly, they were the stuff of noble dramatic literature.
Awake and Sing!, in revival, typically proves its stageworthiness; there's sometimes a whiff, though, of datedness or overly-familiarity. The last major production to come our way -- a superb rendition from Lincoln Center Theater and director Bartlett Sher, at the Belasco in 2006 -- showed the play to great advantage and earned a Tony Award. Here was the Berger family of Longwood Street, sprung to life; while this was not a "Jewish" production, whatever that phrase might signify -- the cast was headed by Zoë Wanamaker, Mark Ruffalo, Ben Gazzara and Pablo Schreiber -- we were clearly back in the Bronx.
We now have another Awake and Sing!, this time at the Public. But there is a major difference. This is a production of the National Asian American Theatre Company (NAATCO). The cast consists of American actors of Asian (and Indian) ancestry; not an Adler nor Carnovsky among them. (The original Group Theatre cast included a roster of now legendary names, including Stella Adler as the mother Bessie; her brother Luther as the gangster Moe Axelrod; Morris Carnovsky as the grandfather who implores his grandson to "awake and sing"; and, as the 20-year-old son, Jules Garfield -- who was immediately wafted to Hollywood, his name altered to John.)

The Bronx dialect -- "I can't take a bite in my mouth no more," says the exasperated mother, yelling at the grandfather "you gave the dog eat?" -- can sound disjointed, coming from the NAATCO group. For all of about thirty seconds, that is. And then a remarkable thing happens: we see the Berger family of the Bronx spring to life before us.
At the Public, they do not give us a lovingly-recreated, museum-worthy Depression-era family; the Bergers, here, are an American family wrapped up in Odets' drama and striving to escape. Mia Katigbak -- artistic director and co-founder of NAATCO, who won an Obie for her performance when this production was originally staged in 2013 -- is up there delivering the lines of the archetypical Jewish mother, but there is nothing of parody or gimmick. In director Stephen Brown-Fried's production, the dialogue and the play come vibrantly alive. It's almost as if Odets' language awakes and sings.
Sanjit De Silva and Teresa Avia Lim in Awake and Sing! Photo: William P. Steele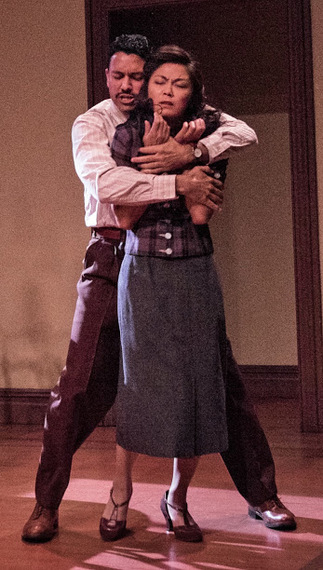 We get wonderful performances from just about the entire cast. Standing out are Jon Norman Schneider as the smothered son, Ralph; Teresa Avia Lim as the trapped daughter, Hennie; and Sanjit De Silva as the disabled WWI vet-turned-gangster, Moe Axelrod. The final scene which Odets provides for Hennie and Moe -- with an important cameo by Ralph -- is exquisite in the writing, and exquisite in the playing. These actors are surely not what Odets had in mind, in 1935, but they bring full value to the words. At the Public, Odets does soar and sing.
Watching actors like Schneider, Lim and De Silva, you can only shake your head and wonder why we rarely see them in "traditional" roles unless they are banded together under some such banner as Asian-American. I would gladly see any of the three in a traditional Awake and Sing!, and they hereby demonstrate that they are beyond capable. Under our present system, alas, none of them would likely be cast. Let us offer thanks to Oskar Eustis and The Public for giving NAATCO the use of the hall, and for giving lucky theatergoers the opportunity to see this strong production.
.
The NAATCO production of Awake and Sing! opened July 13, 2015 and continues through August 1, at the Public Theater
Popular in the Community