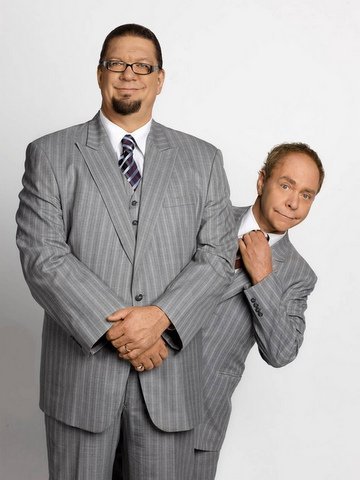 Penn Jillette and Teller in Penn & Teller On Broadway. Photo: Francis George
Penn Jillette and the mononymous Teller have been entertaining audiences with their blend of magic, illusions and comedy for forty years. While they started as a somewhat countercultural act on the fringes of the entertainment world--anyone remember their early Asparagus Valley Cultural Society?--they are now so mainstream that they have been Las Vegas headliners since 2001. But here they are, back on Broadway, in Penn & Teller On Broadway. One of their best tricks, it turns out, is making their show--which includes illusions some of us have seen multiple times over multiple decades--an altogether entertaining evening of delectable sleight-of-hand.
Penn, of course, is the talkative tall one with the trademark goatee and the single red fingernail. Teller is the silent little one, with the all-too-knowing gaze. They were originally a visual echo of Laurel & Hardy, although over the years Penn has slimmed down somewhat while Teller has grown a tad fuller. Even so, the latter--who is on the other side of 65--remains excessively droll; he looks, nowadays, like a crossbreed of one of those Campbell Soup Kids with Tweedledee.
The program consists of seventeen illusion-sketches in a ninety-minute set. Highlights include "Red Ball," in which Teller works some gentle but astonishing magic with a lighter-than-air globe; "He's a Little Teapot," in which Teller indeed turns himself into a "little teapot"; and "The Vanishing Elephant," the title character of which earns one of the biggest laughs of the evening. "Close-up Magic with Little Cows" is also a delight--more comedy than magic--with one of the night's best gags, which I will not herein spoil.
I will relay, though, that Teller does actually talk; this, courtesy of my playgoing companion, who was called onstage for the goldfish-in-a-bowl trick. While performing silently, Teller told her sotto voce when to sit and what to do, as well as offering gentlemanly praise for her contribution. (She also told me that she was picked out of the audience and levitated the night she saw their first New York show, at the Westside Arts/Downstairs in 1985--which suggests that the boys and their "Director of Covert Operations" have a method of casing the joint for suitable victims.)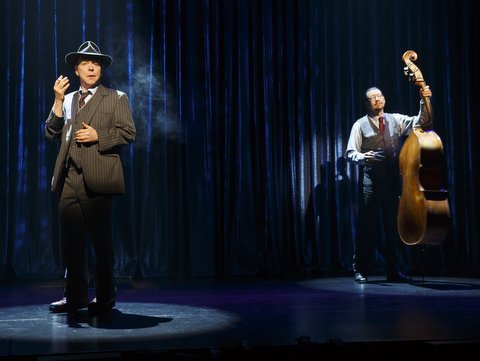 Teller and Penn Jillette in Penn & Teller On Broadway. Photo: Joan Marcus
"Looks Simple"--in which Penn describes, and Teller illustrates--the seven precepts of magic, makes a highly memorable setpiece. To a smokily jazzy accompaniment, Teller appears as a film noir detective. He shows us a string of illusions several times, after which Penn instructs him to face the other direction--so the audience can see the mechanics behind the tricks that look so magical from out front. And then there's Teller's "East Indian Needle Mystery," which remains fascinating after repeated viewings. Penn tells us that he was so astonished when he saw Teller perform this in the early '70s that he immediately proposed partnership. And here they are, still.
Penn & Teller are assisted by ace jazz pianist Mike Jones, their in-house music director who sports a tattooed head beneath his wisps of hair; and showgirl Georgie Bernasek, who consents to undergo the saw-the-woman-in-half trick. P&T take this familiar act and add an unexpected and macabre fillip that brought an explosive roar from the crowd.
In a nicely familial touch, the boys return under the management of their original producers, the Frankel-Viertel-Baruch-Routh group, who were a scrappy bunch of off-Broadway guys at the time. In a pointed example of corporate nepotism, Penn manages to plug his producers' nightclub, 54 Below; he does this by use of a (real) dead fish, but even so.
Teller, in a program note, describes the act as "a neo-primitive form of experimental play that deconstructs the nature of reality through the poetic and ironic presentation of theatrical illusion." And so it is, although he omits the word "gleeful."
.
Penn & Teller On Broadway opened July 12, 2015 and continues through August 16 at the Marquis Theatre
Calling all HuffPost superfans!
Sign up for membership to become a founding member and help shape HuffPost's next chapter