Finian's Rainbow, that delectable "musical satire"--to borrow the authors' preferred description--is back in town, down at the pint-size Irish Repertory Theatre. Full-scale musicals often wilt when presented with severely whittled casts, and bountifully luscious scores (like the one written by composer Burton Lane and lyricist E.Y. Harburg) can sound mighty measly in the hands of "a teeny tiny band" (to borrow a phrase from the author of Falsettos). But the inherent glint-in-the-eye charm of Finian is simply but solidly captured by the folks, onstage and offstage, at the Irish Rep. The results are, indeed, "something sort of grandish."
Finian is the story of a crotchety, stereotype Irishman (Ken Jennings) who steals a crock of gold from a leprechaun and brings it--along with his glow-o'-the-mist daughter, Sharon (Melissa Errico)--to America to bury it in the ground near Fort Knox, where the U.S. Gov't grows its gold. It takes place in the fictional Rainbow Valley in the fictional state of Missitucky, in the heart of tobacco-growing country. Complications arise when the forlorn leprechaun Og (Mark Evans) arrives in search of his purloined crock, without which he is slowly but surely turning uncomfortably mortal. Sharon, naturally, falls in love with a local heroic folk-singer type, Woody (Ryan Silverman); and Og, unnaturally, falls in love with Woody's mute sister, Susan the Silent (Lyrica Woodruff), who dances her dialogue for most of the evening.
Harburg and co-librettist Fred Saidy were after bigger game than mere polite fantasy; their main target was bigoted Senator Billboard Rawkins (Dewey Caddell), who--thanks to one of those three wishes that crocks of leprechaun gold traditionally provide--is transformed black before our eyes, and winds up roaming the countryside as an itinerant gospel singer. Billboard was no mere nightmarish figment of the imagination; the authors patterned him on Theodore G. Bilbo, a white supremacist Klansman who was in his second term as U. S. Senator from Mississippi when Finian opened in early 1947 (and who died that summer). As for the powerful nature of the satire, let it be added that Harburg was blacklisted, for numerous reasons, soon thereafter.
The adaptation, by Irish Rep artistic director Charlotte Moore cuts the more outrageous material: specifically, a scene in which an educated black is "trained" to be Rawkins' stereotyped servant, shuffling along as he serves juleps. The racial transformation here is also handled mildly, with a simple, brown half-mask rather than the full blackface that was thought suitable in 1947.
This all works fine, under the circumstances; this intimate Finian would likely not turn out so well if it retained Harburg & Saidy's full-bore social significance. Even with a good deal of trimming, the message comes through. Audience members might well surmise that Moore goosed the book to make it look relevant to our present-day election; but all those wicked jibes--"An immigrant," Billboard yells, "Damn! My whole family's been havin' trouble with immigrants ever since we came to this country!"--are from the original.
The charms of the evening are many. Errico gives the friendly and melodic leading lady performance you would expect from her. Silverman, the strong-voiced singer who played Giorgio opposite Errico's Clara in the 2013 CSC production of Passion, is perfectly cast as Woody; while Evans, a touring Elder Price from The Book of Mormon, makes a strong local debut and knocks the show cold with his "When I'm Not Near the Girl I Love." Jennings, who has always been an eccentric character man (even when he created the role of young Tobias in the original Sweeney Todd), is a marvel as Finian; Jennings clearly believes the blarney, every bit of it.
Lane's music, which was originally fitted with resplendent orchestrations by Russell Bennett and Don Walker, is here cut down to a combo. Music director Geraldine Anello plays what pretty much seems to be the traditional vocal score of the show (which is basically a reduction of the original orchestrations for piano). Orchestrator Josh Clayton gives most of the fills and countermelodies to a lone violin, while having a cello providing resonant body to the piano's lower tones. Capping the group is a harp, and there is something luxurious about sitting there with the sound of a harp--unamplified--vibrantly filling the entire theatre.
This is the Irish Rep's second Finian; they first presented the show back in 2004, but we are told this is a new version (although it uses the same director/adapter--Ms. Moore--choreographer and design team as before). Also carried over is Ms. Errico, which is all to the good. She is clearly a decade older than she was, and has elsewhere humorously admitted that she is well outside the preferred age-range for the role; but she has the requisite glint of the girl from the fictional Glocca Morra, and she can sure sing it.
Between the two Irish Rep engagements, Finian was mounted as a full-scale Broadway production in 2009, making it appropriate for comparison. The Broadway revival was a decided artistic success, although it failed to attract an audience and quickly closed. It featured the full orchestration and a full set of singers, which gave it a musical resonance the Irish Rep cannot hope to match. The show is perhaps more charming here, though; on Broadway, there was a feeling that it was heavy-handed, dated or both (which resulted in a nonenthusiastic word-of-mouth that hastened its closing).
What's more, some of the downtown principals come across more favorably than their uptown counterparts. There is no reason to compare the excellent Kate Baldwin with Ms. Errico; we'd happily watch either in any number of musical roles. But Cheyenne Jackson was a stretch for the role of Woody (which the authors apparently fashioned after the folk singer Woody Guthrie, who like Harburg had strong leftist associations). Jackson's voice was too high and sweet for "Old Devil Moon" and his other songs, while Silverman effortlessly cascades them to the rafters. Jim Norton made a fine Finian uptown, but Jennings' decades of musical theatre experience makes for a "bigger" and suitably hammy performance. And while newcomer Evans is less flashy than the Og of Christopher Fitzgerald, that inveterate scene-stealer somehow seemed more of a cereal-box leprechaun than the character who finds himself growing "more and more a mortal."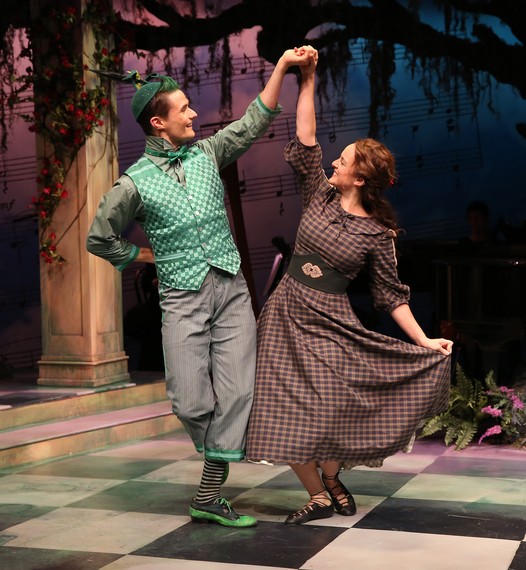 Mark Evans and Melissa Errico in Finian's Rainbow
Photo: Carol Rosegg
All of which leads us to say that this pint-size Finian scores on many levels; and to quote an old valley legend that we're just now a-makin' up, a Glocca Morra skylark in the hand is worth two (or three) in the bush.
.
Finian's Rainbow opened November 6, 2016 and continues through December 18, 2016 at the Irish Repertory Theatre
Calling all HuffPost superfans!
Sign up for membership to become a founding member and help shape HuffPost's next chapter