One of the biggest musical hits of the century, thus far, tells of American do-gooders who go to Uganda and -- in the face of a corrupt and lawless evildoer -- teach the natives to read, write and think. Now we have Invisible Thread, at Second Stage, which also has an innocent American bringing light to Uganda students; he even teaches them how to use what in The Book of Mormon they call 'a texting device.'
But there the similarities end. The new musical is as serious in theme as Mormon is not, and the comedy -- of which there is a goodly amount -- is in a gentler vein. Invisible Thread has several moments of emotional uplift, and is likely to send at least a portion of the audience enthused out into the night.
The authors have concocted what you might call a documentary musical, fashioned from real life. Invisible Thread is about an adrift out-of-work actor who, in search of personal fulfillment, flies to Uganda as a paying volunteer to help build a school. When Griffin discovers that Pastor Jim is perpetuating a scam -- once the volunteers leave, he sells the buildings and pockets the profits -- he finds some homeless orphans and starts to teach them on his own. During intermission, he goes back to New York and struggles to raise enough money to keep the children in a boarding school in Kampala.
Griffin is played by Griffin Matthews, a formerly out-of-work actor who in 2005 went to Uganda as a volunteer and ultimately formed the non-profit Uganda Project to educate orphans. While doing so, he documented his efforts and -- with his partner Matt Gould -- wrote a musical about it. (While Matthews is center-stage throughout the piece, Gould sits at a keyboard on a raised platform leading the orchestra and -- from time to time -- sings along.) Griffin-the-character, meanwhile, corresponds with the composer/lover character Ryan (Corey Mach), with whom he is writing a musical about the Uganda Project. It is unclear whether Ryan is based on Gould; they look and are costumed alike, at least. Matthews is altogether impressive; that is, if you know he is playing a role he not only wrote but lived. Otherwise, one wonders if the show might be better served with an actor not so personally close to the material.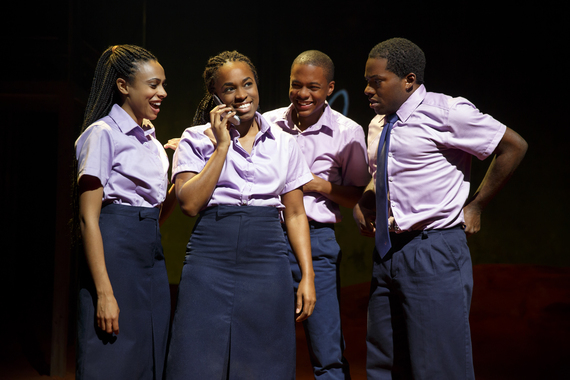 Nicolette Robinson, Kristolyn Lloyd, Jamar Williams and Tyrone Davis, Jr.
in Invisible Thread. Photo: Joan Marcus
The show is high spirited, to say the least, and helped along by an excellent cast filled with big voices. The two girl students -- Eden (Nicolette Robinson) and Grace (Kristolyn Lloyd) do especially well; Michael Luwoye, as a teenaged worker at the fraudulent foundation, is also effective. Best of all, perhaps, is Adeola Role as Joy, the housekeeper to the unseen pastor. She charms the audience with a comic speech late in the first act, and just about steals the show with a dramatic scene late in the proceedings.
Parts of the score are admirable, especially the big choral numbers. "Beautiful," early on, demonstrates just what the Matthews-Gould team is capable of, while "New World" -- enchantingly led by Robinson -- closes the first act. The latter half also has two winners, "Bela Musana" (led by Melody Betts) and "I'd Cross the Blue" (led by Aisha Jackson). Some of the songs in the New York sections, though, fall flat.
There is also something unconvincing in the story. Yes, it is true, but even so; one wonders about the way this unemployed-and-broke actor flies off on an expensive, six-week trip to Uganda as a paying volunteer. One also raises an eyebrow when this sheltered boy blithely leaves the compound and goes off into the dangerous wilds. Nor does the lover ring true. During the 2014 Cambridge, MA tryout of the show, Griffin's friend back in Boston was not his live-in male lover (Ryan) but a female best friend (also named Ryan); perhaps part of the problem is that some of the material for girl Ryan sits uncomfortably on boy Ryan. At American Repertory Theatre, the show was called Witness Uganda. Invisible Thread -- taken from a song title -- is not much of an improvement.
Diane Paulus (Pippin, Finding Neverland) does her typical job of directing here, which means that there is unbounded energy across the evening. Too much so, perhaps; true energy is exhilarating but synthetic energy can drag you down. The same can be said for the choreography, which is credited to Sergio Trujillo (Jersey Boys), with the show "co-choreographed" by Darrell Grand Moultrie. (Moultrie did the well-received Cambridge run, but seems to have been replaced for New York.) In any case, the dances toggle from exciting to ordinary.


Michael Luwoye and Adeola Role in Invisible Thread. Photo: Joan Marcus
Gould & Matthews' Uganda musical might remind you, in varying ways, of Rent, Spring Awakening, Fela and -- oddly enough -- The King and I. The show, with its cast of fifteen and band of nine, clearly has dreams of Broadway; Kevin McCollum, of Rent and In the Heights, holds the rights. At this stage of the game, though, Invisible Thread doesn't quite have the undisputed power of Rent at NYTW or Spring Awakening at the Atlantic.
.
Invisible Thread opened December 2, 2015 and continues through December 27 at the Second Stage Theatre
Related
Popular in the Community