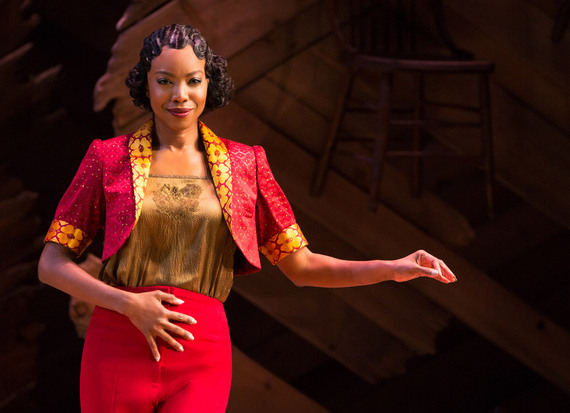 Heather Headley in The Color Purple
Photo: Matthew Murphy
"A stunning, exhilarating and altogether joyful theatrical experience," is how I greeted John Doyle's revival of The Color Purple when it opened last December. "Theatergoers who weren't impressed the first time are hereby advised to give the show a second chance, as you're likely to end up cheering."
The show has just entered its seventh month, enjoying healthy business along the way (as deserved). But now comes a major change. Oscar-winner Jennifer Hudson--who played the temptress Shug Avery, and did a thoroughly fine job in her Broadway debut--finished her contractual six months and departed. In came Heather Headley, who is not a celebrity of the magnitude of Ms. Hudson but who is well regarded along Broadway for her Tony-winning performance as Aida in the Disney musical of that name. The expectation along the street--along my street, anyway--was that Headley would help the show continue to bring in audiences while giving a professional, high-caliber performance.
A professional, high-caliber performance is not what we get. Headley was good in the mediocre Aida, and she was reportedly excellent in the 2012 West End musical version of The Bodyguard. What we get at the Jacobs, now, is a dynamic, knockout performance; one with the power of, say, Sutton or Audra or Kelli or Jessie M (the newest addition to that particular rarified club). Shug Avery is not the leading role in the show, mind you; a performance of this wattage could well leave the nominal star of The Color Purple in the shade.
That's no problem here. Cynthia Erivo might be a Broadway newcomer, and slight as a string bean, but her acting can tear your heart out--and when she sings those songs, The Color Purple comes alive in a way that it never did back when the original production opened in 2005. Mix Erivo and Headley together and you have two riveting star performances; when they are on opposite sides of the stage, you can barely figure out which way to look.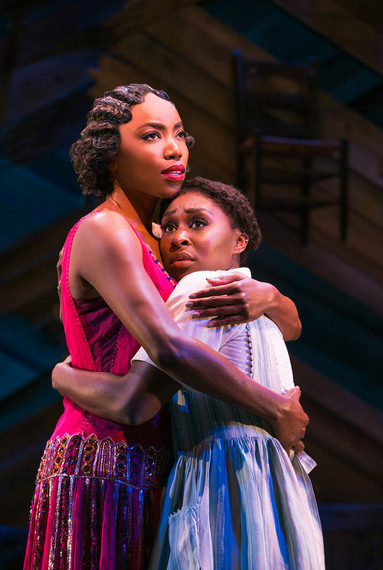 Heather Headley and Cynthia Erivo in The Color Purple
Photo: Matthew Murphy
The show itself remains a rouser, driving audiences to their feet (in the manner of today). Danielle Brooks, as the commanding Sofia, continues to give the same blisteringly powerful performance that has earned her a Tony nomination (in the highly competitive "featured actress in a musical" race). What becomes apparent, on second viewing, is that this production offers a full hand of masterful featured performances from Kyle Scatliffe as Harpo, Joaquina Kalukango as Nettie, Isaiah Johnson as Mister, and Patrice Covington as Squeak. These, plus that delectable trio of gossips (Rema Webb, Carrie Compere and Bre Jackson).
Let it also be said that the entire ensemble, which was altogether excellent when the show opened, now plays the show like members of a church choir who have been working and living together for thirty years. Broadway currently has several such ensembles--those at Shuffle Along and Hamilton immediately come to mind--giving their all, and enhancing their respective, already-excellent musicals.
The hero of this Color Purple remains director John Doyle, who has done a Rumpelstiltskinian job of weaving indistinct straw (i.e. book, music and lyrics) into something approximating gold. The Color Purple, in this revival, looks lustrous indeed. Add Ms. Headley to the mix and the overall enjoyment increases a couple of notches--without in the least detracting from Ms. Erivo's lustrous star turn.
.
The Color Purple opened December 10, 2015 at the Bernard B. Jacobs Theatre
Calling all HuffPost superfans!
Sign up for membership to become a founding member and help shape HuffPost's next chapter