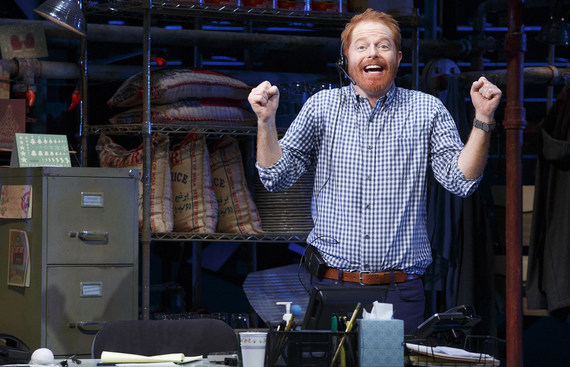 Jesse Tyler Ferguson in Fully Committed. Photo: Joan Marcus
Drama be damned. Rather, if its drama you want, you can go over to The Crucible, The Father, or The Humans. If all you want in your evening at the theatre is nonstop laughter and a brightly-shining comedic tour de force of a performance -- a breezy one-act that will have you beaming from the start, and thoroughly worn out from laughter by the end -- then you should hasten to the Lyceum, where Jesse Tyler Ferguson is giving a master class in hysteria in Fully Committed.
Fully Committed, you might remember, is Becky Mode's 1999 comedy about a fellow bunkered in the basement of a snooty **** restaurant taking reservations for a place that is permanently over-booked -- or, as the overbearing celebrity chef ordains, "totally committed." At the same time that Sam battles with overbearing customers, he fields commands from the mad chef upstairs (on a bright red phone) plus the maître d' and kitchen staff over an ever-buzzing intercom. The late Nicholas Martin's original production -- which opened at the Vineyard and moved to the Cherry Lane, starring Mark Setlock (followed by Roger Bart, who left to go into The Producers, and Christopher Fitzgerald) -- was a joyful surprise.
The play now comes uptown to Broadway, starring Mr. Ferguson and with Ms. Mode contributing some tinkering and updating. We are slightly surprised but delighted to discover that Fully Committed remains every bit as gleeful as it was. This is a true, theatrical, palate-cleansing delight.
It is no surprise to find Ferguson more than up to the demands of the role; before establishing himself as a bona fide television star (just finishing his seventh season as Mitchell on "Modern Family"), he was a hardworking stage farceur. He turned up hereabouts in 1997, at 21, as part of an exceedingly odd couple -- opposite Lea DeLaria -- in the Public's On the Town at the Delacorte and later on Broadway. He established himself as Leaf Coneybear, one of the awkward contestants in The 25th Annual Putnam County Spelling Bee. Since the beginning of "Modern Family," he has regularly returned for Shakespeare in the Park, most notably as the twin Dromios (opposite Hamish Linklater as the brothers Antipholus) in the 2013 production of The Comedy of Errors.


Jesse Tyler Ferguson in Fully Committed. Photo: Joan Marcus
Unlike other movie and television stars who make visits hereabout, there is no questioning Ferguson's stage skills. He is especially well suited for Fully Committed, which is built upon multiple voices; the telephonically-overburdened Sam provides us with both sides of each conversation, allowing Ferguson to create dozens of distinct comedic mini-characterizations.
But Fully Committed is tricky. Once the situation is set up, you are faced with the prospect of one actor -- this is clearly a one-man show -- answering phone calls all night. How does the actor make that work? How does the playwright manage to incorporate a satisfying underlying story that allows us to care about the character and his dilemma? And how can they possibly manage to give us a satisfying finish?
This Ferguson, playwright Mode and director Jason Moore (of Avenue Q) do -- and winningly so. (The only questionable aspect of the production is the set, which is intended to be a dilapidated basement storeroom -- and which here seems more roomy than many a Manhattan studio apartment, with a back wall of fine wine bottles reaching up to heaven.)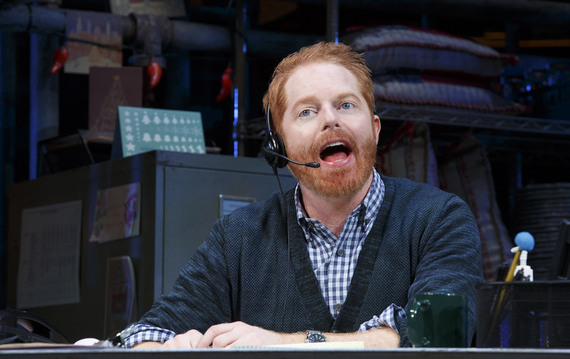 Jesse Tyler Ferguson in Fully Committed. Photo: Joan Marcus
Fully Committed is a laugh riot, and a thoroughly satisfying one. The star is as busy as one of those plate-spinners from vaudeville days, keeping things airborne as they throw more and more at him. Ferguson is a joy to behold, and -- needless to say -- fully committed to your hilarity.
.
Becky Mode's Fully Committed opened April 25, 2016 and continues through July 24 at the Lyceum Theatre
Calling all HuffPost superfans!
Sign up for membership to become a founding member and help shape HuffPost's next chapter