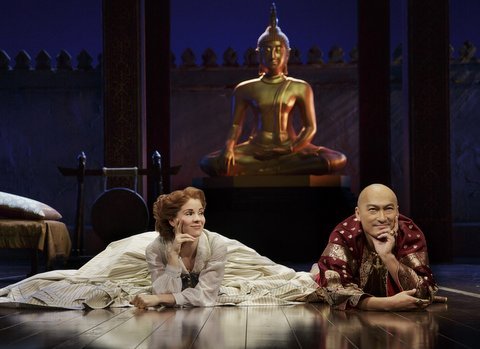 Kelli O'Hara and Ken Watanabe in Rodgers & Hammerstein's
The King and I. Photo: Paul Kolnik
In a day and age when producers, directors and author's executors think nothing of imposing their so-called artistic vision on Broadway masterworks that were pretty good to begin with, it is heartening to see producers, directors and executors just do the show as written. Lincoln Center Theater and director Bartlett Sher had enormous success in 2008 with their carefully crafted recreation of Rodgers & Hammerstein's South Pacific, so they have now joined together to do the same with the fabled team's The King and I.
The results, at the Beaumont, leave us shaking our heads in wonderment at just how good this "Something Wonderful" musical is -- although first time viewers are more likely to simply be swept away by the saga of Anna and the King of Siam. This King and I is excellent, although it does not soar quite so much as South Pacific. No matter; full value is given, and it's a treasure to have the show back on the Broadway boards after a seventeen-year absence.
The production has the epic sweep that the authors intended, along with all those songs. Mr. Sher and his leading players also investigate undercurrents of romance and physical attraction which were not evident in the original production. (Gertrude Lawrence, who enlisted Rodgers and Hammerstein to write the show for her, was twenty-three years older than her King, Yul Brynner.) Sher enhances these undercurrents, and has his actors act on them. This is not a left-field "improvement," mind you; it is all very much supported in the text.
That this works so well -- and adds an additional color to the tapestry of the show - -is due in part to the acting. Ms. O'Hara seems to have been born to play musical theatre heroines like Anna, Nellie Forbush and Julie Jordan; if only people were still writing such roles. Her Anna is young and hot-blooded enough to respond to the emotion, although unable -- in 1862 Siam, the present-day Thailand--to act on it. Ken Watanabe, meanwhile, proves to be a strong actor, and sparks fly. At the same time, Ruthie Ann Miles -- best known for her breakthrough performance as Imelda Marcos in Here Lies Love -- stands in the shadows and observes the pair; while Anna and the King might not recognize the love story, the King's #1 Wife certainly does.
Which brings us, as it must, to the King in question. Mr. Watanabe is an acclaimed Japanese actor, whose film work includes an Academy Award nomination for his featured role in the 2003 film "The Last Samurai." His acting, here, is excellent; the scenes play well, even in comparison to Brynner (who played the role continually over the years -- often by rote -- as well as winning an Oscar for the 1956 film version). However, Watanabe is clearly uncomfortable singing English lyrics on a Broadway stage.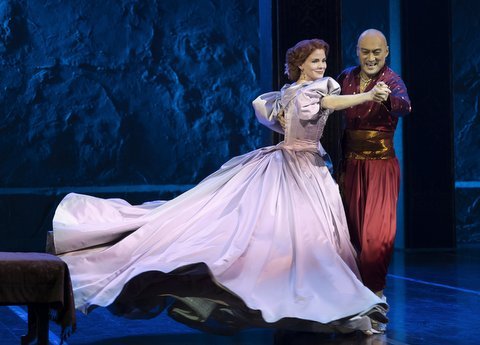 Kelli O'Hara and Ken Watanabe in Rodgers & Hammerstein's
The King and I. Photo: Paul Kolnik
The King is not much of a singing role; the show is built around Anna -- in 1951, Lawrence had sole star billing, with Brynner in a clump below the title -- and The King has only one solo ("A Puzzlement"); a duet with Anna ("The Song of the King"); and two lines of "Shall We Dance." The actor needn't sing well, but he needs to sing clear. When The King seizes the stage with his philosophical soliloquy, "A Puzzlement," he needs to take command. Watanabe soldiers through it, but his language problems and his lack of ease prevent the number from landing as strongly as it must. This turns out to be only a momentary problem, thanks to Watanabe's overall performance, but a more convincing "Puzzlement" from the King would make this production that much better.
Director Sher and his South Pacific designers -- Michael Yeargan (sets), Catherine Zuber (costumes), and Donald Holder (lighting) -- do another magnificent job. Using the same type of sliding stage capable of revealing -- or covering -- the large orchestra, Yeargan starts things off with Broadway's neatest on-stage boat since Boris Aronson's "black dragon" of a warship in Stephen Sondheim's Pacific Overtures. Once in the palace, Sher and Yeargan take advantage of the vast openness; this allows them to make highly effective use of the Beaumont's thrust stage. This is most apparent as we watch "Shall We Dance," with O'Hara and Watanabe dancing out in the middle of the audience rather than way far away, upstage behind the proscenium arch. Zuber's costumes are sumptuous -- The King and I offers the designer showy opportunities, provided they give you enough money to work with and you know what to do with it -- and Holder (of The Lion King) does another fine job painting with light.
The music department is under the expert direction of Ted Sperling, who also helmed South Pacific and Lincoln Center's The Light in the Piazza. The full-sized orchestra of twenty-nine bring out the glories of Rodgers' music, Robert Russell Bennett's orchestrations, and Trude Rittman's ballet "The Small House of Uncle Thomas." Choreography is credited to Christopher Gattelli, "based on the original choreography by Jerome Robbins." Aside from the ballet, the dances -- as in South Pacific -- are functional.
Ms. Miles sings the blazes out of her big solo, Something Wonderful," as well as providing dramatic heft as concerned observer to the show's two romances. The young lovers are adequately portrayed by Conrad Ricamora (who was Aquino to Ms. Miles' Imelda in Here Lies Love) and Ashley Park, while Jon Viktor Corpuz makes a strong impression as Prince Chulalongkorn. Oh, and the Royal Children are beyond adorable.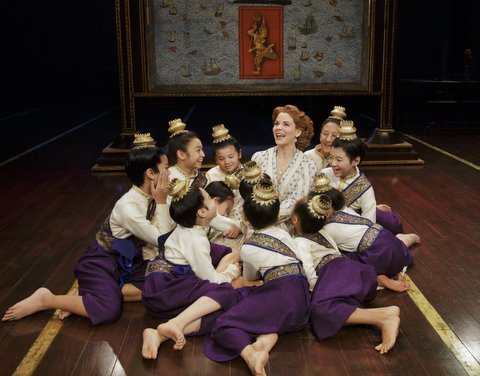 Kelli O'Hara and the Royal Children in Rodgers & Hammerstein's
The King and I. Photo: Paul Kolnik
On a personal note, as I walked through the lobby of the Beaumont I realized that I was looking around for Mary Rodgers Guettel. A fierce but fair protector of her father's work, she died in June but you can almost sense her presence. Lincoln Center dedicated this King and I to Mary, and she does seem to be in the house, beaming well-earned approval.
.
Rodgers & Hammerstein's The King and I opened April 16, 2015 at the Vivian Beaumont Theatre
Calling all HuffPost superfans!
Sign up for membership to become a founding member and help shape HuffPost's next chapter