There are no boats in Men on Boats, the Clubbed Thumb/Playwrights Horizons coproduction at the latter's upstairs playhouse on 42nd Street; just four wedge-shaped, wooden (or fake wooden) bows. No men, either; just ten actors portraying male pioneers of the post-Civil War era.
There's no river either, or rapids or waterfalls or canyons grand or otherwise; but author Jaclyn Backhaus and director Will Davis soon have us believing in whitewater and expedition boats and their grizzled, soaked assemblage, who fish, hunt and kill rattlers; and name bluffs, valleys and peaks as they pass by.
Backhaus draws her tale from history, namely the Powell Geographic Expedition of 1869. Former Major John Wesley Powell (Kelly McAndrew)--who lost his right arm at Shiloh--led a group of explorers down the Green River from Wyoming, in a successful attempt to link to the Colorado River, traverse the Grand Canyon, and come out alive. They did--six of them, at least--and wrote a page (as they say) of naturalist history.
Powell went on to publish an authoritative 1875 book about the expedition ("Report on the Exploration of the Colorado River of the West and Its Tributaries") but quickly faded from history. He was memorialized about 100 years after his boat trip by Lake Powell: Ironically, a man-made lake--the second largest in the United States--which straddles the border of Utah and Arizona.
But Backhaus seems to have little interest in Major Powell. Her main interest is in telling a tale of high theatricality, and heightening every heroic, mock-heroic and cud-spitting masculine affectation by having her backwoodsman played by talented, non-male cast. (The script calls for "racially diverse actors who are female-identifying, trans-identifying, genderfluid, and/or non-gender-conforming.")
Men on Boats was originally produced by Clubbed Thumb--an off-off incubator of what they term "funny, strange and provocative" new plays--last June on the Lower East Side, for a two-week run. Clubbed Thumb is now in residence at Playwrights' downtown rehearsal facility, with this coproduction a happy byproduct.
The magic comes from the writing, the direction--on an all-but-empty stage with five upstage doors and some projections--and the cast. McAndrew plays Powell, with determined fortitude and an arm strapped beneath her coat; Kristen Sieh makes an equally rugged Dunn, who eventually deserts the party; Jocelyn Bioh grounds the group as Hawkins, the cook; and Layla Khoshnoudi brings enthusiastic humor as the 19-year-old Bradley. Two of the assorted pioneers--Hannah Cabell and Danaya Esperanza--offer amusing cameo appearances as a pair of Grand Canyon natives, a local Chief and his wife.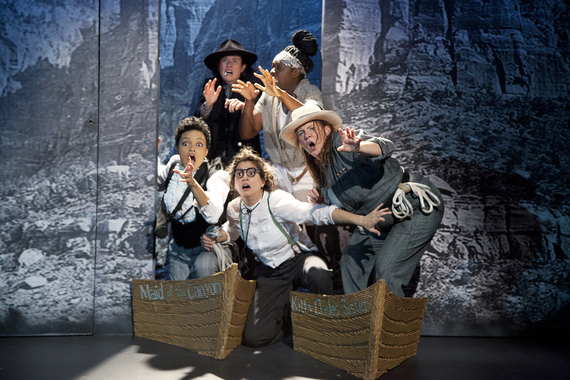 Danielle Davenport, Hannah Cabell, Layla Khoshnoudi,
Jocelyn Bioh and Elizabeth Kenny in Men on Boats
Photo: Elke Young
Men on Boats is on view at Playwrights through August 21, and makes a briskly breezy evening. It should appeal to those who enjoy the comic sensibility of such entertainments as Peter and the Starcatcher and Bedlam's adaptation of Jane Austen's Sense & Sensibility.
.
The Clubbed Thumb/Playwrights Horizons production of Jaclyn Backhaus's Men on Boats opened August 1, 2016 and continues through August 21 at the Peter Jay Sharp Theater
Calling all HuffPost superfans!
Sign up for membership to become a founding member and help shape HuffPost's next chapter