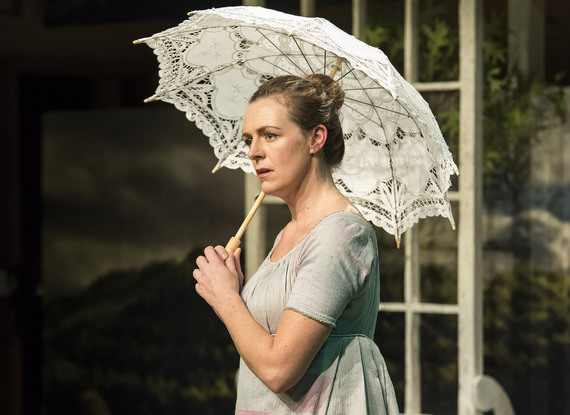 Andrus Nichols in Bedlam's Sense & Sensibility. Photo: Ashley Garrett
For sheer, exuberant theatricality, head down to the Gym at Judson on Washington Square for the Bedlam production of Sense & Sensibility. Kate Hamill's adaptation of Jane Austen's first novel was one of the stage highlights of 2014, when it was first presented in New York in a limited engagement in rep with Bedlam's The Seagull. Additional playing time for the ten-player cast (all but two of whom return); a more conducive and larger (though still intimate) playing space; and the ministrations of director/Artistic Director Eric Tucker have taken an already-delectable evening and added an extra dollop of froth, if you will. Sense & Sensibility is blissfully delightful.
Bedlam's method is to take plays and strip them down; in text, in cast size, and in physical production. (Sense & Sensibility is done with a couple of tables, four lattice window-walls on casters, and various chairs.) The cast of ten does not double; they triple, if you will, with almost everyone making multiple contributions. Some of the actors play night-tables, carriages, and rip-snorting horses, too.
This might in other hands come off as gimmicky or Story Theater-lite, sure. The magic of Bedlam--and this is consistent through all of their offerings--is that their productions are bright, light, breezy and concise. Their goal is to create an immediate bond between actor and audience, collapsing the distance to bring the audience into direct contact with the "dangers and delicacies" of the world of the play.
The direct contact does indeed bring the audience into the proceedings, fortunately with little audience participation. The Gym at Judson has been set up as a rectangle with three rows of chairs along the two long walls; thus, the patrons--while watching the play--can't help see the mirror audience across the way. (The original production was played in a non-descript basement room just off the Bowery.) Bedlam shows are designed for intimate spaces, but by increasing the capacity from about 70 to 125, they have more or less tripled the laugh volume--which ramps ups the enjoyment level.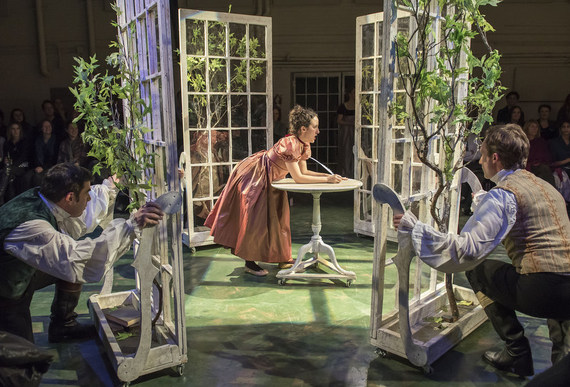 Jason O'Connell, Kate Hamill and John Russell in Bedlam's
Sense & Sensibility. Photo: Ashley Garrett
The more we see the Bedlam players, the more we wonder that they haven't yet been snapped up for better-paying jobs uptown; or perhaps it's just that they are dedicated. The center of the company--along with Mr. Tucker--is cofounder and Producing Director Andrus Nichols. (While it is not helpful to identify current performances with past, she will ever be remembered for her astonishing performance in Bedlam's four-character version of Shaw's Saint Joan.) Here she is at the play's center as Elinor Dashwood, the sensible sister and seemingly Jane Austen's stand-in. Elinor remains noble and controlled as all manner of intrigues whirl about her, flustered only when confronted by the possibility of romance. Ms. Hamill--the author of this adaptation--plays Marianne, the sister who is more emotional; which is to say, the one who is over-run with "sensibility."
Bravura comedic portrayals, as before, come from Jason O'Connell--who seems to grow more impressive with each viewing--and Stephan Wolfert. (An altogether uproarious performance in 2014 came from Mr. Tucker, who this time around is relegated to the director's chair.) O'Connell plays the immensely likable but shy suitor Edward Ferrars, transmuting--with merely a change of posture--to his dastardly wastrel of a brother Robert. Wolfert, meanwhile, fills in from the play's sidelines, as the countrified Sir John Middleton, various servants, and an impatient horse. Edmund Lewis adds gravity as the reserved Colonel Brandon along with assorted incidental comic characters.
They are well matched by Samantha Steinmetz (as the mother of the Dashwood girls) and Laura Baranik (as the nastiest sister-in-law imaginable, comporting herself like the vilest swan imaginable in an animated "Ugly Duckling"). These two double as the Steele sisters, and in one of Tucker's most cleverly conceived scenes--using chairs on casters--play all four roles simultaneously.
Tucker is somewhat missed, as his Mrs. Jennings was a wildly comic impersonation. (It is now played by Gabra Zackman, more than satisfactorily though less outlandishly as she doesn't bring quite the same equipment to the role.) But Tucker's onstage absence appears to be the key to the improvements and refinements in this new mounting of what was already pretty wonderful. Having the director off-stage, directing--as opposed to on-stage, directing-while-acting--seems to have enhanced the pacing and heightened the dizziness, which adds just that much more to the evening. We have felt in at least two past Bedlam productions that the cast was occasionally looking mindfully over at Tucker in his corner of the stage, who sometimes seemed to be directing during the performance. Here, his players are "out of his reach," at least until the final curtain, and it adds to the overall giddiness.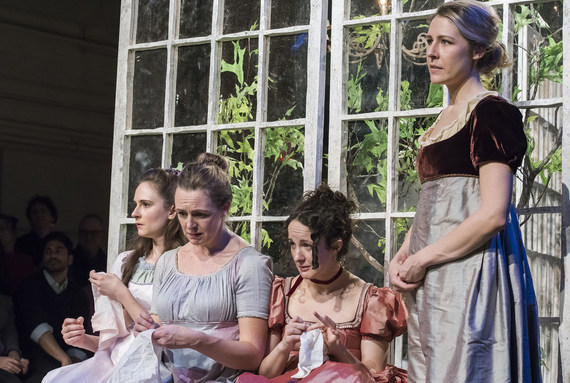 Jessica Frey, Andrus Nichols, Kate Hamill and Samantha Steinmetz
in Bedlam's Sense & Sensibility. Photo: Ashley Garrett
Dear olde Miss Austen, who died in 1817 uncelebrated and unknown (her books having initially been published anonymously), is said to have enjoyed playing at theatricals in the family living room; her unpublished manuscripts include a comedy, which she started before "Sense and Sensibility" and completed after "Pride and Prejudice." As she clearly aspired to comic play-acting--and in fact included scenes of "family theatricals" in her novels--one suspects that she would find this Bedlam romp to be quite her cup of tea. Sense & Sensibility is wildly enjoyable, wildly inventive and wildly funny.
Kate Hamill's adaptation of Jane Austen'sSense & Sensibility opened February 4, 2016 and continues through April 10 at the Gym at Judson
Calling all HuffPost superfans!
Sign up for membership to become a founding member and help shape HuffPost's next chapter