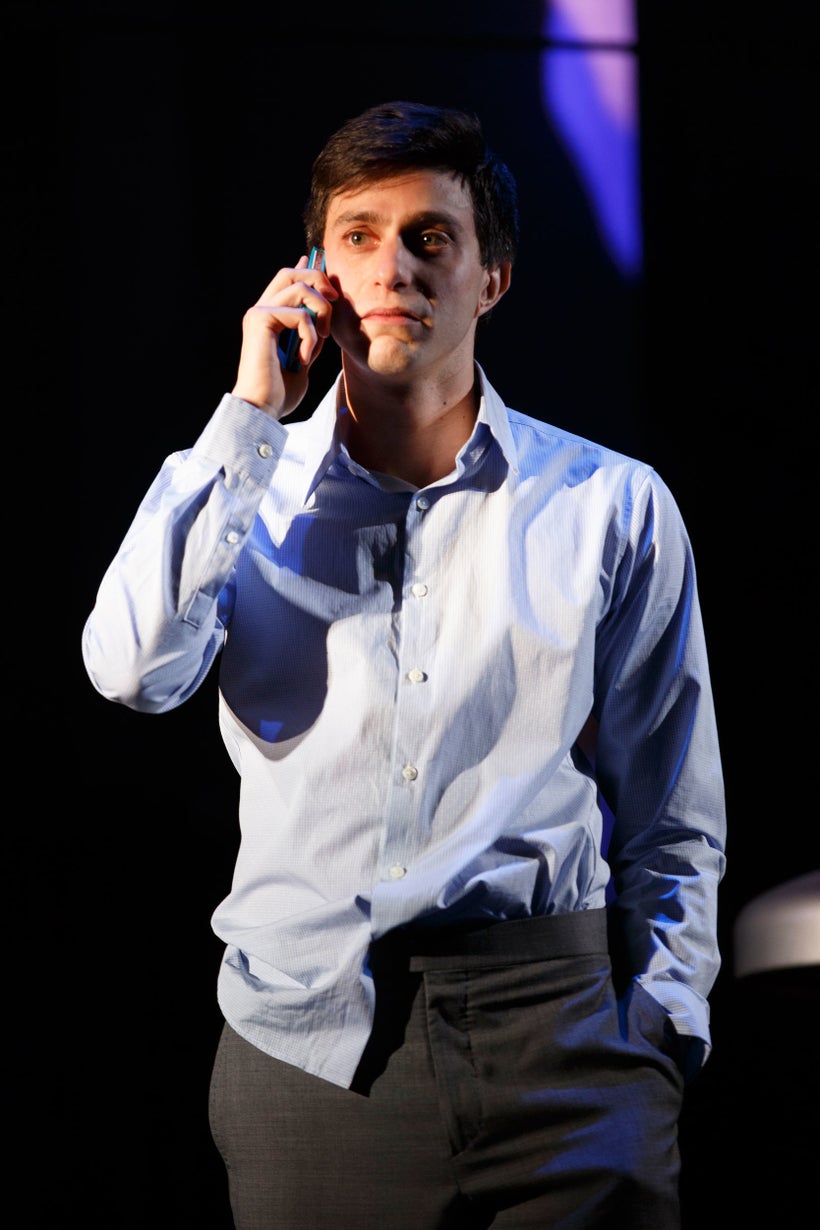 Friendly, rollicking, sweetly delectable comedies—at one time a Broadway staple—have become few and far between; the last we can recall was Christopher Durang's Vanya and Sonia and Masha and Spike, back in 2013. And now we have, at the very same Booth Theatre, Joshua Harmon's Significant Other: a friendly, rollicking, sweet and altogether delectable comedy for today.
Harmon is a thirtyish playwright discovered and nurtured by the Roundabout, beginning with his wickedly funny Bad Jews at the Underground back in 2012. That comedy moved upstairs to the larger Laura Pels the following season, and has since been a popular hit across the country. Significant Other—which as a play is significantly stronger—opened at the Pels in June 2015, and is now happily ensconced on Broadway.
The action begins as Jordan, Laura, Vanessa and Kiki—best friends since college days—raucously celebrate Kiki's engagement. Jordan, a low-level advertising man who hasn't had a boyfriend since forever, feels even more self-conscious when Vanessa gets engaged. In the second act, he all but disintegrates when Laura (the very best of his best buddies) also finds a man. What's a fellow—alone, stranded and depressed—to do? Jordan goes on a few dead-end dates, but spends much of his time commiserating with his octogenarian grandmother Helene. There he is, almost twenty-nine and "no one has ever told me they love me."
If all this sounds bittersweet and slightly less than mirthful, don't be misled. Significant Other is as warm and friendly and lovable as a short-legged, long-eared puppy, and Gideon Glick—as Jordan—is just as cuddly. Harmon's script converges with Glick's performance to make the play delightful from start to finish.
Glick is quite something. He might be remembered from the original Spring Awakening, in which he played the shy, dark-haired boy Ernst. (He was also notable, though only briefly, as a leader of the so-called Geek Chorus in the Julie Taymor version of Spider-Man: Turn Off the Dark.) As Jordan, he is nerdy, needy, charming and altogether lovable; a difficult combination to pull off, but he does so with aplomb. (In a way, one might consider Glick's performance a non-musical counterpart to Ben Platt at Dear Evan Hansen across the street.)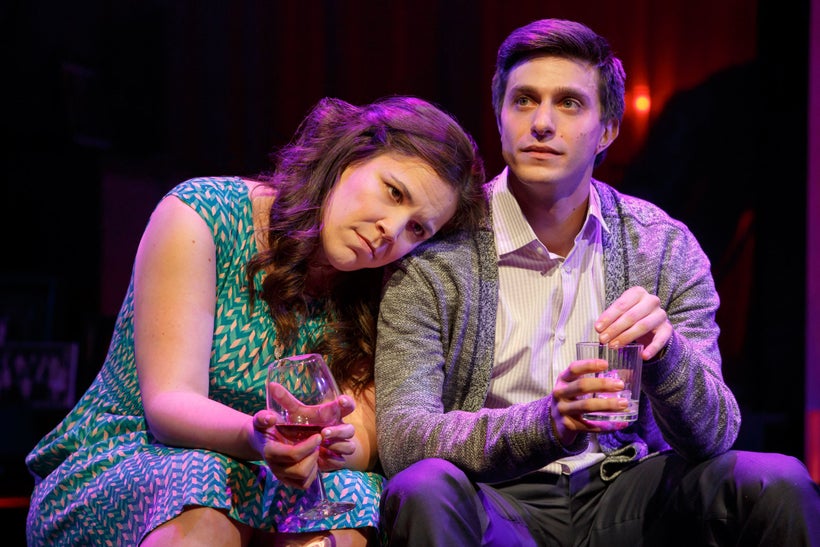 The girlfriends add greatly to the fun. Sas Goldberg repeats as the princess-like Kiki, while Rebecca Naomi Jones is the one newcomer to the cast as Vanessa. Central to the power of the play is Lindsay Mendez (from Dogfight and Wicked) as Laura, giving a performance as warm and honest as Glick. John Behlmann and Luke Smith play six auxiliary male characters, with sturdy good looks on the one hand and requisite humor on the other.
Standing out, as at the Roundabout, is Barbara Barrie as the Jewish grandmother most every audience member would adore. It seems like yesterday that she was doing karate chops as Sarah in Stephen Sondheim's Company, complete with her own Tony nomination in 1971. Here she is now, at eighty-five, milking every laugh that comes her way—but always with an overlay of poignancy. You watch a performance like this and might think, "what a treasure she is"! In fact, it's just an excellent actor doing what she's always done, albeit with extra-special material and an extra-bright twinkle in her eye.
Director Trip Cullman, who has been a strong contributor to off-Broadway over the last dozen years—with Choir Boy, Murder Ballad, Yen, Bachelorette and Punk Rock among his credits—makes a delayed but assured Broadway bow. (He is scheduled to return next month, with Six Degrees of Separation at the Barrymore.) The performances and the production itself seem enhanced at the Booth. The multi-level set by Mark Wendland (of Next to Normal and The Merchant of Venice) was impressive at the Pels, with a half-dozen different playing areas. It fits better in the larger Booth, giving the actors more visibility. Likewise, the already impressive lighting by Japhy Weideman (of The Visit and Dear Evan Hansen) is clearer and more atmospheric.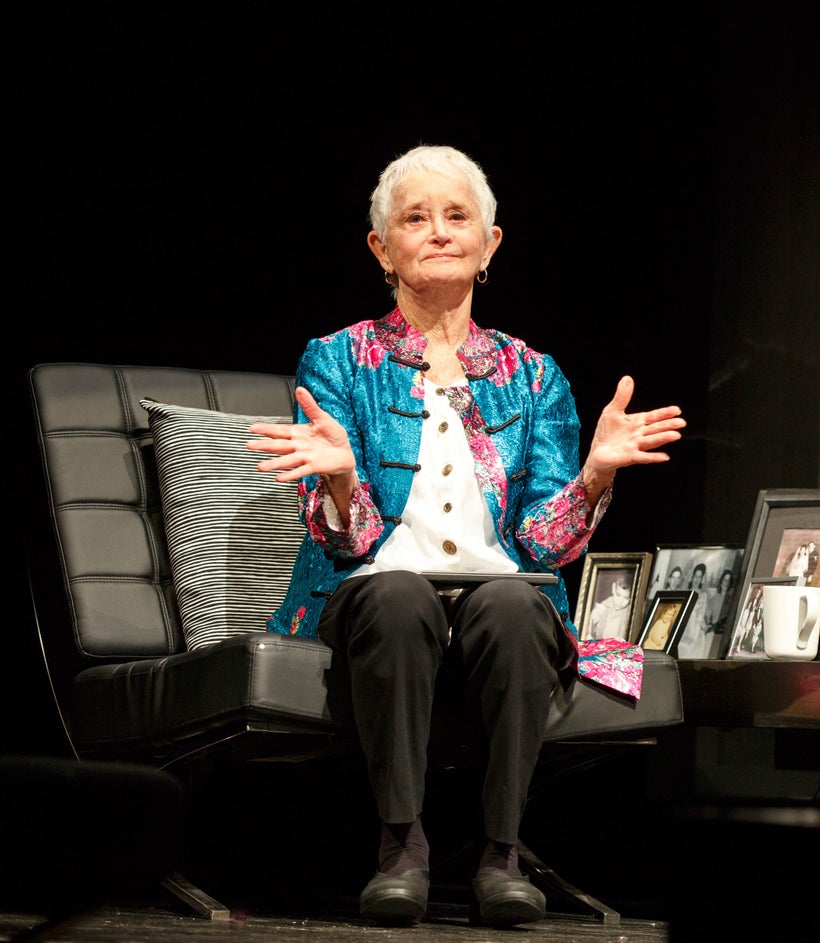 Significant Other does not sound like a traditional Broadway comedy hit in the manner of—say—Neil Simon, given that the leading man is desperately seeking a man to love. But the play is about friendship and loneliness, neither of which have gone out of style; and the good-natured feelings just about spill over the footlights to envelop the audience. Mix Harmon's warm-hearted script with Glick's superb performance and the artfully flavorful assistance of Mendez and Barrie, and you've got an exceedingly winning Broadway comedy.
Joshua Harmon's Significant Other opened March 2, 2017 at the Booth Theatre
Calling all HuffPost superfans!
Sign up for membership to become a founding member and help shape HuffPost's next chapter
This post was published on the now-closed HuffPost Contributor platform. Contributors control their own work and posted freely to our site. If you need to flag this entry as abusive,
send us an email
.