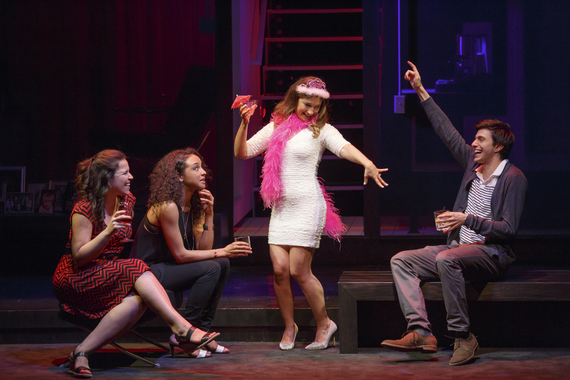 Lindsay Mendez, Carra Patterson, Sas Goldberg and Gideon Glick in
Significant Other by Joshua Harmon. Photo: Joan Marcus
Playwright Joshua Harmon burst into view in 2012 with Bad Jews, one of those plays that sounds like a bad idea but turns out to be very good. The Roundabout produced Harmon's comedy at their intimate Black Box Theatre and remounted it the following season, upstairs in the Laura Pels. Now Harmon returns to the Pels -- no need for a bare-bones tryout, this time -- with his new play. Significant Other is another smart, laugh-a-minute, contemporary comedy from the author of Bad Jews.
From the first moments of the first scene--with lovelorn college friends Jordan (Gideon Glick), Laura (Lindsay Mendez) and Vanessa (Carra Patterson) at the bachelorette party of their pal Kiki (Sas Goldberg) -- it is immediately clear: Harmon has a knack for very funny dialogue and--as it turns out -- endearing, contemporary characters. His story follows 29 year-old Jordan as he anxiously watches his three best (and only?) friends get married, leaving him all alone despairing that "no one has ever told me they love me."
Glick--an original cast member of Spring Awakening--is familiar to Roundabout audiences from Speech and Debate; he also played Jack in the Shakespeare-in-the-Park Into the Woods, and will be remembered by early attendees of Spider-Man as one of the leaders of the Geek Chorus before they were ignominiously cashiered. Glick gives a lovely performance here as the needy, nerdy, obsessive hero, an ugly duckling who frets and frets that he will never turn into a swan. (Harmon is to be commended by the manner in which he remains dramaturgically true to his protagonist.) Glick--who seems fabricated of rubber cement and pipe cleaners--is marvelous, endearing enough to win us over despite his character's complaints and kvetches.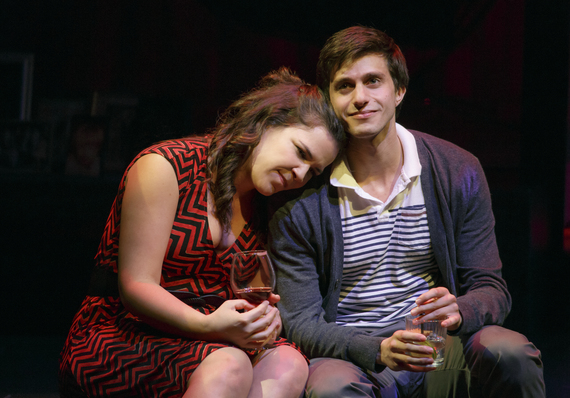 Lindsay Mendez and Gideon Glick in Significant Other by Joshua Harmon.
Photo: Joan Marcus
Director Trip Cullman--who has a string of strong off-Broadway credits, including the rousing Choir Boy (which--alas--has gone unseen here since its 2013 production at MTC's Stage II)--does a wonderful job as Harmon's play fluidly moves along from scene to scene. This is facilitated by a compartmentalized set by Mark Wendland (of Next to Normal and If/Then) which incorporates a half-dozen distinct playing areas. These are well defined by lighting designer Japhy Weidman, whose recent efforts have included such impressive items as The Visit, Of Mice and Men and The Nance.
The trio of friends is excellently played by three disparate actresses. Goldberg is the abrasively shrill, spoiled bride with a hapless groom from Kentucky. (The role is somewhat reminiscent of the character portrayed so memorably by Tracee Chimo in Bad Jews.) Patterson does well as the sensitive counterpart to the hero, while Mendez--who garnered strong reviews as the heroine of Dogfight--gets the best material and makes the best showing of the three. Late in the proceedings, she joins Glick in a lacerating scene which provides the heart of the play; the two are well-matched, and it makes for a gripping exchange. The six male characters who float through the proceedings are split between John Behlmann (as the handsome ones) and Luke Smith (as the others).
Barbara Barrie brightens the stage as Jordan's grandmother, coping with the ravages of time while light-heartedly pondering methods of suicide. Normally in cases like this, viewers marvel at the age of veteran actors on the stage. In this case, no issue need be made of Barrie's age; it's simply a lovely performance from an actress best-remembered for her karate-practicing Sarah in the original 1970 production of Company.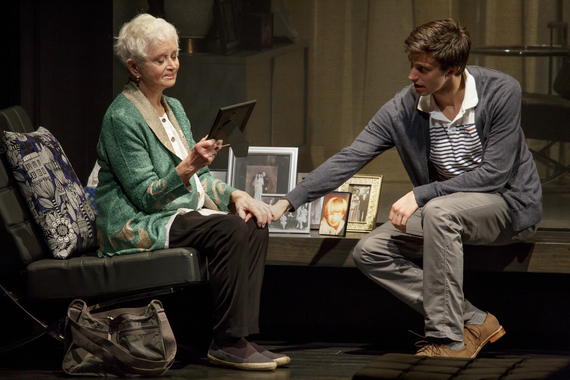 Barbara Barrie and Gideon Glick in Significant Other by Joshua Harmon.
Photo: Joan Marcus
Barrie's presence, once or twice, might actually remind you of Company; Harmon's play can be seen as a contemporary handling of the Sondheim/Furth musical, with the hero turning thirty (instead of thirty-five) surrounded by those "good and crazy people" his friends. This is countered by the notion of Significant Other as a modern-day equivalent of what Wendy Wasserstein might have done with a male protagonist. (After writing the above sentence, I looked in the Significant Other script and found that this might not be incidental: the author prefaces his play with a quote from Wasserstein's Isn't It Romantic.)
Sondheim or Wasserstein, both or neither; Harmon is in good company with Significant Other. This one is not as immediately startling as Bad Jews, but every bit as rewarding and funny. Keep 'em coming, Mr. Harmon.
.
Significant Other, by Joshua Harmon, opened June 18, 2015 and continues through August 16 at the Laura Pels Theatre
REAL LIFE. REAL NEWS. REAL VOICES.
Help us tell more of the stories that matter from voices that too often remain unheard.