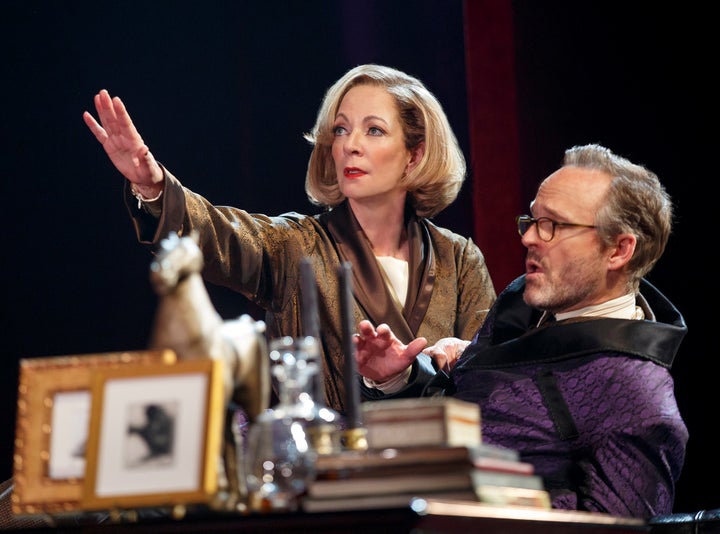 John Guare's Six Degrees of Separation was altogether dazzling when Lincoln Center Theater produced it at the Mitzi Newhouse in May 1990 and transferred it upstairs to the Vivian Beaumont in November. Guare set his philosophical treatise in a Fifth Avenue luxury apartment overlooking Central Park, mixing his ultra-upper class New Yorkers with a decidedly lower-class con man whom they were quick-and-eager to accept. By creating his characters in the vernacular of the audience—and it was obvious that the real-to-life versions of the characters were likely members of the audience, most probably on Lincoln Center Theater's patron list—the play was overrun with humor, wit, and great immediacy.
Almost thirty years later, Six Degrees is something of a period piece. Guare illustrates in a roundabout manner how the cellphone and the Internet have thoroughly changed the world we live in, as the plot stands on circumstances that would be instantly resolved with a quick call (or e-mail) and a Google search. Conversely, Guare's jabs at the Broadway musical Cats remain uncomfortably and wickedly current.
What's more, the original production—directed by Jerry Zaks and starring Stockard Channing—was impeccable. How can the new revival at the Barrymore hope to compare? But it does, handily so. Guare's social exercise, performed at the author's behest beneath a two-sided rotating Kandinsky suspended above the playing area, remains witty and wise, yes; but it has added resonance as a glimpse at the recent but clearly-distant past. What's more, the three central performances are equal to what we had in 1990, as unexpected as that may be.
Standing center stage is Allison Janney, as Ouisa Kittridge. (That's Louisa, in WASP-speak.) The reason for being of this production seems to be that bane of the serious playgoer's existence, the availability of a major television star. Janney (of "Mom" and "The West Wing") fits that description, with an almost obscene seven Emmy Awards since 2000.
But she is a TV star with a difference: before switching coasts for small-screen fame, Janney was a two-time Tony nominee who made her Broadway debut as the estranged wife of Frank Langella in the 1996 revival of Present Laughter and gave a memorable performance as Beatrice, the wife of Anthony LaPaglia's Eddie Carbone in the 1997 View from the Bridge. She is a legit actress with a capital A, and make no mistake. Janney stands center stage as the unwitting ringmaster of the play: Ouisa stands impervious as her world closes in on her. Janney is a master of the miniscule. Time and again, she elicits audience roars with one-word lines; she even does it with no-word lines (which is to say, simple reactions). Ms. Channing is well remembered as the originator of the role, and not to be overlooked; but Janney seizes the stage, and the play, and controls it.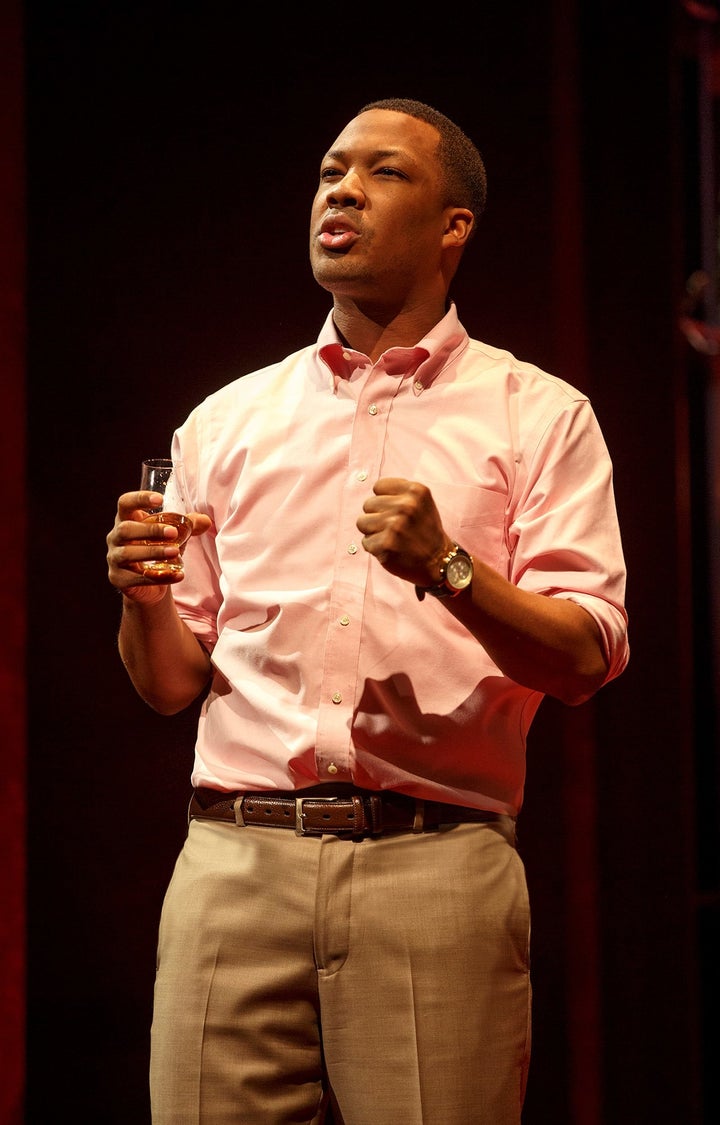 The same can be said for Corey Hawkins as Paul Poitier (as in Sidney), who is likely to attract non-theatre fans by virtue of his performances in Straight Outta of Compton and "24: Legacy." He turns out to be a highly-trained stage actor, via Juilliard, and is thoroughly believable and charismatic in the role (as was his 1990 predecessor, Courtney B. Vance). Where this new Six Degrees improves on the original is in the portrayal of Flan (for Flanders) Kittredge. Musical comedy veteran John Cunningham was a calming presence in the original, but tended to remain in the background. John Benjamin Hickey—a recent and deserving Tony winner for The Normal Heart—has a history of strong stage performances. In his hands, Flan is very much as emotionally involved in the proceedings as his costars.
Six Degrees speeds through its ninety-minute stage time, with the three leading players and the necessarily large supporting cast of fifteen handily deployed by director Trip Cullman. The director, a constant off-Broadway presence, only recently made his 45th Street bow with Significant Other (which due to the misfortunes of the Great White Way ended its abbreviated run two days before the opening of Six Degrees). Cullman's excellent work on both these productions is likely to translate into a steady slate of opportunities. Mark Wendland—Cullman's set designer on the aforementioned play, with other credits including Next to Normal and Heisenberg—provides a somewhat more expansive set than in the original production, and the stage is effectively lit by Ben Stanton (of Fun Home).
Watching this superlative production at the Barrymore, I caught myself wondering if the play's enhanced strength is to some extent personal; those of us seeing the play again, today, are necessarily a quarter-century older than we were. At least one element—Guare's handling of the many college-student characters which seemed humorously knowing in 1990 (when those "children" included the young John Cameron Mitchell and Anthony Rapp)—has far more resonance for those of us who now have teenagers.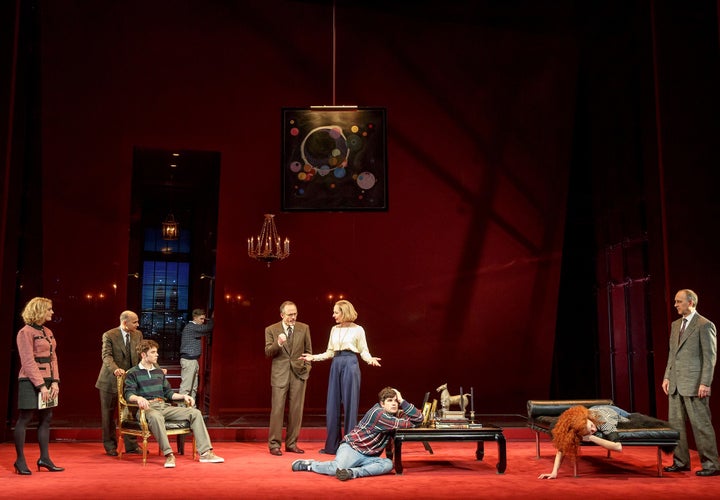 Six Degrees, in its time, seemed like something of an indictment of the Manhattan upper crust. In our time, though, it appears that Guare is suggesting something more universal; which is to say that the ultra-rich Kittredges and their ilk are only a degree or two removed from you, and from me, and from all of us.
John Guare's Six Degrees of Separation opened April 23, 2017 at the Ethel Barrymore Theatre