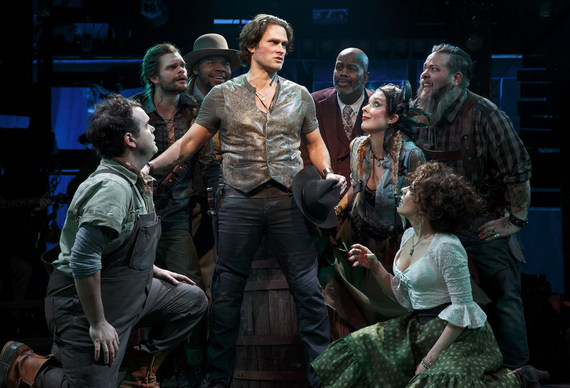 Steven Pasquale (center) in The Robber Bridegroom.
Photo: Joan Marcus
For ninety minutes of banjo-twangin', thigh-slappin', gut-bustin', down-home fun, head over to The Robber Bridegroom. The Roundabout regularly gives us revivals of Broadway musicals; this time, they--at the instigation of director Alex Timbers, apparently--dug deep into the archives of not-quite-successful titles and came up with a surprise winner.
The Robber Bridegroom is a worthy choice; the show, done well, is offbeat but a thorough charmer. And it is here done well; as an admirer of the original production, which I saw three times (as I was a college student and they were desperately papering throughout the under-attended run), I can state that Timbers' production works better than the show did at the Biltmore in 1976. What's more, that production's aura of 'worthy artiness'--which contributed to the lack of ticket sales--has been counteracted by an overplay of good, rough and rowdy fun in the manner of Timbers' Peter and the Starcatcher and Here Lies Love. Thus, what had been buffed and polished like a genteel gem of a story is now a knockabout, raucous romp with all sense of preciousness removed.
The robber bridegroom of the title is one Jamie Lockhart (Steven Pasquale), who--with face covered by blackberry stains--is transformed (like Zorro) into the feared Bandit of the Woods. This courtesy of Eudora Welty's 1942 novella taking place long ago along Mississippi's Natchez Trace. Lockhart "steals with style" and prefers "love stolen from the cookie jar" until he meets his match in Rosamund (Ahna O'Reilly), daughter of wealthy planter Clement Musgrove (Lance Roberts) and step-daughter to Salome (Leslie Kritzer), the evilest and vilest second wife this side of Disney.
They are surrounded by various woodsy characters like the small-time villain Little Harp (Andrew Durand); the latter's brother Big Harp (Evan Harrington), who is a disembodied but nevertheless talking (and singing) head in a steamer trunk; the simpleton Goat (Greg Hildreth), who is too sweet-hearted (and dumb) to carry out Salome's nefarious schemes; and more. In addition to which there is a five-man bluegrass band (led by Cody Owen Stine), each of whom are eagerly and happily woven into the proceedings with their fiddles and guitars.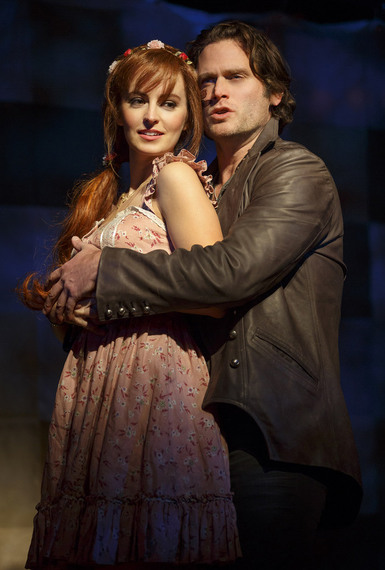 Ahna O'Reilly and Steven Pasquale in The Robber Bridegroom.
Photo: Joan Marcus
The show is by composer Robert Waldman and lyricist/librettist Alfred Uhry, one of those songwriting teams of the 1960s mentored by the great Frank Loesser. The pair was fated to remain unsuccessful; their first Broadway musical, Here's Where I Belong (out of John Steinbeck's "East of Eden"), was a legendary one-night-flop in 1968. Uhry eventually set songwriting aside and wrote a play--the 1987 Driving Miss Daisy--which earned him both a Pulitzer and an Oscar. He also has Tony Awards for The Last Night of Ballyhoo and the book to Jason Robert Brown's musical Parade.
(The piece was originally developed in workshop at producer Stuart Ostrow's Musical Theatre Lab in 1974, with Raul Julia in the lead. John Houseman's Acting Company--featuring acting graduates of the Drama Division at Juilliard--featured the show in rep in their initial tour, including a two-week 1975 visit at the Harkness Theatre just below Lincoln Center. This production featured Kevin Kline and Patti LuPone as the robber and his lady. The 1976 Broadway production was an expanded version of the show, with Barry Bostwick--the original leading man of Grease--taking the Best Actor Tony Award.)
The score is pleasantly tuneful with a country twang, with some true beauties ("Sleepy Man," "Deeper in the Woods") mixed in with an assortment of delights ("Nothin' Up," "Steal with Style," "Love Stolen"). And the cast does them full justice. Leading the pack is Pasquale (The Bridges of Madison County), who has swiftly moved into position as the Broadway musical's present-day equivalent to Alfred Drake or John Raitt. It is no surprise that Pasquale makes an excellent and charming hero. What is a surprise is O'Reilly--who seems to have come out of nowhere, or rather the movies--and who brings outright joy to the proceedings as Rosamund. She is bright, funny and commanding.
Most remarkable is Kritzer, who has done proficient work in the past in A Catered Affair, Elf and Sondheim on Sondheim. She is here revealed to be a knockabout comedienne, one who effortlessly steals the spotlight, steals our attention and contributes uproarious pratfalls. She gives what might be called an 'Andrea Martin performance'--and that is a high compliment, indeed--in which every look, glare and acting choice serves to heighten the hilarity.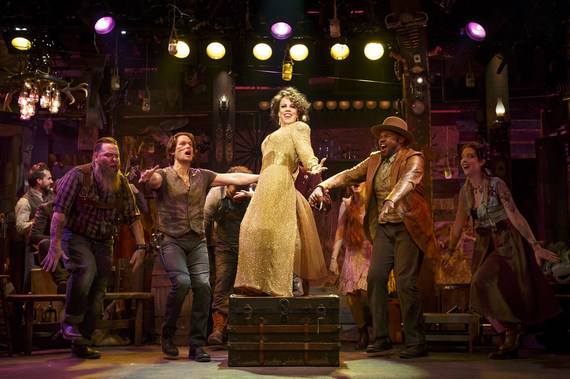 Leslie Kritzer (center) in The Robber Bridegroom.
Photo: Joan Marcus
This is all Timbers' doing, one suspects; the production offers a continuous stream of laughs and sight gags, some of which threaten to knock you out of your seat. (The full-frontal nudity of 1976--which seemed a bit out of place at the time--is herein obscured, and not missed.) Timbers has brought along Donyale Werle, his Starcatcher/Bloody Bloody Andrew Jackson set designer, and she adds to the fun. Connor Gallagher contributes effective and atmospheric choreography, and music director Justin Levine gives us some especially lovely choral work in "Sleepy Man."
All told, Roundabout's Robber Bridegroom is an inventive, unconventional, corn-full delight.
.
The Roundabout Theatre production of The Robber Bridegroom opened March 13, 2016 and continues through May 29 at the Laura Pels Theatre
Calling all HuffPost superfans!
Sign up for membership to become a founding member and help shape HuffPost's next chapter