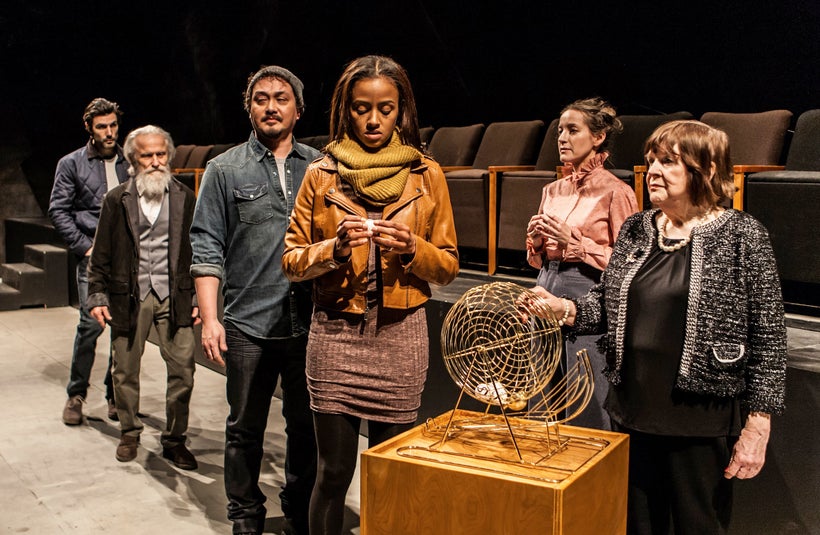 A 21st century retelling of the 15th century "Everyman"—in contemporary language and experimental style—might well leave you feeling a bit hesitant about an evening's proffered entertainment. Get over it, and get over to the Signature Center for Branden Jacobs-Jenkins' Everybody. This is theatre rather unlike anything you might have seen; for starters, half the cast is responsible for playing any of five roles, assigned by a bingo cage fifteen minutes into the performance.
Jacobs-Jenkins, a MacArthur Grant "genius" who is a member of Signature's Residency Five program (which guarantees the playwright three productions over five years), does not surprise us here; the only similarity to his other work (including An Octoroon and Gloria) is that the new play is unusual, unconventional and eye-opening. "Everyman" is no barrel of laughs, being a morality play about death. Everybody tells the same tale, with equal emotional heft; but it is not only provocative and involving, it is also funny. Wildly funny, in fact.
Lila Neugebauer, who has grown increasingly prominent with her direction of Sarah Delappe's The Wolves and the recent trio of Signature Plays, does a wonderful job of spreading Everybody across the Signature's Irene Diamond Theatre. The play is staged in the house, with only a row of chairs visible on the lip of the stage. (That is, until such time as Neugebauer and set designer Laura Jellinek, also from The Wolves, have their own surprise in store for us.)
It is difficult to know precisely how and why the author came up with this rotating cast idea; one suspects that when Everybody hits the regional theatre circuit—on which it should prove vastly popular—they might reconsider, as it requires the actors involved to learn lines and blocking for five different roles (and not know which role they will be playing until well into the performance). Whatever the authorial impulse, it does serve to keep the actors even more thoroughly engaged than they might otherwise be; hence, the performance at Signature is likely to be at the highest pitch, every single night. (When the roles are meted out, it is explained to the audience that actors might occasionally call for lines mid-speech—as indeed happened a few times, with minimal interruption, at the performance attended.)
Perhaps because of this necessarily thorough immersion in the script, the cast does wonderfully well. Four actors play set roles, which for dramatic reasons can't be shifted (i.e.: two of them start the play in character, explaining what will be happening). Jocelyn Bioh—who appeared in An Octoroon, was a delight in Men on Boats, and made her Broadway debut in The Curious Incident of the Dog in the Night-Time—is the benevolent leader of the company, playing God among other roles. She grabs the audience from the beginning with her good-natured but tart manner; she also has a hair bun atop of her head that at times appears to be acting on its own. (Said hair bun, it turns out, has impressive comic timing.)
God is countered by Death, naturally enough. When Death traipses in, in the person of Marylouise Burke, we instantly see that this will be no stern morality tale. The diminutive, gravelly-voiced Burke is an inspired comedian. She makes a thoroughly grand, and certainly non-threatening, Death; with her as our guide, we—and Everybody—are in superb hands.
The rotating actors include Louis Cancelmi (Father Comes Home from the Wars Parts 1, 2 & 3), who played the journeying Everybody at the performance attended; Brooke Bloom; Michael Braun; Lakisha Michelle May; and David Patrick Kelly (recently the Hoovering father in Once). While there is no way to know precisely who will be playing which part at any given performance, Mr. Kelly's portrayal as "Stuff" (which is to say, worldly goods), went way beyond funny and is a special jewel within the play. On some nights, at least. Although the charm may well be in the writing, in which case the other four actors might do equally well in the role.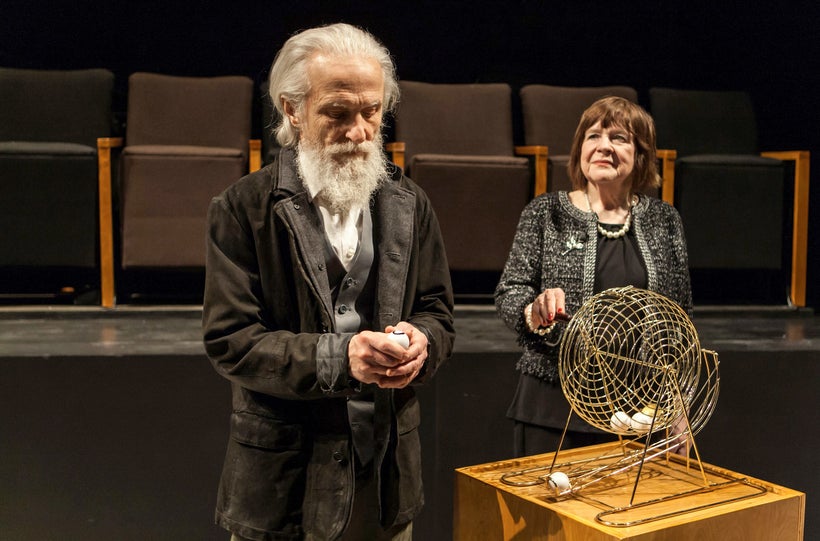 The pre-show cellphone-and-exit-door speech from a Signature staffer was so entertaining, at the press preview attended, that a patron behind me blurted out "I hope the play is as good as she is." As it turned out, Jacobs-Jenkins and his Everybody is very good indeed.
.
The Signature Theatre production of Branden Jacobs-Jenkins' Everybody opened February 21, 2017 and runs through March 19 at Signature Center
Calling all HuffPost superfans!
Sign up for membership to become a founding member and help shape HuffPost's next chapter
This post was published on the now-closed HuffPost Contributor platform. Contributors control their own work and posted freely to our site. If you need to flag this entry as abusive,
send us an email
.