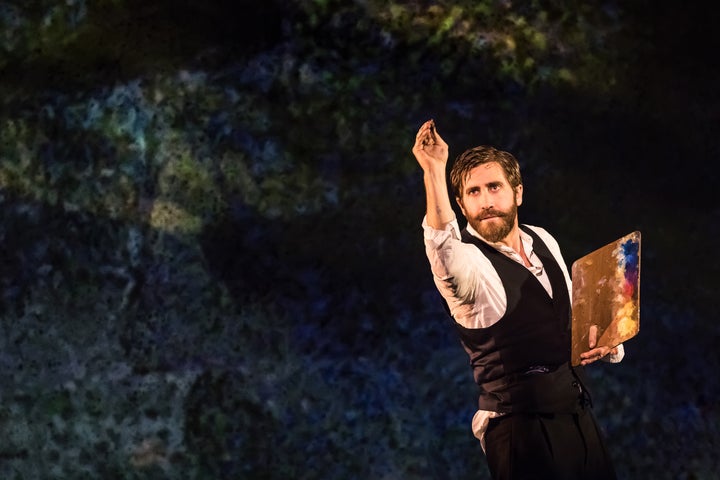 Reports were rapturously enthusiastic, last October, when Jake Gyllenhaal appeared in a four-performance benefit of Sunday in the Park with George at City Center. So much so that the Ambassador Theatre Group—the London-based theatre owner and producer which is just now making inroads in New York—snapped up the rights for a ten-week limited engagement and has led a team of producers to mount the show as the premier attraction at the newly-reclaimed Hudson Theatre. Let us happily confirm that said reports were accurate. Sunday plays exceptionally well at the intimate and altogether glorious Hudson.
Gyllenhaal is very good; so good, in fact, that we needn't say "very good for a movie actor." George—James Lapine and Stephen Sondheim's musicalized version of the pointillist painter Georges Seurat—is an introverted and anti-social fellow, who seems to only find comfort when he is at canvas or sketchpad. Gyllenhaal, while properly self-absorbedly as he perennially tries to "finish the hat," gives George an inner gleam of vulnerability and sensitivity which is sometimes overlooked in the role. (Hidden in the script is the comment that the women "all wanted him and hated him at the same time.") Gyllenhaal shows us this inner layer, which has not always been visible in past productions, and properly carries it over to the 20th century George in Chicago.
Appearing as Dot, the model (and Marie, the grandmother) is Annaleigh Ashford, who has been charming audiences in increasingly large roles over the last five seasons (from Dogfight to Kinky Boots to You Can't Take It with You to Sylvia). Sunday reveals her as a full-fledged musical comedy star, thank you very much. She is delicious and delectable and sly up there, careful not to waste a moment or a movement as the model parisienne and bringing added color (and a decided Southern tang) to the grandmother.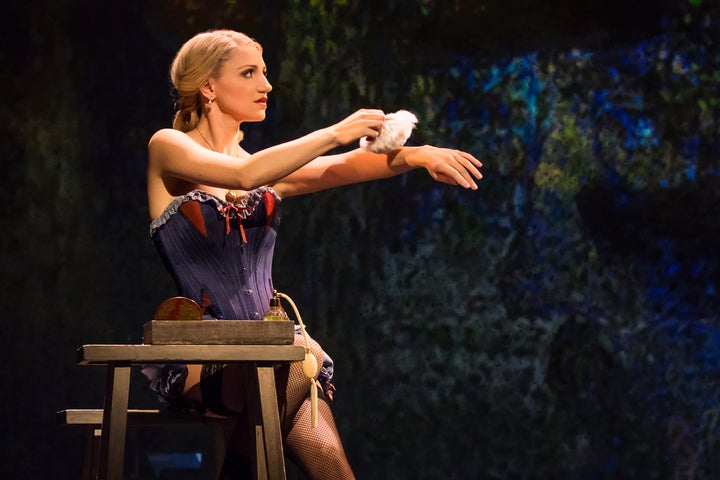 The supporting cast is notable for the number of prominent players: the twenty actors onstage include no less than seven Tony Award nominees (including three winners). Robert Sean Leonard (The Invention of Love) and Erin Davie (Side Show)—as the successful painter Jules and his stylish wife Yvonne—make suitable counterparts to George and Dot. Penny Fuller, who has been providing Broadway electricity since her Sally Bowles in the original production of Cabaret and Eve Harrington in Applause, makes a properly icy Old Lady. Also on hand are Ashley Park (Tuptim of the recent King and I) and Jenni Barber (The Nance) as the two Celestes; Brooks Ashmanskas (Shuffle Along) and Liz McCartney (Taboo) as the pastry-loving American tourists; Jordan Gelber (Avenue Q) as the baker Louis, whom everybody loves; Philip Boykin (of Porgy and Bess) as the Boatman; and Ruthie Ann Miles (of Here Lies Love and The King and I) as the cook Freida. All double in the contemporary second act, but in most cases their Paris guises are more distinctly drawn.
Sarna Lapine, niece of the librettist (and original director) but an up-and-coming director in her own right, has done a good job of adapting and enlarging her City Center staging. The show is performed on a central platform downstage of the thirteen-piece orchestra, with musical director Chris Fenwick giving an expert reading of Michael Starobin's original orchestrations. Beowulf Boritt provides enough scenery to make the show work, with especially strong contributions from lighting designer Ken Billington and projections designer Tal Yarden. The designers also provide what might be the most effective "Chromolume" that we've seen. For the uninitiated, that's George's art installation in the second act, here represented by an intricate grid of lights descending from the dome of the auditorium.
But it is Gyllenhaal, who made his Broadway debut in 2015 in Constellations, who not only sells the tickets but gives a compelling and welcome performance. He, Ashford and the rest—including, most certainly, Sondheim—make this a Sunday to see.
As for the Hudson, this marks the house's happy return to legit after 49 years. Broadway's "newest" theatre is actually its oldest, having opened on Oct. 19, 1903. (Somewhat astonishingly, the New Amsterdam opened a week later on the 26th, followed by the Lyceum on Nov. 2. The 1900 New Victory is actually older, but does not operate under Broadway contracts.)
The Hudson was built by producer Henry B. Harris, who in 1911 went down on the Titanic. His wife, who billed herself as Mrs. Henry B. Harris, survived the disaster and controlled the Hudson until 1932, when she lost the house in the Depression. After a stint as a radio studio, it returned to legit in 1943 when producer/playwrights Howard Lindsay & Russel Crouse took control and transferred their long-running Arsenic and Old Lace. The house's biggest hit was their 1945 Pulitzer-winner State of the Union. It was sold to NBC in 1950, becoming a television studio and serving as the original home of "The Tonight Show" until it departed in 1959. The Hudson returned to live theatre in 1960 as a little-in-demand independent house until giving up in 1968, after which it became a second-run film house, a porno house, and even a disco.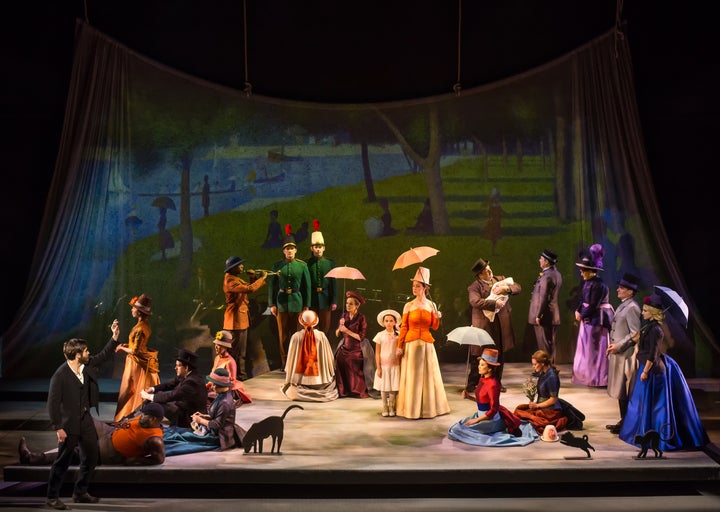 Contained within an ordinary-looking four-story building (now incorporated into the Millenium Broadway Hotel), the Hudson was resplendent in its day, featuring a lush and over-sized inner lobby, marble by the yard and even Tiffany glass. It has now been expensively restored by ATG, and is indeed resplendent. The deep green, beige and antique gold house itself is one of those three-level, 1,000-seat houses (like the Lyceum, Cort, Belasco and Longacre). It is laid out more comfortably than the others, at least as restored, with a considerably more open-air feeling to it. Given that the seating is all-new (complete with leg space) and the facilities are altogether grand, the Hudson is most welcome and should quickly become a favored showplace.
Sunday in the Park with George opened February 23, 2017 and runs through April 23 at the Hudson Theatre
Popular in the Community