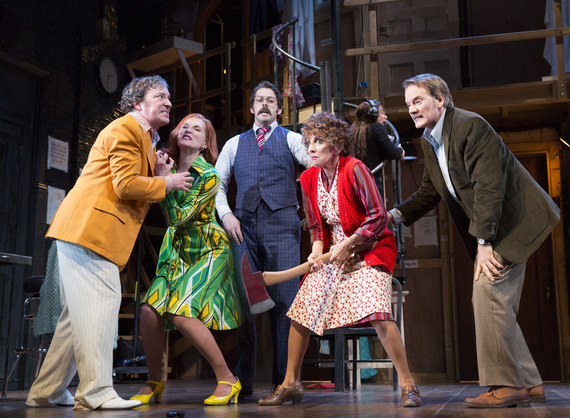 Jeremy Shamos, Kate Jennings Grant, David Furr,
Andrea Martin, Tracee Chimo and Campbell Scott in Noises Off.
Photo: Joan Marcus
Michael Frayn's Noises Off, when it premiered back in 1982 in London (with Patricia Routledge) and when it opened in 1983 at the Atkinson (with Dorothy Loudon), was farce comedy par excellence; we didn't quite realize, in those days of Cats and Torch Song Trilogy, that broad, knock-down stage farce could not only be viable but classy.
When the play was revived at the Atkinson in 2001--with a cast headed by Patti LuPone and Peter Gallagher, under the direction of Jeremy Sams--this playgoer found the results funny; or, rather, merely funny. Which was not enough at all. Far more problematic was Peter Bogdanovich's earlier, star-studded motion picture version, which suffered immediate death with critics and audiences. Slinging the prop sardines was Carol Burnett--still, in 1992, America's funniest lady--supported by the likes of Michael Caine and Christopher Reeve. The combined lack of power of film and revival was enough to make one wonder whether an undue portion of the magic of that original golden production of Noises Off came from alchemist (i.e. director) Michael Blakemore.
Which left us a mite tentative as we took our seats at the American Airlines for the
new revival from the Roundabout. Today's report--and it's a happy one--is that this Noises Off is splendidly delirious fun. Director Jeremy Herrin, whose prior Broadway offering (Wolf Hall) was impressive but did not exactly suggest a deft comedy hand, turns up with a perfectly-calibrated production which brings full value to Frayn's text while adding layers of visual humor that leaves audiences hooting with delight.
The Roundabout, which sometimes seems to cast its productions with any film or TV star it can sign, has in this case been content to restrict itself to talented stage actors who have heretofore displayed comic flair. This works out capitally well, and results in one of the finest Roundabout outings since Twelve Angry Men.
Andrea Martin--in the central role of Dotty Otley, TV's "lolly lady"--is indeed a star along Broadway; not a ticket-selling one, but a two-time Tony-winner who seems altogether incapable of giving an ordinary performance. Martin, naturally, leads the cast; as always, she need merely lift her eyebrow to garner laughs. Here she has contrived something of a second-rate British provincial Lucille Ball, and you can imagine how adept Ms. Martin is in that guise. In the second act, what's more, she somehow turns herself into Lucy-playing-Dame Judith Anderson.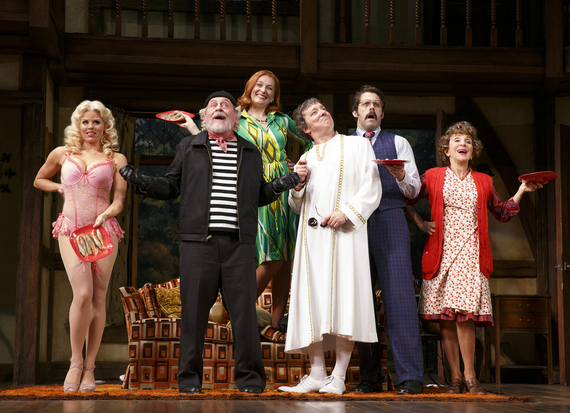 Megan Hilty, Daniel Davis, Kate Jennings Grant, Jeremy Shamos,
David Furr and Andrea Martin, with all those sardines,
in Noises Off. Photo: Joan Marcus
Megan Hilty can be considered a star, too, thanks to "Smash." (At the preview attended, she was the only member of the group to receive entrance applause.) She plays Brooke, the vapid actress who continually loses her dress and her contact lens. This has always been a show-stopping role--Deborah Rush was Tony-nominated for the original and Katie Finneran won the award for the revival--and Hilty succeeds handily, comporting herself like a perpetually posing beauty queen-turned-game show hostess trying to get us to choose the prize behind Curtain #3.
In what is technically the co-starring role of director Lloyd Dallas is Campbell Scott, an actor with theatrical pedigree who has spent much of his career away from the stage. (His film work includes Richard Parker, the father of Spider-Man, in the first two blockbusters of that series.) He hasn't appeared on Broadway since 1988, when he played Edmund Tyrone opposite his mother, Colleen Dewhurst, in Long Day's Journey into Night. Scott is a wonderful surprise, here, as he haunts the front of house until being dragged onstage and smack into Frayn's backstage mess. (While he is relatively slight of build, you might well catch flashes of his famous father's performance as a Coward-esque Brit in Present Laughter.)
It is in the subsidiary roles that this production is especially well favored. Leading the hilarity are Tracee Chimo, who grabbed our attention in Bad Jews and The Heidi Chronicles, here playing the wallflower stage manager Poppy; Jeremy Shamos (of Clybourne Park and Dinner with Friends) as Frederick Fellowes, an insecure actor perpetually seeking motivation and suffering nosebleeds; and Rob McClure (of Chaplin and Honeymoon in Vegas), as the stagehand Tim. It almost seems as if the casting director went through Playbills of the last few seasons with a red pencil. Also along for the fun ride are Kate Jennings Grant (The Lyons), David Furr (The Importance of Being Earnest), and veteran Daniel Davis (Wrong Mountain) as the alcoholic old-timer Selsdon.
Herrin's production is slam-bang, knockdown funny. (Frayn's play, itself, is slam-bang, knockdown funny--so long as the director doesn't muck it up.) Two of the most surprising moments, here, come from unlikely places. Shamos--who generates laughter simply by wearing a ghastly, honey-mustard sport jacket from costume designer Michael Krass--offers a fine display of physical humor by falling not on a banana peel but a mound of sardines; aided by a nearby sofa, he slips and slides for far too long, as if stitched together from several "takes." Not long thereafter, McClure--with his character displaying severe stage fright--comes up with an extended bit of humor that lasts far longer, and seems all but physically impossible. McClure is and remains a capital clown, even in a relatively small role.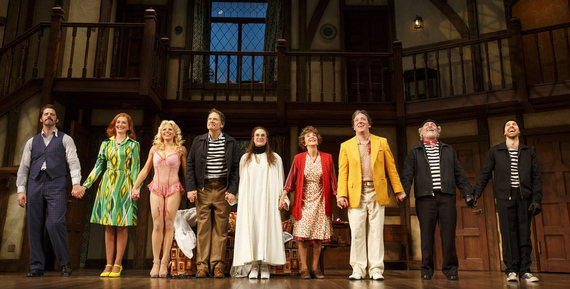 The cast of Noises Off. Photo: Joan Marcus
Combine Martin's overall comic excellence with Scott's long-suffering sidelong glances and Hilty's vacuous overacting; mix them with the oblique Farr, the seen-it-all Grant, Davis chasing the prop bottle of scotch and the mousy Chimo keeping her decorum, even when she loses her dress; and throw in the aforementioned Shamos and McClure with impossibly jolly sight gags. Director Herrin has pulled out all the stops with this Noises Off, with a fair share of the credit due the insanely warped mind of Michael Frayn, who dreamed the contraption up.
.
Noises Off opened January 14, 2016 and continues through March 6 at the American Airlines Theatre
Related
Popular in the Community