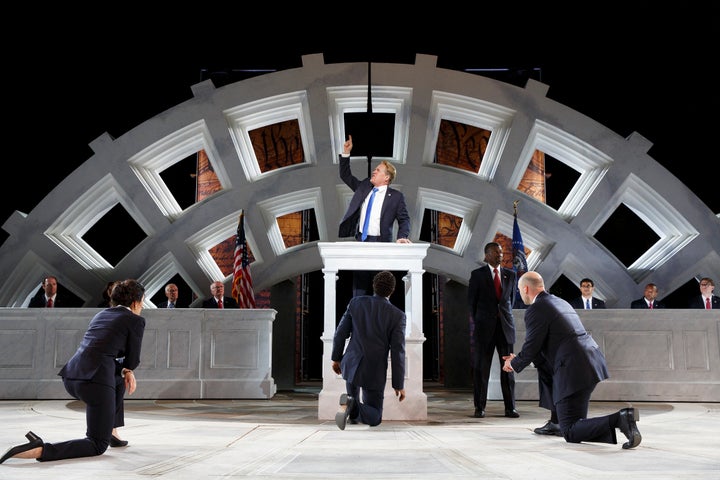 Just how do you take some old play—W. Shakespeare's Julius Caesar, the Tony (Antonius) Award winner from 1599, for instance—and give it gut-wrenching relevance in Central Park circa today? Oskar Eustis goes for the jugular by surrounding his small-handed Caesar with thugs, handlers, and a trophy wife with an Eastern European accent. Obvious, perhaps, but instantly effective; what we get is a gripping tale of power-lust, murder and anarchy in the Capitol. Two-thirds of which might seem awfully familiar to those who read the morning papers (a.k.a. the "fake" morning papers).
The immediate result is that these olden characters from ancient Rome—Brutus, Cassius, Antony et al—seem to be of our time, speaking directly to us. None of this clambering about in togas; everybody is contemporary, with the members of the mob (commoners, as Shakespeare called them) indistinguishable from the members of the free admission Public audience.
Eustis—the Public Theater artistic director, as well as stage director of this production—heightens the effect by building the production on contemporary performances from strong stage performers. Corey Stoll—of the Public's recent Plenty, and widely familiar for his performance as disgraced congressman Peter Russo in the first season of "House of Cards"—makes a noble and conflicted Brutus. John Douglas Thompson, a Tony-nominee for January's Jitney, commands the stage as Cassius, while Teagle F. Bougere adds power as Casca. Most arresting of the group is Elizabeth Marvel as Marc Antony (here played and referred to as a woman, which doesn't quite make sense in context.) Even so, Marvel—who has five Public Theater credits, and is a cable celebrity thanks to her role as President-elect Elizabeth Keane in last season's "Homeland"—brings rabble-rousing power to the role.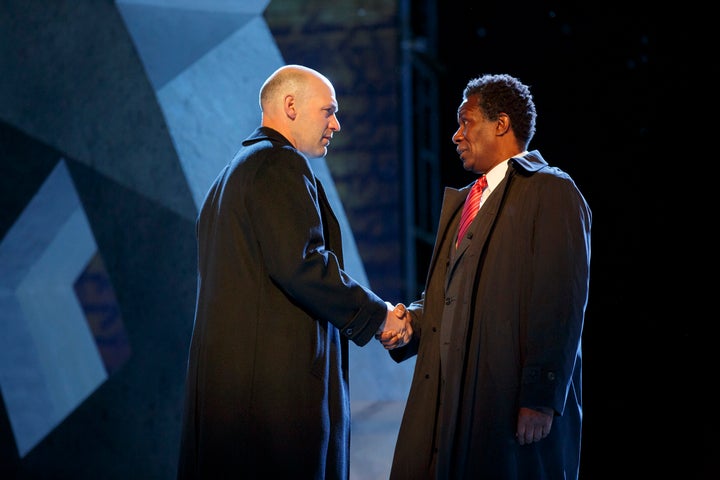 The relatively unknown Gregg Henry makes a strong impression as the buffoonish president. That is, as Mr. Caesar, until he gets fileted in the Senate. (He is actually stripped naked at one point—in a rather humorous and fitting Emperor's New Clothes tableaux—and one can only imagine he must get awfully cold up there some nights.) Tina Benko gets laughs as the model-spouse, Calpurnia, while Nikki M. James (of The Book of Mormon) offers support as Portia, wife to Brutus.
Eustis peoples the vast Delacorte stage—designed by David Rockwell as if ancient Rome was located midway between DC and Occupy Wall Street—with a veritable mob. While the cast lists twenty-six players, an informal count suggests that there are enough extras around to swell the number close to fifty.
The notion of a modern-themed Julius Caesar is not novel, exactly; Orson Welles set Broadway spinning with his Mussolini-flavored performance in the 1937 anti-fascist, Mercury Theatre production. The current Trumpian version is attention getting, certainly, and enhances the drama. The real-to-life links go astray, methinks, once the title character meets his fate on the Ides of March and cedes the spotlight for most of the rest of the evening. But when Cassius asks, "How many ages hence shall this our lofty scene be acted over in states unborn and accents yet unknown?" we can only answer that we know one such age all too well.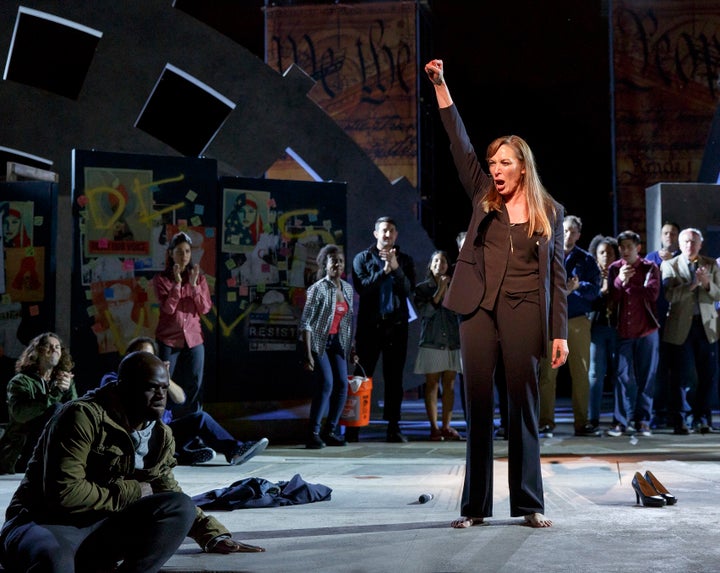 Familiar Shakespearean quotes abound in Julius Caesar, and Mr. Eustis pointedly mentions—in his program notes—that "we didn't write any new lines, it's all Shakespeare." Although there is indeed a joke (?) about Caesar getting away with it if he stabbed his mother on Fifth Avenue. Which doesn't quite sound like the authentical Bard, but we do seem to have heard something of the sort elsewhere. Maybe it's from Christopher Marlowe?
The Public Theater production of William Shakespeare's Julius Caesar opened May 23, 2017 and continues through June 18 at the Delacorte Theater in Central Park
Popular in the Community