That's not the sound of a fleet of flivvers backfiring that you hear at the Broadhurst on West 44th Street these nights. It's laughter, cascading and echoing like bullets from tommy guns of the St. Valentine's Day variety, circa 1928 Chicago. We are in 1928 Chicago, as it happens; not in a mob-run parking garage but in the press room of the Cook County Criminal Courts Building, which breeds its own sort of violence. Yes, The Front Page--Ben Hecht & Charles MacArthur's classic comedy melodrama--is back on Broadway, as riproaring as ever.
This production, happily, fires on all cylinders. We can't exactly call the cast of twenty-one (plus bit player/understudies) an all-star cast; they are not, all, what we might consider stars. But they are comic all-stars, anyway. To say that Walter Burns--that iconic, hard-boiled city editor who set the mold for hard-boiled city editors on stage and screen for the last eighty-eight years--is played by Nathan Lane is to give you a pretty good idea of what director Jack O'Brien has in mind. No matter that Lane doesn't enter, in the flesh, until well into the evening; his presence permeates the play from the moment we hear him bellowing over a battered and bruised candlestick phone.
Lane plays against John Slattery, who is best known for his alcoholic portrayal of ad agency owner Roger Sterling in "Mad Men." Slattery has given sturdy Broadway performances of late in Betrayal and Rabbit Hole, so his presence is not altogether a surprise; it turns out that comedy-wise he is altogether up to Hildy Johnson, the smooth and fast-talking ace reporter. John Goodman--famed for TV's "Roseanne," but with stage credits including Pozzo to Lane's Estragon in the 2009 Waiting for Godot--plays the blusteringly bumbling sheriff. Jefferson Mays (of A Gentleman's Guide to Love & Murder, briefly at liberty until Oslo reopens in the spring) is the prissy Bensinger, swabbing the decks or any surface that's swab-able with antiseptic spray.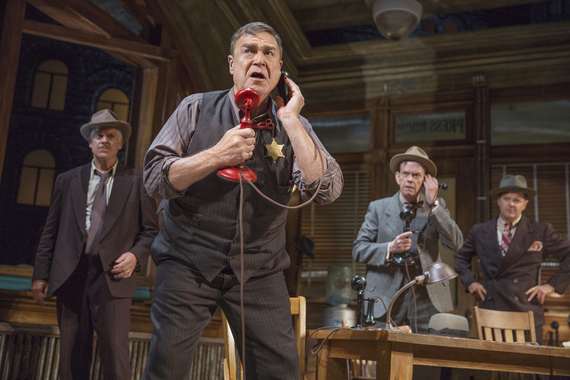 John Goodman with Christopher McDonald, Dylan Baker
and Clarke Thorell in The Front Page
Photo: Julieta Cervantes
Sherie Rene Scott (Everyday Rapture) brings empathy to Mollie Malloy, the streetwalker with a tender spot for lost souls. The above-the-title cast also includes two bonus surprises. Holland Taylor, last seen hereabouts as star and author of Ann, is altogether hysterical in the small role of Hildy's battle-axe mother-in-law-to-be. She's not the first grande dame to play the role. Helen Hayes, the wife of playwright MacArthur, played it in the 1969 revival at the Barrymore--a role patterned on her very own mother, who fought the marriage in just about the same manner that we see onstage. (The very morning after The Front Page originally opened, MacArthur and Hayes stole down to City Hall and tied the knot. For more background on the play, see Behind The Front Page) The biggest surprise comes when Bobby Morse steals on as a dim-bulb courier from the Governor's office. Two-time Tony Award winner Morse--newly famous for his scene-stealing performance as the shoeless Bertram Cooper in "Mad Men"--is now starting his seventh decade on Broadway, comic apparatus as outlandishly fresh as ever.
And those seven clowns are only the half of it. They are surrounded by some of the best comic character actors in captivity; given that O'Brien has been directing in New York and regionally for years and years, it seems like he simply went through his index cards of folks he's worked with. Chief among them are Dylan Baker, David Pittu and Lewis J. Stadlen, each as tastefully pungent as stale whiskey and old socks. Stadlen by this point seems a near-appendage to Lane, having appeared with him on at least seven occasions, most recently in the O'Brien-directed The Nance. Let it be added that Lane, Stadlen and Sterling were all together twenty-odd year ago in Neil Simon's Laughter on the 23rd Floor--which was funny, but not nearly so funny as this Front Page.
Standing out among the rest are Halley Feiffer (as Hildy's girl), Dann Florek (as the mayor), Patricia Conolly (as the scrubwoman), Clark Thorell (as a banjo-playing reporter), Christopher McDonald (as a wiseguy reporter) and Micah Stock--who attracted outsized attention playing straight man to Lane as the coat check attendant in the O'Brien-directed It's Only a Play--as a not-so-bright patrolman called Woodenshoes Einhorn.
If we seem to pay undue attention to the cast, it is in this case merited; The Front Page, when done well, is a rapid-fire laff-fest, and everyone contributes. O'Brien--whose clipping file includes Hairspray and The Coast of Utopia--was schooled in this sort of comedy, back in his days with Ellis Raab and years at the Old Globe. He does an impeccable job here, and reveals just how well-oiled Hecht & MacArthur's play is. There is also a top-of-the-line physical production from Douglas W. Schmidt (scenery), Ann Roth (costumes) and Brian MacDevitt (lighting), capped by a final tableau which has the essence of a fine Roaring '20s etching.
O'Brien, Lane, Slattery et al do well by Hecht & MacArthur, bringing today's audiences a flavorfully-blustery, quaintly blasphemous comic feast.
.
Hecht & MacArthur's The Front Page opened October 20, 2016 and continues through January 29, 2017 at the Broadhurst Theatre
Popular in the Community