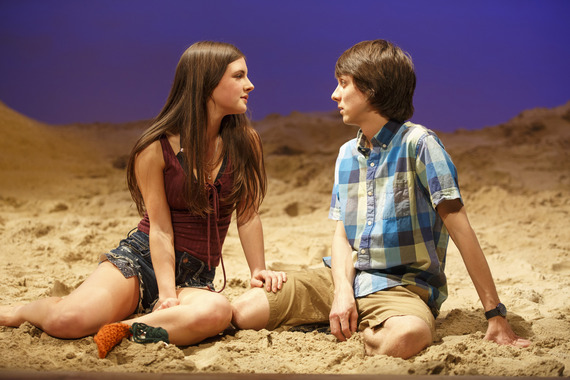 Elise Kibler and Owen Campbell in Indian Summer
Photo: Joan Marcus
Open your slice-of-summertime comedy with a near-doddering old man soliloquizing on a deserted Rhode Island beach, or a hopelessly out-of-place and abandoned sixteen-year-old boy sitting in the sand, and its sure as quahogs in July that we'll be dealing with death or sex or both. Add in a rough-and-tough blue-collar local girl called Izzie Rizzo (out of Sicily) who pummels the boy upon meeting, and it's not hard to guess that this barefoot Cinderella will--in the second act--find her slipper. All of which occurs, in sweet & breezy & delectable style in Gregory S. Moss's Indian Summer at Playwrights Horizons.
It's just after the 4th of July. Sixteen-year-old Daniel (Owen Campbell) has been dumped by his unseen mother at the little purple beach shack of his step-grandfather George (Jonathan Hadary), without explanation or a promised date of return. (This has apparently happened before, more than once.) Sitting miserably on the beach--designer Dane Laffrey has filled the Playwrights stage with some 15,000 pounds of sand, but who's counting?--the 90-pound weakling is challenged by the spitfire Izzie (Elise Kibler). Sparks fly immediately, from Daniel at least; Izzie is more pugnacious, but she clearly can't quite get herself to walk away.
Complications--and these slice-of-summertime comedies can't get by without complications--come in the person of Jeremy (Joe Tippett), an overgrown and underdeveloped bully. Underdeveloped emotionally, that is; physically he is quite developed. If you can't figure out what happens, you might as well go home and turn on the wrestling.

Playwright Moss--apparently making his New York debut--mixes his plot strands and sifts his sands in a thoroughly winning manner. Indian Summer is at once charming and evocative, tender and funny; it even wets its toes in the mystical. Most crucially, though, Moss quickly wins over his audience and never loses them. Indian Summer should have a healthy afterlife, in part because it's just so likable.

Hadary, who has long been giving delightful performances--he was a winning Herbie in the 1989, Tyne Daly Gypsy--seems to have somehow turned into a "little old man" type. He was masterful in the 2014 revival of Paddy Chayefsky's Middle of the Night, and he displays pure charm here, carrying the play and serving as a quasi-narrator with the lightest of touch. Campbell is wonderfully awkward as the boy who comes of age, more or less; and he has wonderful chemistry with Kibler, who does well with her character's transformation and is especially impressive in the challenging late second act scene with Hadary. Tippett--who gave a delightful performance at Playwrights earlier this season in Familiar, as the out-of-place brother of the groom--has the hardest chore, with a character that borders on buffoonish.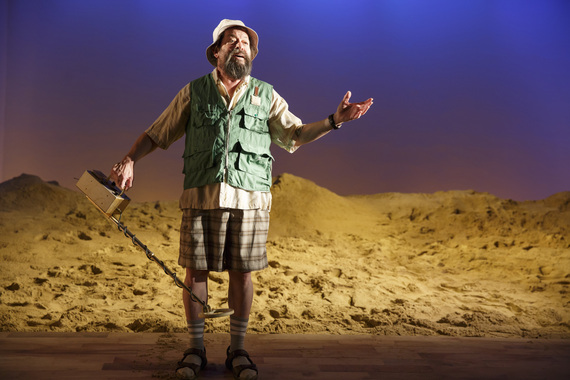 Jonathan Hadary in Indian Summer
Photo: Joan Marcus
Director Carolyn Cantor, who has given Playwrights Fly by Night and The Great God Pan, has staged the play in suitably breezy fashion (and with all sorts of electricity between boy and girl). Laffrey (The Christians, Spring Awakening) provides dunes of sand that give Cantor and cast the playing areas they need, and lighting designer Eric Southern makes this beach effectively glimmering.
Moss describes Indian Summer as "a play about love and the ocean and summertime," and he has given us a summertime idyll that could keep a theatergoer warm long past Labor Day.
.
Gregory S. Moss's Indian Summer opened June 8, 2016 and continues through June 26 at Playwrights Horizons
Related
Popular in the Community