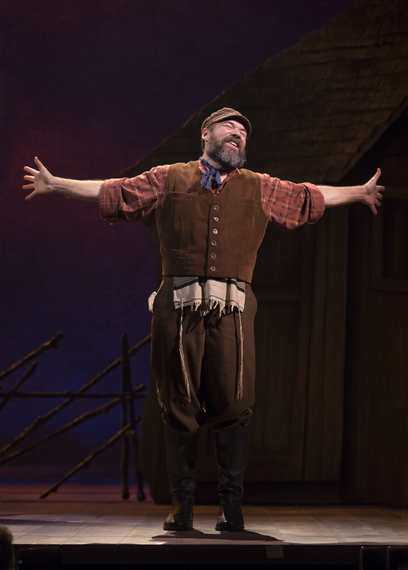 Danny Burstein in Fiddler on the Roof. Photo: Joan Marcus
Fiddler on the Roof is back on Broadway, and -- wonder of wonders -- it's the best Fiddler we've seen since the original. Not coincidentally, Danny Burstein makes a majestical Tevye; as touching and humorous as the best of them, but with tender humanity shining through.
The most memorable Tevyes have been oversized creatures, trapped in struggles with their existence and their God. Burstein gives a performance in that mold, yes, but he adds something. This Tevye, unlike others we've seen, is a father. While he holds his own against his shrewish Golde (Jessica Hecht), Burstein's Tevye is forever beholden to his daughters; they need only dart an imploring glance and he will always, or almost always, succumb. This is a more human Tevye than we're accustomed to. While it might not be authentic paternal behavior for Anatevka in 1905 or even America when the show opened in 1964, it adds a dimension--always present in the written material (see "Sunrise, Sunset")--which enhances the show's emotional power.
That original production was a marvel, with a score by Jerry Bock and Sheldon Harnick at the height of their craft; a sturdy and effective book by Joseph Stein; and an overall cauldron of creativity forged by Jerome Robbins. Hal Prince's production of Fiddler ran through 1972, closing at the same Broadway that is housing the new version. (Eyewitness note: at the 2,845th performance on July 21, 1971--the night Fiddler pushed past Hello, Dolly! as Broadway's longest-running musical--Prince threw a grand party on the Broadway stage following the performance, serving Nathan's franks and fries.)
Fiddler has gone on to become one of the world's most cherished and produced musicals, with countless professional and amateur productions and four Broadway revivals. The first three--starring Zero Mostel (the first Tevye) in 1976, Herschel Bernardi (considered by some to be the best of the original Tevyes) in 1981, and Topol (who starred in the 1971 film version) in 1990--were close recreations, staged by Robbins albeit with much of the work delegated to assistants. As such, these revivals recaptured the inner spark of Fiddler but little of the freshness of the original. The stars, on their part, were not rediscovering the text; they were doing what they'd done before, and enhancing their impersonations with new laughs.
The most recent Fiddler, David Leveaux's 2004 revival starring Alfred Molina, gave us what some called the anti-Fiddler; while some of the Robbins choreography was retained, the production seemed to purposefully reject the charms of Anatevka. Now we have another "new" Fiddler, directed by Bartlett Sher. There have been many non-Robbins stagings of the show over the years, of course; only the most high profile productions were required to--or could afford to--recreate the original. Until Robbins died in 1998, though, his was the only version the creators would permit on Broadway.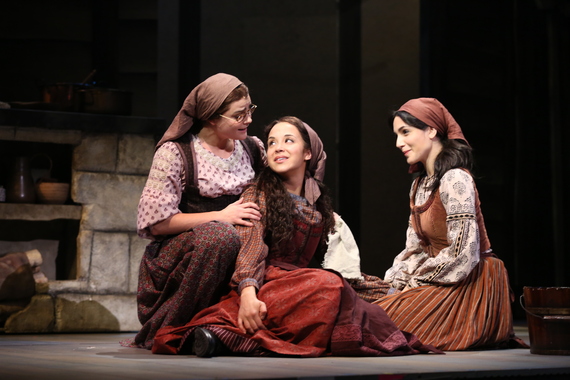 Melanie Moore, Alexandra Silber and Samantha Massell
in Fiddler on the Roof. Photo: Joan Marcus
Sher has garnered a reputation for masterful musical revivals, i.e. his Lincoln Center Theater productions of South Pacific and the still-running The King and I. In between, he directed a gripping revival of Clifford Odets' Golden Boy; Burstein, his current Tevye, gave a crowd-pleasing performance as Luther Billis in South Pacific and a stunning one as the trainer Tokio in Golden Boy. Burstein as Tevye--he previously played Mendel, the Rabbi's son, in a production headed by Theodore Bikel--is thus an obvious choice for Sher, and one that turns out magically well.
Fiddler continues Sher's streak with revivals of musical classics. (His original musicals, Women on the Verge of a Nervous Breakdown and The Bridges of Madison County, were beset by numerous problems--including the directorial concepts.) Here, he has decided to start from a new canvas, wiping away memories of Robbins; but he has simultaneously shown respect to the material. (Sher was raised a Catholic, although at fifteen he learned that his father was Jewish.)
He has made one significant, though non-textual, change: this Fiddler starts and ends with Burstein, in a red, hooded jacket looking more or less like a contemporary wanderer searching the windswept Russian plain for vestiges of the vanished village of his ancestors. Not part of the script, but no harm done; and it does forge something of a link with present-day audiences. In 1964, this was not some ancient memory; a significant number of theatergoers had actually fled places like Anatevka, my own grandfather included. Three generations later this is a tale of long ago; at the same time, the story told in Fiddler is dismayingly reflected in current events. The image of Burstein in the red anorak, thus, has special resonance.
Otherwise, one might notice extra focus on Tevye's eldest daughters Tzeitel (Alexandra Silber), Hodel (Samantha Massell) and Chava (Melanie Moore), and Tevye's relationship with Motel and Perchik as well. Among other touches, there is a wonderful moment near the finale when the unfriendly butcher Lazar Wolf--a gruff but engaging Adam Dannheisser--surreptitiously slips some banknotes among Tevye's belongings as the emigration begins.
The legendary Robbins choreography has been replaced by the work of Israeli choreographer Hofesh Schechter. The new dances are lively and evocative; one gets the impression of curved hands, curved legs and curved bodies blown awry by the tempest. While the results are more than satisfactory, Shechter has been unable to approximate Robbins' awe-inspiring staging of "Sabbath Prayer" or the wild fury of "Tevye's "Dream." For that matter, Sher and music director Ted Sperling--who did masterful work on Sher's South Pacific, The King and I and The Light in the Piazza--have made a change to the first section of "Matchmaker, Matchmaker." Given that the already-in-love Tzeitel dreads the approach of Yente the Matchmaker, the first refrain has been altered to reflect her sense of foreboding. This makes sense in terms of the text, but tempers the energy of the show by removing what was a joyous high point of the first half-hour.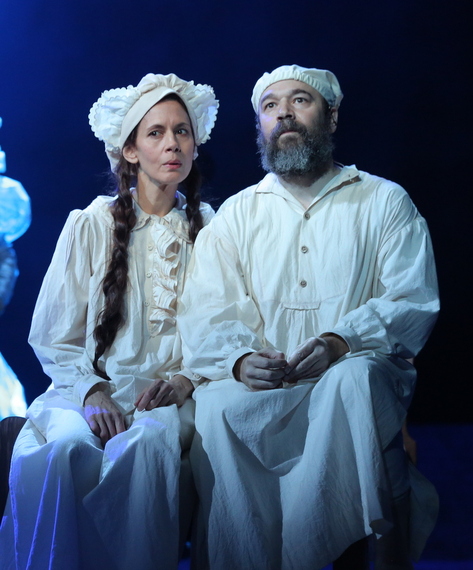 Jessica Hecht and Danny Burstein in Fiddler on the Roof.
Photo: Joan Marcus
The company is generally strong, although Burstein is in a class by himself. Hecht--an artful comic actress who made a memorable Bea in the 2010 Liev Schreiber/Scarlett Johannson View from the Bridge--is perfectly fine in the role, but she is not the foil for Tevye that some predecessors have been (starting with Maria Karnilova). The three above-mentioned eldest daughters do well, especially Massell with her delivery of "Far from the Home I Love." There is also fine work from the sons-in-law Adam Kantor (Motel), Ben Rappaport (Perchik) and Nick Rehberger (Fyedka). Sher's customary design team--Michael Yeargan (sets), Catherine Zuber (costumes) and Donald Holder (lights)--provides a wonderful physical production with superb visual detail. The men's boots, even, are so artfully distressed that they look like they've been working the fields and trudging through the snow for decades.
So here we have a new Fiddler which should thrill audiences who are getting their first look at the iconic favorite, while at the same time reinforcing the wonders of Bock & Harnick's classic for old friends and fans. And Danny Burstein is right up there with the best of the Tevyes.
.
Fiddler on the Roof opened December 20, 2015 at the Broadway Theatre
Related
Popular in the Community