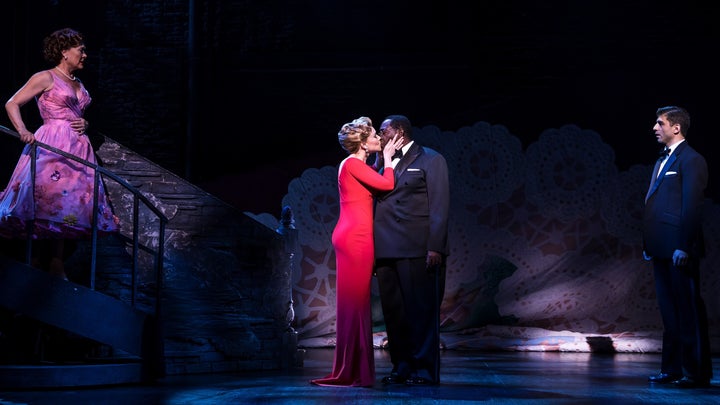 Hal Prince has been producing and/or directing Broadway musicals since 1954. Prince of Broadway showcases songs from many of these shows, ranging through his last altogether new musical, in 1998 (Jason Robert Brown's Parade). Prince of Broadway is his second compilation musical over the last two decades, during which time he has continued to maintain the long-running The Phantom of the Opera, which he directed in 1988.
Given the thirty-odd musicals in the Prince catalog—including a dozen or so acknowledged classics—there is a good deal of material to choose from; and let it be said that Prince, co-director Susan Stroman and writer David Thompson come up with an entertaining sampler revue, featuring an accomplished cast of nine.
Like Tony Yazbeck, who was the glue which held together the recent revival of On the Town. He comes out as Tony, the "Something's Coming" boy in West Side Story, and you immediately think: now here's someone I'd like to see playing the role (even if he is too old for the part). He next appears as Buddy in a three-song selection from Follies. This starts out measly, as it's hard to present a convincing "Beautiful Girls" with only three. Girls, that is. But they then launch into a full, eight-character "Waiting for the Girls Upstairs." Totally out of context, but stunningly done. Karen Ziemba, from the moment she appears, convinces us that she is the authentic Sally. She doesn't get to sing any of the character's solos, but she doesn't need to; Ziemba just breathes, and she's Sally. Much the same can be said for the Phyllis of the occasion, a cold-as-ice stunner who turns out to be Emily Skinner and you might well drop your program when you realize just who's that woman.
"Girls Upstairs," without any backstory, nevertheless gives us the full dramatological impact of the number. After which everybody leaves Yazbeck on stage. He gives us a tortured look and then launches into "The Right Girl." This is not the best song in Follies, nor anywhere near the finest in Sondheim's catalog. But the song and the performer (and the choreography, too) provide a thorough knockout. This is a mental breakdown in song, delivered in a manner that I've never seen anyone accomplish since Gene Nelson back in 1971. And Nelson, the times I saw him at least, seemed to be straining to get through the number; straining not as the character, but as the performer. Yazbeck shows us what Sondheim presumably intended, and it is gripping.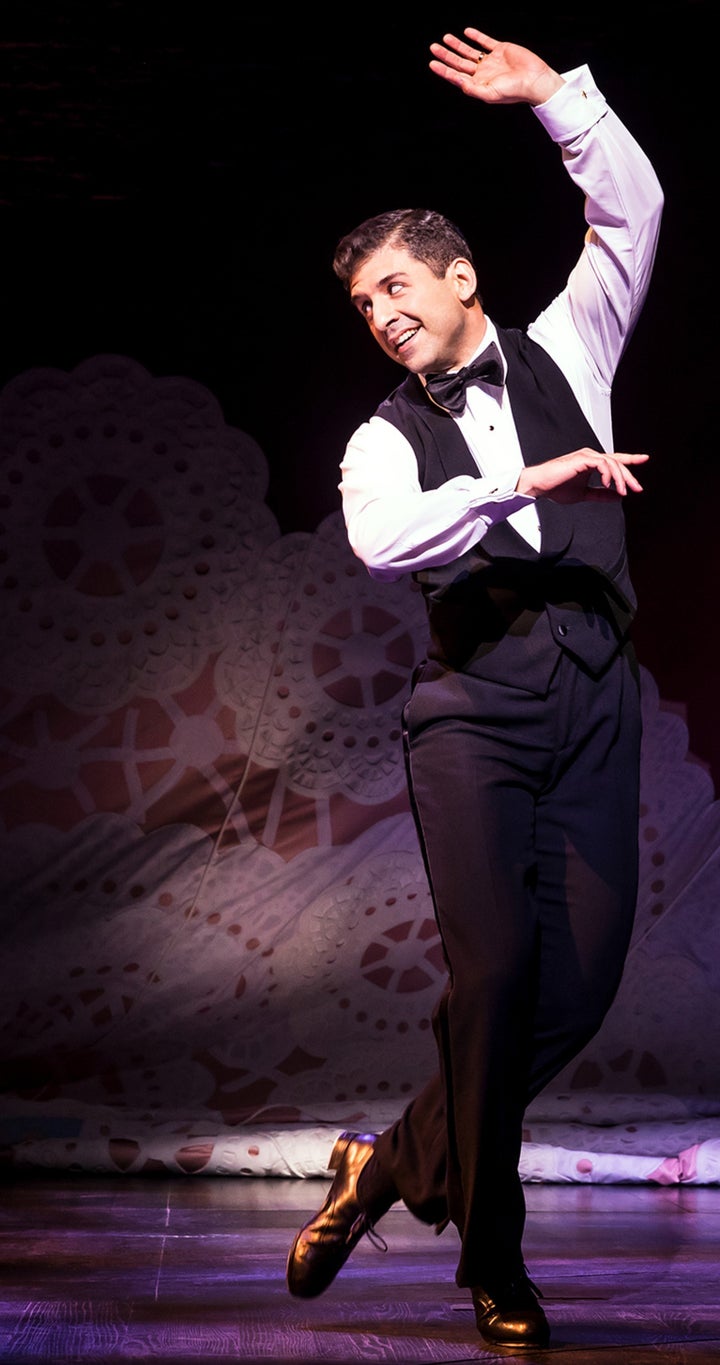 Most of the actors have at least one highspot: Ziemba's "So What" (from Cabaret); Skinner's "Now You Know" (from Merrily We Roll Along); Chuck Cooper's "Old Man River" (from Show Boat). The first act ends with an extended Cabaret section, featuring Brandon Uranowitz as the Emcee and culminating with Bryonha Marie Parham giving a riveting rendition of Sally Bowles's title song. Let us add that this section is not only first-rate; it also gives current-day audiences a glimpse of the style of Prince's groundbreaking 1966 production, before the Messrs. Fosse and Mendes got their hands on it.
Compilation revues of songwriters present the same authorial voice throughout (as in one of the first and finest of the genre, the Prince-produced Side By Side By Sondheim). There have been compilations of work by the famed choreographers Jerome Robbins and Bob Fosse, both of whom had important associations with producer Prince. In those cases, the material was written by assorted hands but there was at least a continuity of style in the recreated choreography. Here, we have songs from sixteen musicals that were neither written nor staged, musically-speaking, by Prince. So there is little to thematically link the selections, except that six have songs by Mr. Sondheim (and not coincidentally). Key among the responsibilities of the director of a musical is sculpting acting performances within the context of the text, an element which cannot reasonably be carried over to a compilation of songs (with dialogue links) from Prince productions from as long as sixty years ago.
This makes the success of a substantial part of the evening quite a victory, due in part to the variegated talents of the performers; the canny and well-practiced skill of both Prince and Stroman; and the musical ministrations of Mr. Brown, whose contributions include "This Is Not Over Yet" from Parade (the excellent Yazbeck, again); rearranging and reorchestrating the numbers, in the style of the originals; and writing a lively new closing number, "Do the Work."
All this aside—and despite our thorough admiration for the career and life of the eighty-nine-year-old Prince of Broadway—the entertainment wears thin in the second act. Here we have a show which only exists by virtue of song selections from the Prince catalog, written by three dozen fellows. (While one woman—Betty Comden—is credited on the title page, there isn't a word of hers in evidence.) In such a venture, some material is likely to be included for reasons other than suitability. You could indeed do all Sondheim, all the time—but then that wouldn't be Prince of Broadway, would it?
The oddity here is that some of the best material—quality-wise, if you will—does not necessarily come across. Sondheim's Sweeney Todd reigns high among Prince's catalog (or anyone's catalog, for that matter); but the three selections here are part of that second act lull. Ms. Ziemba makes a fair enough impression as Mrs. Lovett pummeling her meat pies, yes; but Mr. Cooper, in a zany fright wig, can't hope to do anything with the razor song, "My Friends." It is illogical to expect the actor to show up knowing the entire role of Sweeney. But without an intensive knowledge of the character, how is he to instantly transform himself into that demon barber? The likeliest answer, I think, is to cut the barber and give Cooper a little bit of crowd-pleasing Pseudolus (who is, alas, nowhere to be seen). But no; the act turns dramatic with multi-song stretches of Evita, Sweeney, and Kiss of the Spider Woman. Arty, perhaps; but by the evidence, it seems like it is easier to entertain us with less important, stand-alone spots like "You Gotta Have Heart" (from Damn Yankees) or "You've Got Possibilities" (from It's Superman).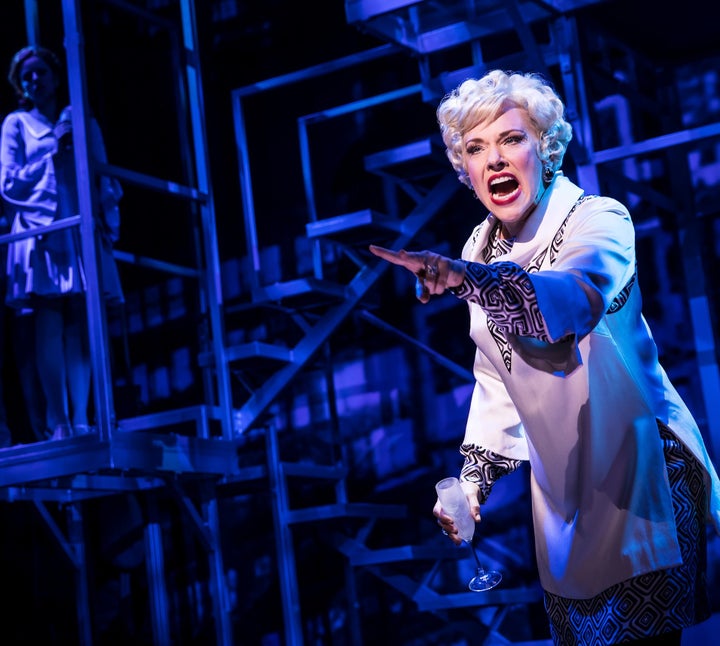 As for The Phantom of the Opera, let me admit that I've been thinking it's time to revisit the show, which I didn't much appreciate at Her Majesty's in 1986 or the Majestic in 1988. Watching the three-song selection that is given the prime, next-to-closing slot in Prince of Broadway, I decided that I don't really need to go back to the Majestic just yet.
The Manhattan Theatre Club production of "Prince of Broadway" opened August 24, 2017 at the Samuel J. Friedman Theatre
Popular in the Community