After a decidedly lackluster season, finally -- a play! Anthony Giardina's The City of Conversation is an intelligent, provocative, incisive drama about politics, people, ideals and principles, with razor-sharp dialogue and -- from Jan Maxwell -- a first-rate star performance.
Twenty-four years ago, we might have used these same words to describe John Guare's Six Degrees of Separation -- which, like The City of Conversation, originated in Lincoln Center Theater's smaller space, the Mitzi E. Newhouse. There are several parallels between the two plays, with other links to a more recent Newhouse offering, Jon Robin Baitz's Other Desert Cities. This is strong company for Giardina, whose most prominent New York production seems to have been the 1978 Living at Home. (This was produced at Playwrights Horizons by then-artistic director André Bishop, who now runs Lincoln Center Theater.) Giardina has had several plays produced regionally, including four collaborations with Doug Hughes--who does a sterling job of direction here -- but seems to have spent most of his time as a novelist and professor.
The "city of conversation" is Washington, D.C.; the phrase comes from Henry James, in his 1907 book The American Scene. There is a Jamesian air, in fact, in Giardina's proceedings. The place: a patrician townhouse in Georgetown. The time: 1979-2009. The topic: politics, of course. Hester (Maxwell) is one of those Washington hostesses whose bipartisan dinner parties contributed an air of civility to the nation's capital. Until said air was befouled by a new breed of politician, that is. It is that change of climate that Giardina examines.
The play is written in three scenes, each anchored to an historic and specific political moment. Act One starts with Jimmy Carter's "Malaise" speech, and centers upon a Senate vote to force federal judges to resign from all-white country clubs. Hester and her live-in boyfriend, a married Senator from Virginia (Kevin O'Rourke), try to convince a Kentucky Republican to sign on. Hester's newly-arrived future daughter-in-law Anna (Kristen Bush) schemes like a little fox to upend the evening, on political grounds. "I think I saw this movie," says Hester, making a joking reference to All About Eve. But it is no joke, as it turns out.
Next we are in 1987, with the words of Teddy Kennedy's "Robert Bork's America" speech launching the battle to reject Reagan's nomination of the Court of Appeals judge to the Supreme Court. (Bork was indeed rejected, and we are still feeling repercussions today.) Hester busily pulls strings to defeat Bork, despite pleas and -- ultimately -- emotional blackmail from Anna, now a Justice Department official. Hester's intelligent-but-weak son Colin (Michael Simpson) simply stands weakly in the background.
The last scene features almost-current history, Obama's Inauguration speech in 2009. Hester is now old and worn, though not defeated. Her grandson Ethan (Simpson) -- who as a 6-year-old was wrenched from her arms as retribution for the "borking"--returns, offering a bittersweet validation for Hester's principles. (His estranged mother is now head of the National Endowment for the Humanities, at least until Obama takes over.)
Towering above it all is Ms. Maxwell, whose consistently excellent performances in revivals of shows like Follies and The Royal Family have thus far brought forth four Tony nominations. Here she finally has a major role of her own to create, and she gives us a well-rounded, multi-faceted character that amuses us, intrigues us, and even pulls some tears.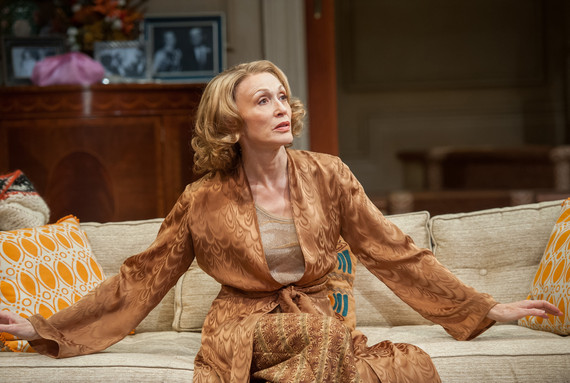 Jan Maxwell in THE CITY OF CONVERSATION. Photo credit: Stephanie Berger
Maxwell is abetted by Ms. Bush, as a dangerously ferocious young Republican; Mr. Simpson, as both the weak son and the grown grandson; Luke Niehaus, one of the most natural child actors we have enjoyed recently; and Beth Dixon, as Hester's silently supportive and long-suffering sister.
Doug Hughes -- of Doubt, Outside Mullingar and more -- perfectly serves the playwright and the players, while protean set designer John Lee Beatty gives us yet another living room we'd love to live in. The City of Conversation brings conversation audiences can savor back into current-day drama, and the pleasure is ours.
The City of Conversation, by Anthony Giardina, opened May 5, 2014 at Lincoln Center Theater's Mitzi E. Newhouse Theater
REAL LIFE. REAL NEWS. REAL VOICES.
Help us tell more of the stories that matter from voices that too often remain unheard.