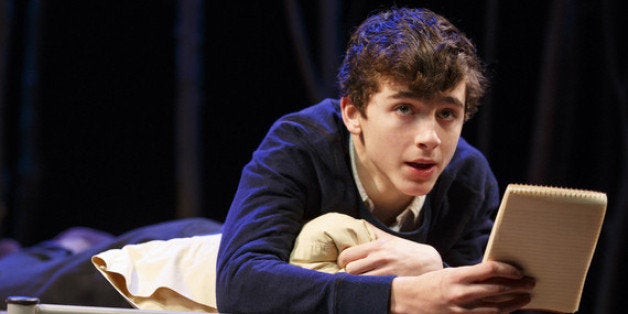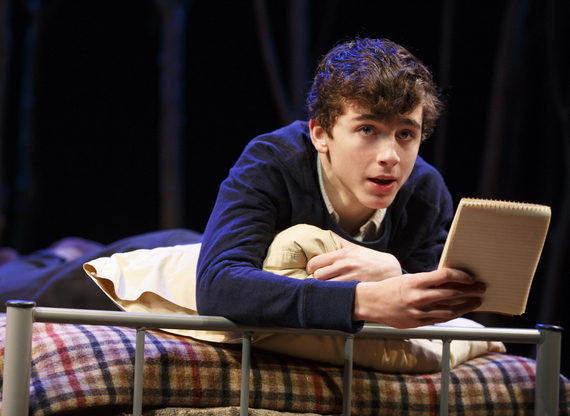 Timothée Chalamet in John Patrick Shanley's
Prodigal Son. Photo: Joan Marcus
An unruly teen from the Irish tenements of the Bronx is transplanted to a white-bread Catholic prep school on a hilltop in New Hampshire, where his braggadocio, bluster and petty-thievery threaten his escape from the ghetto. Since this is one of those autobiographical plays by an established playwright, we know that our troubled--but (of course) personable and possibly brilliant--protagonist will come out all right; 'cause how else would he be writing this play, fifty years later?
Jim Quinn--as drawn by playwright/director John Patrick Shanley, of Doubt and Outside Mullingar--is indeed bristling, troubled and ill-mannered. The playwright has loaded him with enough charm to get him out of any ghetto and into college--although admittedly, it is duly pointed out, he will never be Ivy League material. Add in the dynamic presence of young actor Timothée Chalamet, with an altogether ingratiating performance, and this budding playwright-to-be is sure to successfully navigate the treacherous shoals that threaten his diploma.
Being a child of the '50s--the play takes place during Shanley's high school years, 1965-68--it seems surprising to find Prodigal Son reflecting Emlyn Williams' The Corn Is Green and Robert Anderson's Tea and Sympathy, two plays which followers of Shanley's work would not necessarily expect him to channel. Yet both plays seem to be suggested here; there's even a scene with a faculty spouse encouraging the troubled young lad with a teacup.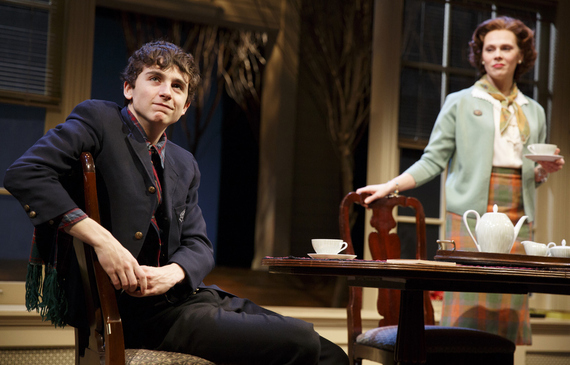 Timothée Chalamet and Annika Boras in
John Patrick Shanley's Prodigal Son. Photo: Joan Marcus
Shanley tells his story--and in a program note he makes clear that it is his story, even retaining some of the names (though not his own)--well. Having been expelled from Cardinal Spellman High School in the Bronx, "Jim Quinn" is given a scholarship at the Thomas More Preparatory School (now-defunct) located in a turn-of-the-century mansion in Harrisville, New Hampshire.
He is clearly a duck out of water, and a blasphemous one at that. Yet he is given a chance by the devout and rigid headmaster Carl Schmitt (Chris McGarry). At the same time, he is nurtured by noble English teacher Alan Hoffman (Robert Sean Leonard) who is dressed in corduroy and "sees something" in the boy. The other two characters are Carl's wife, Louise (Annika Boras)--who also senses the boy's promise--and Jim's dormitory roommate Austin (David Potters), who is nephew to Schmitt.
Prodigal Son--a Manhattan Theatre Club presentation, like most of Shanley's past New York efforts--is interesting and likable. It is also uneven. After an effective opening, we slide into a long scene between the two professors, which is followed by a considerably longer one in which the two teenagers discuss life, girls, and Nazis. (Yes, for reasons that are not quite compelling, this Irish Catholic play from the Vietnam era has lots of discussion of Nazis.) After which, near the midway point, the pace finally picks up. Shanley gets back on track, and the rest of the evening is markedly more interesting.
Enhancing the play's effectiveness is the performance of the twenty-year-old Mr. Chalamet. A born-and-bred New Yorker, his is a somewhat familiar face; he had a recurring role on Season 2 of "Homeland." (He played Finn Walden--son of the Vice President and boyfriend to the daughter of the murderous hero--and was blown up in the climactic bombing of the C.I.A. Headquarters.) Chalamet perfectly projects the border between captivating and annoying, sensitivity and braggadocio. This is a performance not unlike that of the then-young Matthew Broderick in Brighton Beach Memoirs, which is high praise indeed.
The overall results are more than workable, but one suspects there's a considerably stronger play in Prodigal Son than what we see at City Center. The trouble with writing autobiographical plays is that the author can be overly concerned with what actually happened, the way it happened; this sometimes leads to accurate reporting but less-than-scintillating dramaturgy. That's where the director comes in. It could well be that Prodigal Son would benefit from the prodding of a director other than the autobiographical playwright, who might be too rigidly staging the events just like they were lodged in memory--and rejecting cuts that would strengthen.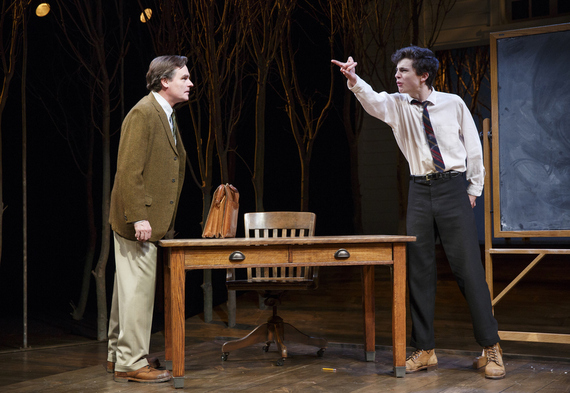 Robert Sean Leonard and Timothée Chalamet in
John Patrick Shanley's Prodigal Son. Photo: Joan Marcus
Let it be added that we were thinking, 80 minutes into the 95-minute play, how very refreshing it was to have a drama taking place in a 1960s Catholic prep school that did not dredge up the obvious plot complication. At which point, alas, it did indeed leap into play. But that's Mr. Shanley, I suppose, telling it as it happened.
We have seen of late A. R. Gurney's What I Did Last Summer; Douglas Carter Beane's Shows for Days; James Lapine's adaptation of Moss Hart's Act One; and now Shanley's Prodigal Son. Perhaps it's time for a respite from these "how I learned to write" plays.
.
John Patrick Shanley's Prodigal Son opened February 9, 2016 and continues through March 27 at City Center Stage 1
REAL LIFE. REAL NEWS. REAL VOICES.
Help us tell more of the stories that matter from voices that too often remain unheard.